Welcome to a culinary revolution where we reinvent the traditional 4th of July BBQ Reinvented: 28 Classic and Non-Traditional Recipes for the Grill BBQ experience. Get ready to embark on a journey of flavor exploration with 28 classic and non-traditional recipes that will redefine your grilling game. We've curated a collection that combines beloved barbecue staples with innovative twists, taking your taste buds on an unforgettable adventure.
Black Bean Burger
This delicious black bean burger from our cookbook is perfect for a quick vegan meal that does not skimp on flavor. With a hearty 5-ingredient black bean patty, fresh lettuce and tomato, and a spicy mayo sauce, this burger will satisfy even the most discerning taste buds. Perfect for those who crave veggie burgers, even on busy weeknights.
Recipe: black bean burger
Cauliflower Steak in 20 Mins
If you're looking for a new and exciting way to enjoy cauliflower, try making these cauliflower steaks. With their crispy exterior and tender interior, and seasoned to perfection, they make a perfect plant-based main dish or side that doesn't require an oven.
Recipe: cauliflower steak
Chipotle Black Bean Burger
This chipotle black bean burger recipe is a delicious and flavorful alternative to traditional burgers. Made with black beans, adobo sauce, and spices such as cumin and smoked paprika, these patties are perfect for grilling or frying and are sure to be a hit with vegans and meat-lovers alike!
Recipe: chipotle black bean burger
Creamy Coleslaw
This easy coleslaw recipe is ready in 15 minutes or even less. It is a must-have side dish next to your favorite burger. If you need something quick and light to prepare for a summer potluck or grill party, think of this classic coleslaw salad.
Recipe: vegan coleslaw
Fajita Veggies
This fajita veggies recipe is easy to make and packed with flavor. Simply sauté onions and bell peppers, season with spices, and voila! Enjoy with your favorite protein and toppings for a delicious meal.
Recipe: fajita veggies
Grilled Buffalo Tofu Skewers
Indulge in the bold and spicy flavors of buffalo tofu with a crispy caramelized crust that is sure to satisfy your cravings. Try pan-frying or grilling marinated tofu on skewers for an easy but flavorful dish that will leave you wanting more.
Recipe: buffalo tofu skewers
Grilled Vegetable Kabobs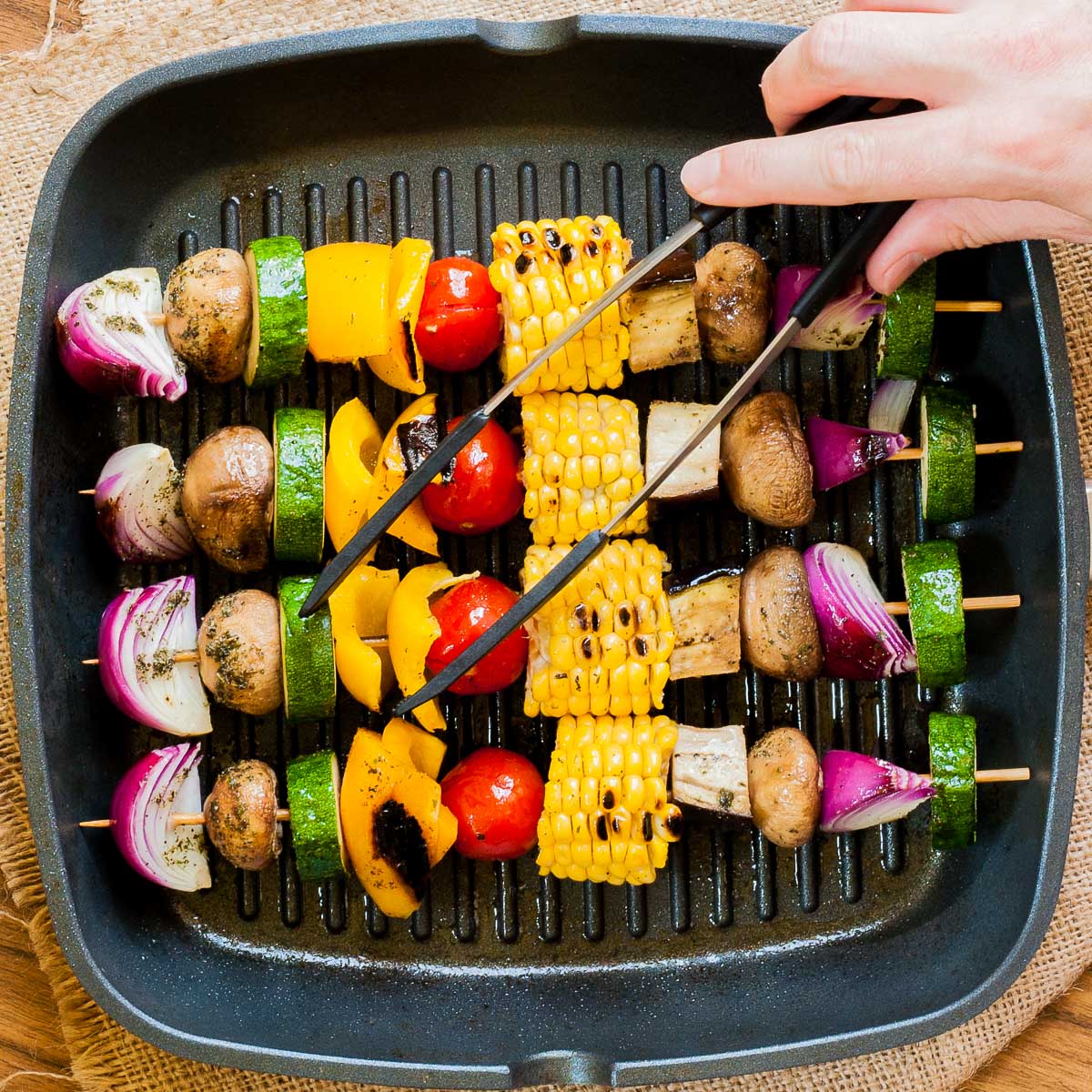 These vegetable kabobs are not only colorful but also incredibly flavorful. They are perfect for grilling and make a great side dish for any BBQ or party. With 3 different ways to make them and 5 delicious marinades to choose from, they are sure to please everyone's taste buds.
Recipe: grilled vegetable kabobs
Hummus Quesadillas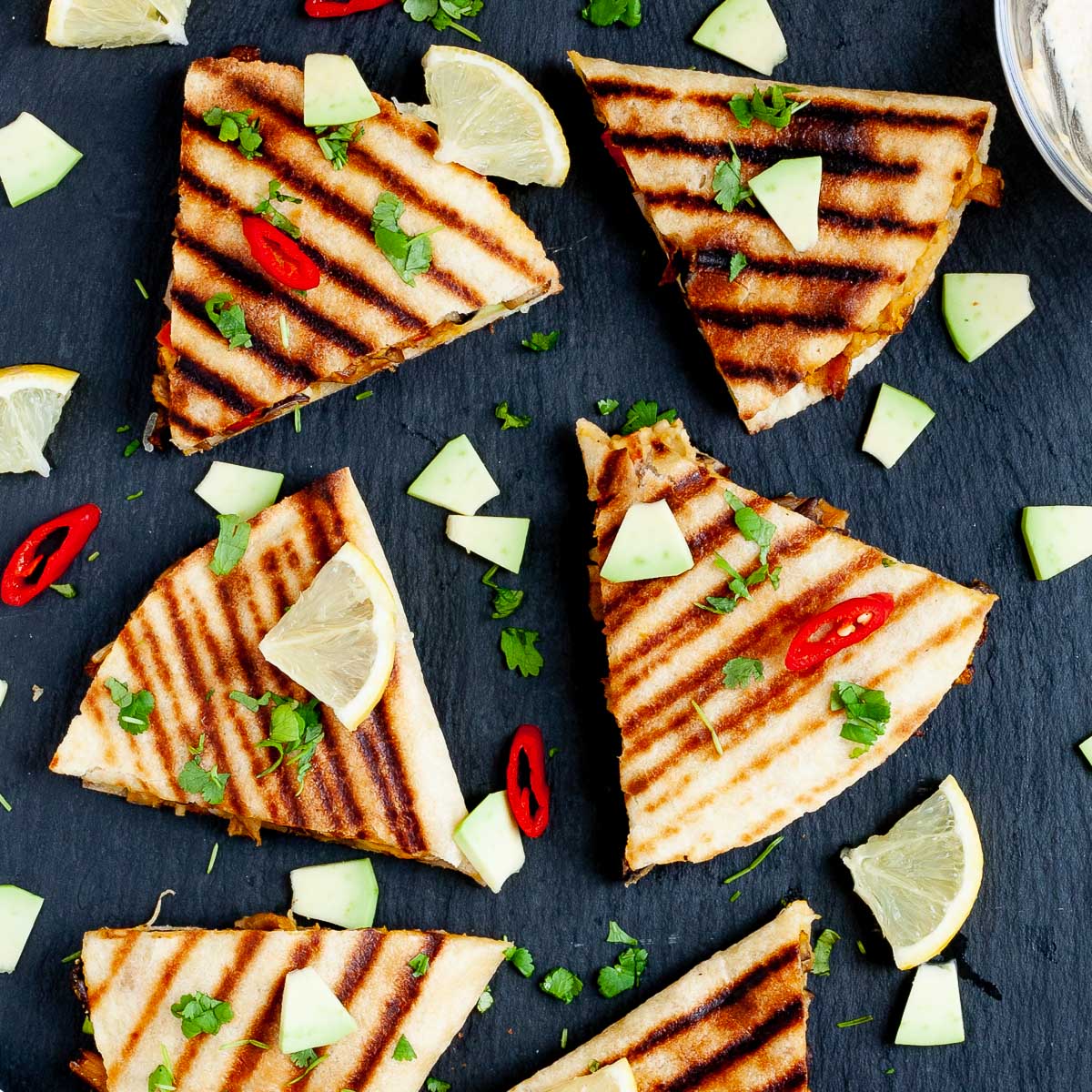 These hummus quesadillas are a delicious and healthy twist on a classic Mexican dish. Packed with flavorful veggies and beans, and bound together with creamy hummus instead of cheese, these quesadillas are a satisfying meal that will leave you feeling satisfied and nourished.
Recipe: hummus quesadillas
Crispy Oyster Mushroom Tacos
Looking for a meatless taco alternative? Look no further than this Oyster Mushroom Tacos recipe. These mushrooms have a meat-like texture and are packed with flavor, making them the perfect vegan substitute for meat strips.
Recipe: vegan mushroom tacos
Oyster Mushroom Steak
This recipe is perfect for those who want a tasty and meatless alternative to steak. With the right marination and cooking technique, pearl oyster mushrooms can be transformed into a crispy and flavorful dish that can satisfy even the most carnivorous appetites.
Recipe: oyster mushroom steak
Portobello Mushroom Burger
This vegan portobello mushroom burger is piquant and scrumptious at the same time. Grilled portobello mushroom caps are seasoned with a fajita spice mix, then layered among guacamole, salsa, vegan nacho cheese sauce, and spicy fajita veggies.
Recipe: vegan portobello mushroom burger
Roasted Asparagus and Mushrooms
Oven-roasted asparagus and mushrooms make a perfect pairing as a side dish, especially during the spring season. With their simple preparation and delightful taste, they are sure to complement any meal.
Recipe: roasted asparagus and mushrooms
Vegan Meaty Whopper Style Burger
Ready in just 35 minutes, this juicy tofu burger is full of smoky flavors that taste just like something you would find in a Whopper, but without the meat!
Recipe: tofu burger
5-minute BBQ Sauce
You will need only 5 minutes to make your own BBQ Sauce. It will be smoky, a bit sweet, but plain delicious.
Recipe: vegan bbq sauce
Meaty Big Mac Style Meatless Burger
Why is it the meatiest vegan beef burger? Because it has a chewy, ground beef-like texture (thank you TVP), and it does not taste like veggies at all.
Recipe: vegan tvp burger
Sheet Pan Fajita Veggies
With this simple and convenient recipe, you can easily make fajita veggies that are bursting with flavor. Just bake a variety of vegetables in the oven on a sheet pan, and in no time you'll have delicious and healthy fajita ingredients.
Recipe: fajitas veggies
French Onion Dip
This homemade vegan French onion dip is a perfect party appetizer or savory snack to munch on in between meals. It is sour cream based, easy to make, with less than 10 ingredients and delicious.
Recipe: vegan french onion dip
Tofu Steak with Chimichurri Sauce
A perfect tofu steak is a flavorful and satisfying dish that is crispy on the outside and moist on the inside. It is seasoned with a spicy, smoked steak marinade and grilled to perfection, resulting in charcoaled stripes.
Recipe: tofu steak
Vegan Gyros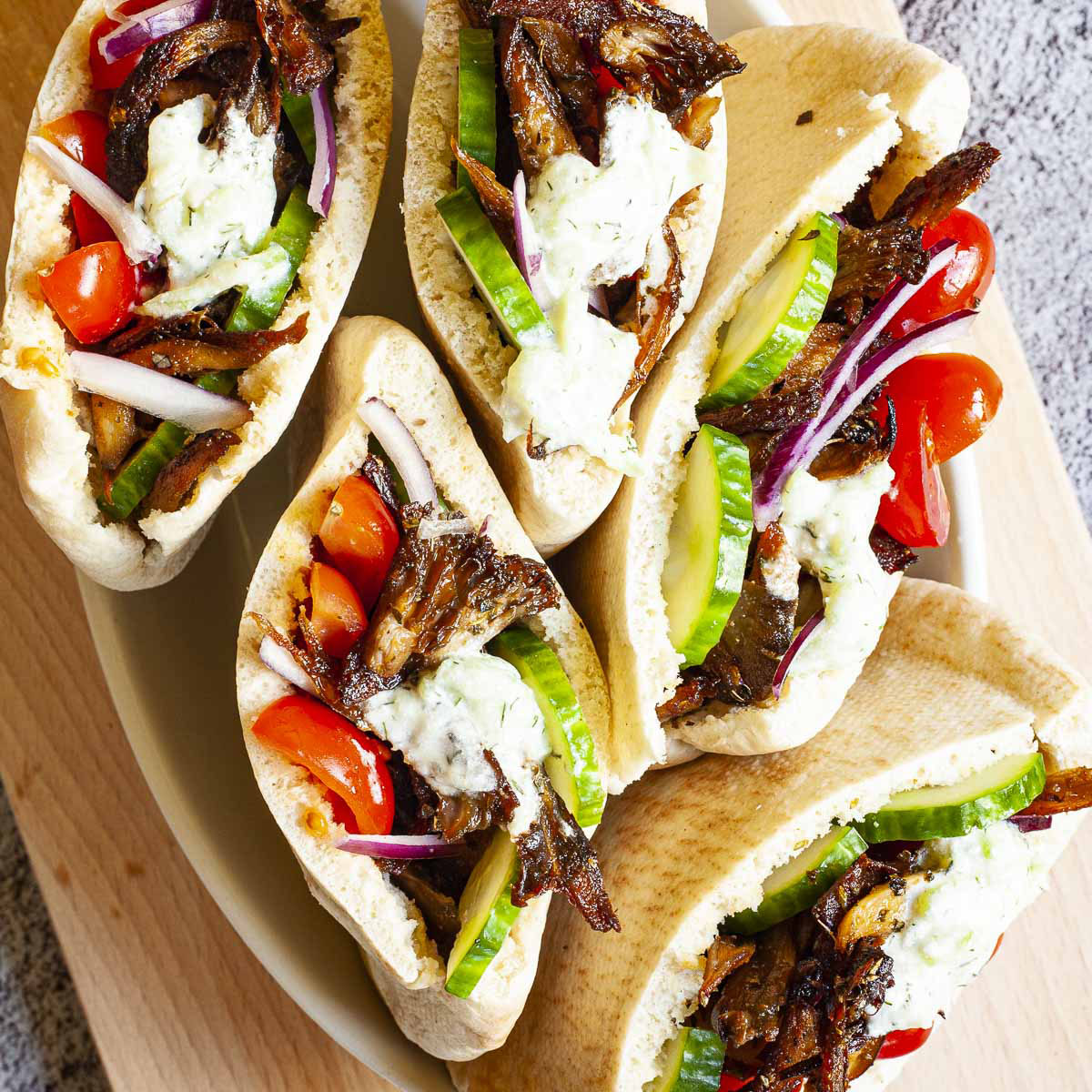 These vegan gyros made with shredded oyster mushrooms have the perfect texture and taste, making them the best option for a filling meal. The crispy vegan gyro meat pairs well with fresh vegetables and homemade tzatziki sauce, all wrapped up in a pita pocket.
Recipe: vegan gyros
Vegan Nacho Cheese Sauce
Looking for a delicious and healthy vegan cheese sauce for your nachos? Try our nut-free and oil-free vegan nacho cheese sauce, made with nutritious ingredients for a creamy and delicious dip. Ready in just 20 minutes, this budget-friendly recipe is perfect for snacking and entertaining.
Recipe: vegan nacho cheese sauce
Vegan Sour Cream
It is a 5-minute, homemade dairy-free sour cream recipe for when you need something nut-free and soy-free. 4-ingredients plus a high-power blender and you have yourself a creamy, tangy vegan sour cream without cashews.
Recipe: vegan sour cream
Vegan Philly Cheesesteak
To make the best vegan Philly cheesesteak you should pan-fry shredded oyster mushrooms (not cut, but torn apart). They will have the perfect beefy texture and taste. Fill your hoagie roll with a generous amount of mushroom cheesesteak and vegan cheese.
Recipe: vegan Philly cheesesteak
BBQ Vegan Pulled Pork Burger
Shredded king oyster mushrooms make the best vegan pulled pork. Their meaty texture is way better to roast, grill, or fry than jackfruit. In 40 minutes, you can have this BBQ pulled mushroom burger with a vegan coleslaw.
Recipe: vegan pulled pork burger
Vegan Queso Dip
Indulge in a guilt-free snack with our delicious vegan queso dip made from a veggie-based cheese sauce that is both creamy and healthy. Say goodbye to processed dips and hello to a satisfying snack ready in just 20 minutes!
Recipe: vegan queso dip
Vegan Sausage
This delicious and flavorful vegan sausage recipe uses minced frozen tofu and a powerful blend of seasonings to create "meaty" sausages that your taste buds will not forget. Try these versatile sausages with veggies, on a sandwich, or over pasta with your favorite sauce for the perfect lunch or dinnertime meal with friends or family!
Recipe: vegan sausage
Creamiest Vegan Scalloped Potatoes
This vegan scalloped potatoes recipe is the ultimate comfort food and a perfect side dish for any occasion. With its creamy, garlicky, and savory flavors, it is sure to please everyone at the dinner table.
Recipe: vegan scalloped potatoes
Cheezy & Spicy Spinach Dip
This vegan spinach dip is a creamy and flavorful dip that is perfect for any occasion. Made with whole food ingredients like veggies and spinach leaves, it's a healthier alternative to traditional cheesy dips.
Recipe: vegan spinach dip
Vietnamese Rice Paper Pizza
This vegan version of Banh Tráng Nuong offers the same mouth-watering flavor as the original Vietnamese street food. Topped with a delicious combination of vegan ground pork and spring onions mixed in a vegan eggy mixture, it is a crispy and savory delight that is sure to please.
Recipe: Vietnamese rice paper pizza
Amazing Soup Recipes for Busy Week Nights
Quick and Nourishing Dinner Recipes
Quick and Nourishing Dinner Recipes
No More Sad Desk Lunches: 26 Pasta Recipes You Can Make in Minutes
No More Sad Desk Lunches: 26 Pasta Recipes You Can Make in Minutes
Tired of Eating the Same Foods Week After Week? Discover These 30 Incredible Recipes!
Tired of Eating the Same Foods Week After Week? Discover These 30 Incredible Recipes!
Spinach Goes Beyond Saute: 21 Unconventional Ways to Cook with This Superfood
Spinach Goes Beyond Saute: 21 Unconventional Ways to Cook with This Superfood