Have you always wanted to try Meatless Monday? This collection of 35 tempting meatless recipes is sure to inspire you. From vibrant salads bursting with fresh flavors to hearty mains that will be filling and flavorful, they will show you the incredible variety and deliciousness of plant-based cuisine.
Chickpea Shakshuka
This chickpea shakshuka is a flavorful and hearty stew that combines Middle Eastern spices with tomatoes, bell peppers, onions, and chickpeas. Ready in under 30 minutes, this dish is perfect for a quick and satisfying weeknight dinner.
Recipe: vegan chickpea shakshuka
Avocado Spring Rolls
Try our avocado spring rolls for a delicious and easy-to-prepare summer snack or appetizer. They are freshly prepared with a mix of flavorful avocado mango salsa and vermicelli noodles to create a delightful combination of texture and flavor. So refreshing!
Recipe: avocado spring rolls
Eggplant Meatballs
Looking for a vegan twist on traditional meatballs? Look no further than these delicious eggplant meatballs! Made using only eggplant and perfectly seasoned for a delicious flavor, they pair perfectly with your favorite marinara sauce and a plate of spaghetti.
Recipe: vegan eggplant meatballs
Cauliflower Steak in 20 Mins
If you're looking for a new and exciting way to enjoy cauliflower, try making these cauliflower steaks. With their crispy exterior and tender interior, and seasoned to perfection, they make a perfect plant-based main dish or side that doesn't require an oven.
Recipe: cauliflower steak
Chickpea Tofu Curry
If you are a fan of curry dishes and want to try something new, give this chickpea tofu curry a shot! It's plant-based, flavorful, and packs a lot of protein. Seriously, don't sleep on this mouthwatering recipe!
Recipe: chickpea tofu curry
Chipotle Black Bean Burger
This chipotle black bean burger recipe is a delicious and flavorful alternative to traditional burgers. Made with black beans, adobo sauce, and spices such as cumin and smoked paprika, these patties are perfect for grilling or frying and are sure to be a hit with vegans and meat-lovers alike!
Recipe: chipotle black bean burger
Coconut Milk Pasta Sauce
This easy and flavorful coconut milk pasta sauce is the perfect dairy-free alternative to a classic tomato-based sauce. Made with simple ingredients like canned tomatoes, garlic, and coconut milk, it comes together in just 30 minutes and will satisfy all your pasta cravings.
Recipe: coconut milk pasta sauce
The Best Falafel Sandwich
Fresh lettuce leaves, sweet and tangy tahini sauce, and crispy falafel in pita bread are how to make the best falafel sandwich. We show you how easy it is to make this popular Middle Eastern vegetarian street food from scratch and from the comfort of your home.
Recipe: falafel sandwich
Sweet Potato Gnocchi
Making gnocchi is super easy especially if you make them with sweet potatoes. No special ingredients are needed, only pantry staples.
Recipe: sweet potato gnocchi
Copycat IKEA Veggie Balls
If you don't have an Ikea nearby, try our copycat Ikea veggie balls recipe. We added eight different vegetables, the same as in the original, with a tasty mix of spices and herbs to get the flavors just right.
Recipe: ikea veggie balls
Kung Pao Cauliflower
Kung Pao Cauliflower is a mouthwatering vegan twist on the classic Chinese dish, featuring crispy cauliflower florets tossed in a spicy and tangy sauce. The cauliflower absorbs the flavors of the sauce beautifully, resulting in a deliciously balanced combination of heat, sweetness, and savory notes, making it a delightful choice for those seeking a plant-based and flavorful meal.
Recipe: kung pao cauliflower
Authentic Lecsó (Hungarian Pepper Stew)
Lecsó is sort of the Hungarian version of the French ratatouille. It is a super easy tomato and pepper stew you can stir up in one pot within 30 minutes. If you would like to eat Lecsó exactly how Hungarians eat it, you should try this recipe.
Recipe: lecso
Spicy Tahini Miso Soba Noodles
If you are looking for the most delicious miso noodles recipe, this spicy tahini miso sauce will surely deliver. It is not only delicious, but it is also an easy, no-cook sauce that you can mix within 5 minutes. Soba noodles are the perfect candidate to elevate these flavors.
Recipe: miso soba noodles
Pan-fried Green Herb Oyster Mushroom
If you are looking for THE oyster mushroom recipe you can serve as a side dish, this will surely be your favorite. Green herbs like thyme and parsley with a smidgen of chili peppers and a splash of lemon juice will bring out the natural mushroom flavor that can accompany any main course.
Recipe: oyster mushroom recipe
Pad Woon Sen (Thai Glass Noodles Stir Fry)
This is a classic Pad Woon Sen recipe turned completely meatless. Silky Thai glass noodles in a sweet and salty sauce are stir-fried with carrots, cabbage, tomato, onion, and mung bean sprouts. For added protein, this recipe calls for tofu scramble and marinated oyster mushrooms.
Recipe: pad woon sen
Eggplant Tofu (Copycat Panda Express)
Have you always loved eggplant tofu, but Panda Express doesn't serve it near your location anymore, or if you always wanted to try it but never had a chance? Fry up your skillet now and make this tofu, eggplant, and bell pepper dish stir-fried in a sweet and spicy sauce.
Recipe: panda express eggplant tofu
Oyster Mushroom Steak
This recipe is perfect for those who want a tasty and meatless alternative to steak. With the right marination and cooking technique, pearl oyster mushrooms can be transformed into a crispy and flavorful dish that can satisfy even the most carnivorous appetites.
Recipe: oyster mushroom steak
Ramen Spring Rolls
Rolled and ready in just under 30 minutes, these ramen spring rolls are sure to be a scrumptious addition to your next dinner party. Serve it up as an appetizer or snack and let your guests enjoy the savory flavors of bok choy, scallion, and wood ear mushroom, cooked in a spicy blend of sriracha and soy sauce!
Recipe: ramen spring rolls
Shawarma Buddha Bowl
The Shawarma Buddha Bowl with cauliflower offers a delicious and healthy twist on the traditional Middle Eastern dish. The roasted cauliflower adds a flavorful and satisfying element to the bowl, complementing the vibrant assortment of vegetables and grains.
Recipe: shawarma buddha bowl
Creamy Spinach Pasta Sauce
This quick and easy spinach pasta sauce recipe is a must-try for anyone who loves creamy garlic flavors. With only five ingredients and ready in 15 minutes, it's a perfect weeknight dinner option.
Recipe: spinach pasta sauce
Crispy Rice Paper Spring Rolls
Enjoy the perfect balance of textures and flavors with these crispy and flavorful rice paper spring rolls. Packed with fresh and colorful veggies, along with marinated tofu, these rolls are a healthy and delicious meal that can be enjoyed as a snack or a light lunch.
Recipe: rice paper spring rolls vegan
Sushi without Fish
If you thought sushi without fish or seafood was impossible, think again! Not only is it possible, but it is incredibly delicious. This easy sushi rolls recipe takes you step-by-step through how to prepare colorful and flavorful maki sushi in your own kitchen in just an hour!
Recipe: sushi without fish
Tom Yum Fried Rice
Easy to make and packed with flavor and aroma, Tom Yum fried rice is best summed up in one word: Unforgettable. In this simple, easy-to-follow recipe, you'll learn how to make an all-veggie version from the comfort of your own kitchen. The best part? It takes less than 22 minutes to prepare!
Recipe: tom yum fried rice
Vegan Chicken and Dumplings
This vegan chicken and dumplings recipe is a hearty and comforting dish that will warm you up on a cold day. The dumplings are soft and fluffy, while the mushrooms and veggies add texture and flavor to the creamy broth.
Recipe: vegan chicken and dumplings
Vegan Corn Chowder
This Vegan Corn Chowder recipe is a special one as it features pan-seared corn kernels and a deglazed pan, resulting in an oil-free soup. The soup is thickened with potatoes and made creamy with smooth cashew cream, making it a delicious and healthy option.
Recipe: Vegan Corn Chowder
Smoked Tofu Sushi Rolls
This tofu sushi recipe combines smoked tofu, veggies, and a sriracha mayo to make delicious maki sushi rolls the entire family will love. You do not need to be a professional sushi chef to whip up this recipe.
Recipe: tofu sushi rolls
Rice Paper Dumplings
These crispy rice paper dumplings are a delicious vegan alternative to traditional dumplings. With a filling of marinated king oyster mushrooms, vegetables, and mung bean sprouts, they are bursting with flavor and texture.
Recipe: rice paper dumplings
Vegan Gyros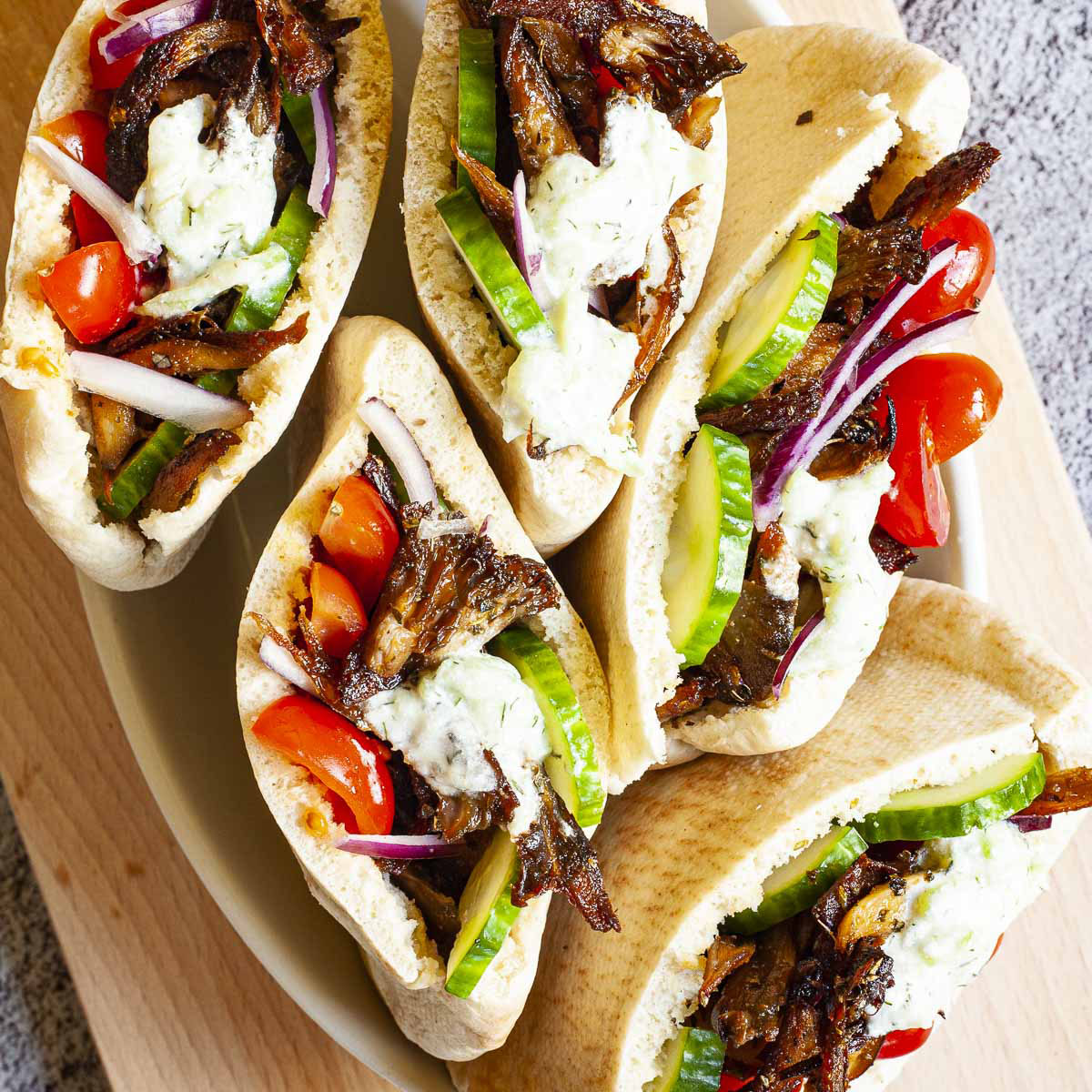 These vegan gyros made with shredded oyster mushrooms have the perfect texture and taste, making them the best option for a filling meal. The crispy vegan gyro meat pairs well with fresh vegetables and homemade tzatziki sauce, all wrapped up in a pita pocket.
Recipe: vegan gyros
Crispy Vegan Chicken Patties
These vegan chicken patties are a perfect plant-based alternative to traditional chicken patties. The combination of crispy outer crust and flavorful texture inside makes them an excellent addition to any meal.
Recipe: vegan chicken patties
Mexican Rice Casserole
This is one of the quickest and easiest Mexican-style vegan rice casserole recipes with the meatiest vegan ground beef ever, lots of black beans, and sweet corn in a spicy tomato-based sauce. You can make it in 30 minutes.
Recipe: vegan mexican rice casserole
Crispy Vegan Orange Chicken (Copycat Panda Express)
If you would like to make Orange Chicken, the most popular dish in Panda Express vegan at home, this is the recipe you need to try. We used the BEST plant-based alternative to crunchy fried chicken strips and covered them with a citrusy, sticky, spicy orange sauce. We made it allergy-friendly so everyone can enjoy this dish.
Recipe: vegan orange chicken
Vegan White Chili
Ready in just 30 minutes, this one-pot vegan white chili is simple to make, easy to customize, and delicious! We use king oyster mushrooms instead of chicken and simmer them with various veggies and herbs to create a flavor-packed and filling dish.
Recipe: vegan white chili
Vegetable Korma
This vegetable korma recipe is a quick and easy way to make a flavorful Indian dish that is loaded with vegetables and protein-rich chickpeas. With its creamy and aromatic sauce, it is a perfect choice for a healthy and delicious dinner that everyone will love.
Recipe: vegetable korma
Hidden Veggies Pasta Sauce
This healthy vegetable sauce is a delicious and nutritious option for pasta lovers. Packed with seven different veggies and blended into a smooth and creamy sauce, even picky eaters will love this flavorful and satisfying meal.
Recipe: vegetable sauce pasta
Authentic Hungarian Bean Goulash
Indulge in the flavors of Hungary with this hearty vegetarian goulash soup made with beans and vegetables. This traditional recipe has been passed down through generations and can be made in just 30 minutes, making it the perfect comforting and healthy meal for any weeknight.
Recipe: vegetarian goulash soup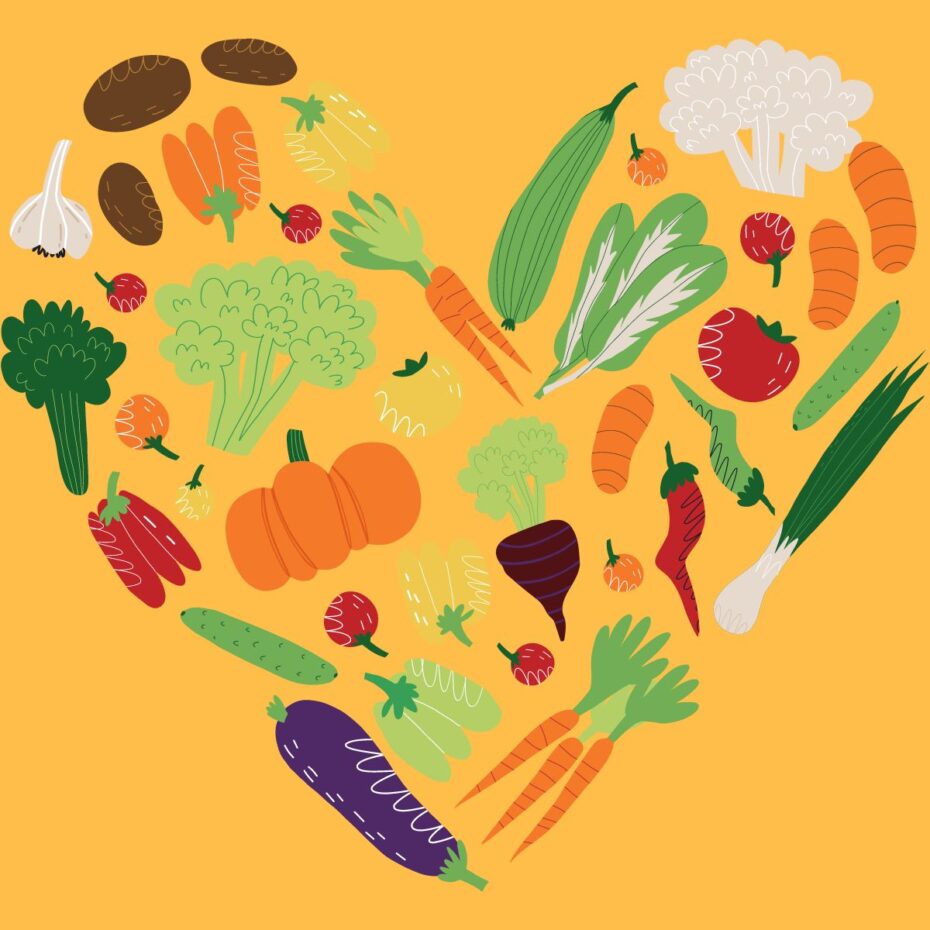 More vegan recipes