Throw the ultimate end-of-summer party with these 28 succulent recipes that will impress your guests and make your celebration unforgettable. From mouthwatering grilled dishes and refreshing salads to delectable desserts, these creations offer a variety of options to satisfy every palate and ensure your party is a hit. Whether you're hosting a backyard barbecue, poolside gathering, or intimate soirée, these recipes provide a range of flavors and textures that will capture the essence of summer and leave your guests craving more.
Chipotle Black Bean Burger
This chipotle black bean burger recipe is a delicious and flavorful alternative to traditional burgers. Made with black beans, adobo sauce, and spices such as cumin and smoked paprika, these patties are perfect for grilling or frying and are sure to be a hit!
Recipe: chipotle black bean burger
Sheet Pan Fajita Veggies
With this simple and convenient recipe, you can easily make fajita veggies that are bursting with flavor. Just bake a variety of vegetables in the oven on a sheet pan, and in no time you'll have delicious and healthy fajita ingredients.
Recipe: fajitas veggies
Creamiest Scalloped Potatoes
This scalloped potatoes recipe is the ultimate comfort food and a perfect side dish for any occasion. With its creamy, garlicky, and savory flavors, it is sure to please everyone at the dinner table.
Recipe: scalloped potatoes
Caramel Apple Crumble
Imagine a juicy cinnamon-caramel sauce mixed with tangy diced apple topped with a fluffy and light crumble topping.
Recipe: apple crumble
Creamy Coleslaw
This easy coleslaw recipe is ready in 15 minutes or even less. It is a must-have side dish next to your favorite burger. If you need something quick and light to prepare for a summer potluck or grill party, think of this classic coleslaw salad.
Recipe: coleslaw
Savory Sweet Potato Casserole
If you are looking for an aromatic, herby, savory sweet potato casserole, you may want to try this recipe. It is an egg-free whipped sweet potato base topped with caramelized onions and flaky grated crumbles seasoned with thyme, sage, and rosemary.
Recipe: sweet potato casserole
5-minute BBQ Sauce
You will need only 5 minutes to make your own BBQ Sauce. It will be smoky, a bit sweet, but plain delicious.
Recipe: bbq sauce
French Onion Dip
This homemade French onion dip is a perfect party appetizer or savory snack to munch on in between meals. It is sour cream based, easy to make, with less than 10 ingredients and delicious.
Recipe: french onion dip
BBQ Pulled Burger
Shredded king oyster mushrooms make the best meatless pulled pork. Their meaty texture is way better to roast, grill, or fry than jackfruit. In 40 minutes, you can have this BBQ pulled mushroom burger with a coleslaw.
Recipe: pulled burger
Vegetable Gyros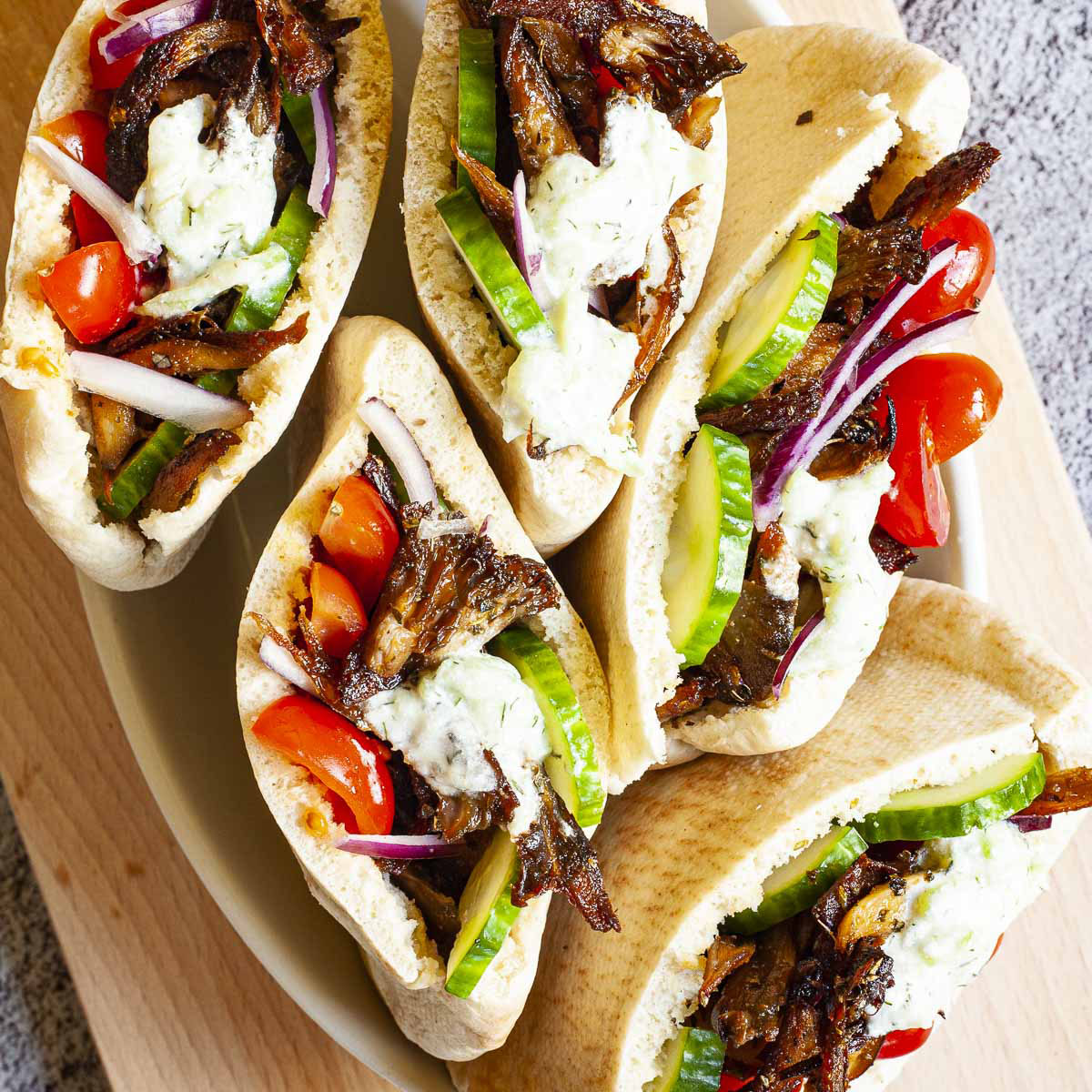 These gyros made with shredded oyster mushrooms have the perfect texture and taste, making them the best option for a filling meal. The crispy gyro meat pairs well with fresh vegetables and homemade tzatziki sauce, all wrapped up in a pita pocket.
Recipe: gyros
Blueberry Crisp
This blueberry crisp is a quick and easy dessert option that requires just four ingredients. The crispy and crunchy topping pairs perfectly with the sweet and juicy blueberries, making for a delicious and satisfying dessert.
Recipe: blueberry crisp
Grilled Vegetable Napoleon
This grilled vegetable Napoleon is a showstopper with vibrant, char-grilled layers of veggies like eggplant, zucchini, bell pepper, portobello mushroom, and more. If you want a visually stunning and flavorful side dish, look no further. Served with aromatic basil pesto, it is stunning and flavorful.
Recipe: vegetable napoleon
Pan-fried Green Herb Oyster Mushroom
If you are looking for THE oyster mushroom recipe you can serve as a side dish, this will surely be your favorite. Green herbs like thyme and parsley with a smidgen of chili peppers and a splash of lemon juice will bring out the natural mushroom flavor that can accompany any main course.
Recipe: pan fried oyster mushroom
Creamy Tortilla Soup
Our Creamy Tortilla Soup is a comforting bowl of goodness, filled with layers of rich flavors and a velvety texture. The combination of hearty vegetables, aromatic spices, and a creamy base creates a soup that is both satisfying and indulgent.
Recipe: tortilla soup
Spanish Patatas a lo Pobre
Spanish Patatas a lo Pobre is a classic dish that showcases the simplicity and richness of Spanish cuisine. The combination of thinly sliced potatoes, onions, peppers, and garlic cooked in olive oil creates a flavorful and comforting dish that is perfect as a side or even as a main course.
Recipe: Spanish patatas a lo pobre
Mediterranean Grazing Board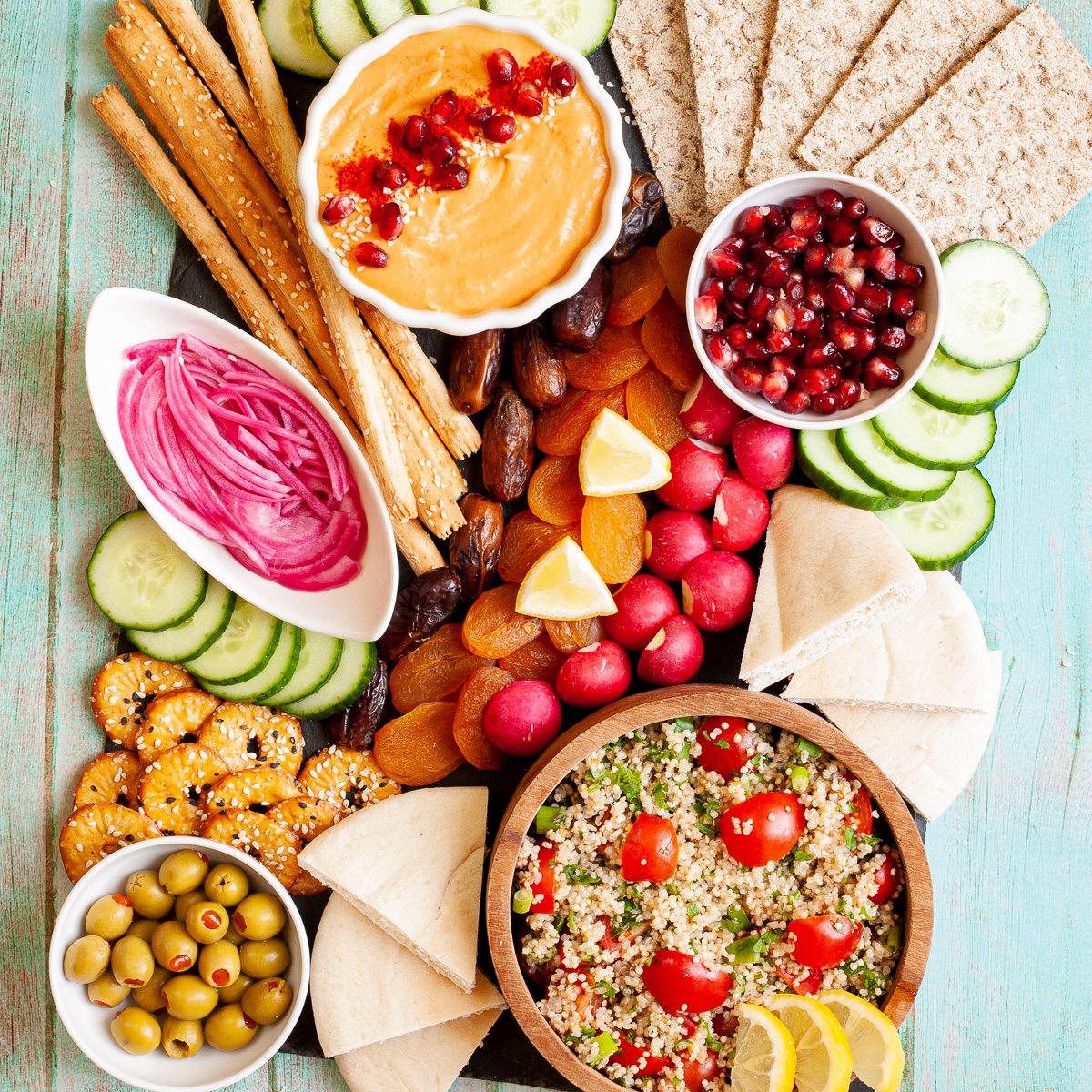 A grazing board is the perfect combination of aesthetics and taste. With a variety of dips, crunchy breadsticks, pickled onions, and soft pita bread, it's a delicious Mediterranean feast that's perfect for sharing with family and friends.
Recipe: Mediterranean Grazing Board
Big Mac Style Burger
Why is it the meatiest veggie burger? Because it has a chewy, ground beef-like texture (thank you TVP), and it does not taste like veggies at all.
Recipe: big mac style burger
Plum Crumble
This Simple Plum Crumble with Crunchy Walnut and Oat Topping is one of the easiest dessert recipes. You can't go wrong with a crumble. No kneading, no shaping, no decorating. I usually make the crispy topping with a food processor, which is like 2 minutes tops. And a scoop of vanilla ice cream is a must.
Recipe: plum crumble
The Best Falafel Sandwich
Fresh lettuce leaves, sweet and tangy tahini sauce, and crispy falafel in pita bread are how to make the best falafel sandwich. We show you how easy it is to make this popular Middle Eastern vegetarian street food from scratch and from the comfort of your home.
Recipe: falafel sandwich
Lemon Poppy Seed Muffins
These delicious lemon poppy seed muffins are an explosion of citrusy flavor that will surely put a smile on everyone's face! Made with fresh lemon zest and nutty poppy seeds, these melt-in-your-mouth muffins are a breeze to whip up and even easier to demolish. The best part is that you can enjoy these tangy treats anytime: For breakfast, an afternoon snack, or a post-dinner dessert!
Recipe: lemon poppy seed muffins
Beet Burger
With just 7 simple and easy-to-find ingredients, this beet burger recipe is perfect for those who want to experience the juicy, flavorful, and downright irresistible taste of this crowd-pleaser. Get your hands on some beets, cannellini beans, and oats, and trust us, this burger will leave you feeling happy, satisfied, and wanting more!
Recipe: beet burger
Pesto Vegetables
Experience the delightful combination of vegetables and aromatic pesto sauce in our pesto vegetables recipe. This culinary fusion is sure to satisfy. Prepare to savor the vibrant flavors and enticing aromas as roasted veggies are perfectly paired with a flavorful pesto sauce!
Recipe: pesto vegetables
26 Big-Batch Dishes to Stock Your Freezer
15 Weekend Lunch Recipes on a Dime to Feed The Family
Europe's Finest 25 Recipes You May Not Even Know Of
25 Asian Foods You Absolutely Need to Make At Least Once
Skip The Dreaded Drive-Thru Line With These 15 Fast Food Copycat Recipes