Indulge in the iconic flavors of a Big Mac while keeping it healthier and budget-friendly with these homemade recipes. By using fresh, quality ingredients and thoughtful preparation techniques, you can recreate the beloved taste of a McDonald's Big Mac right in your own kitchen. Say goodbye to the guilt associated with fast food and hello to a satisfying, homemade alternative that's kinder to both your wallet and your health. Embrace the opportunity to enjoy a better-for-you Big Mac experience without compromising on taste or quality!
What to expect?
Our Big Mac burger recipe is perfect for you. It has a chewy, ground beef-like texture and holds together well during grilling or frying. Best of all, it doesn't taste like veggies and is easy to make with high-protein ingredients. Give it a try and enjoy a delicious and satisfying burger without compromising your dietary preferences.
Ingredients I.
The main ingredient is TVP (textured vegetable protein). What is TVP? It is actually only soy flour, no other ingredients. They add water to it to make a paste, then it is pressure cooked in a sense, then dehydrated. The chewy texture is spot on due to the TVP chunks. This is the best plant-based alternative by far.
Check the original Big Mac Burger recipe for the video recipe.
Ingredients II.
Onion, garlic, black beans, tomato puree, all-purpose flour, starch
Seasoning – smoked sweet paprika, Worcestershire sauce, dried oregano, dried basil, ground cumin, balsamic vinegar, olive oil, salt, and black pepper
Turning TVP into vegan meat
Boil water in a kettle and add veggie stock or bring vegetable broth to boil.
Take a heat-resisting bowl or saucepan and soak TVP in the hot veggie broth for 10 minutes.
When the time is up, squeeze the liquid out. As a result, you need to have moist, soft "minced meat".
Precooking onion and garlic
While you wait for the TVP to get ready, peel and chop onion and garlic.
Take a frying pan, add a dash of olive oil and the finely chopped onion and garlic.
Cook onion and garlic until tender, but opaque, yellow and not caramelized.
Check the original Big Mac Burger recipe for the video recipe.
Mixing
Add black beans, sauteed onion and garlic, canned drained black beans, tomato paste, and all spices (smoked sweet paprika, Worcestershire sauce (vegan), dried oregano, dried basil, ground cumin, balsamic vinegar, olive oil, salt and black pepper) to a food processor.
Blend
2. Blend them until you get a chunky texture.
Add cooked TVP
3. Then add soaked TVP and pulse for a couple of times.
Check the original Big Mac Burger recipe for the video recipe.
Pulse
4. Pulse a couple of times. You don't want to lose TVP's ground beef texture, but you need to chop them a bit to make sure the burger patties hold together. See the consistency in the below photo.
Making TVP burger patties I.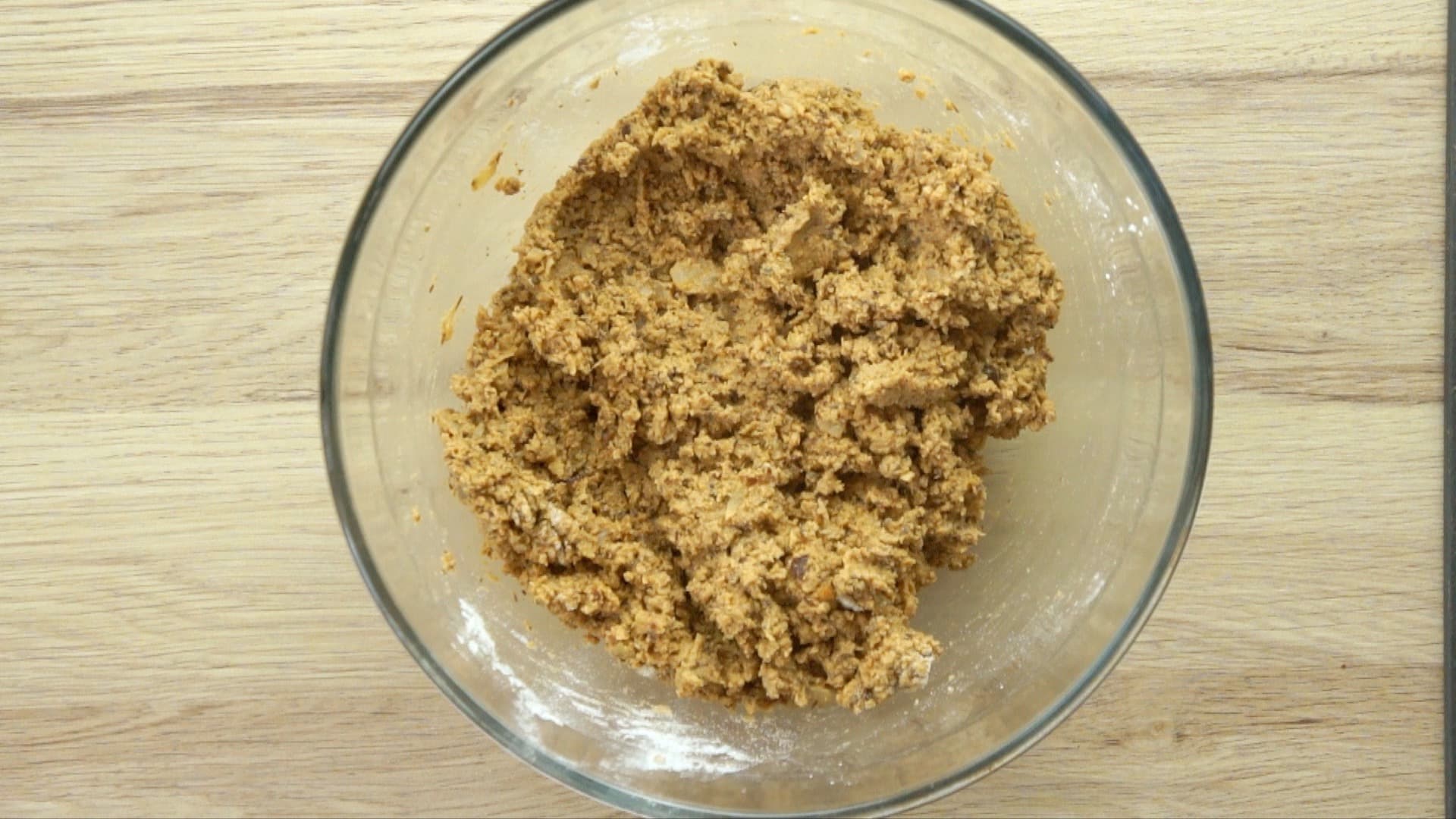 Take a mixing bowl and add the chopped mixture from the food processor with the rice flour and the tapioca starch. Mix with a spatula.
Making TVP burger patties II.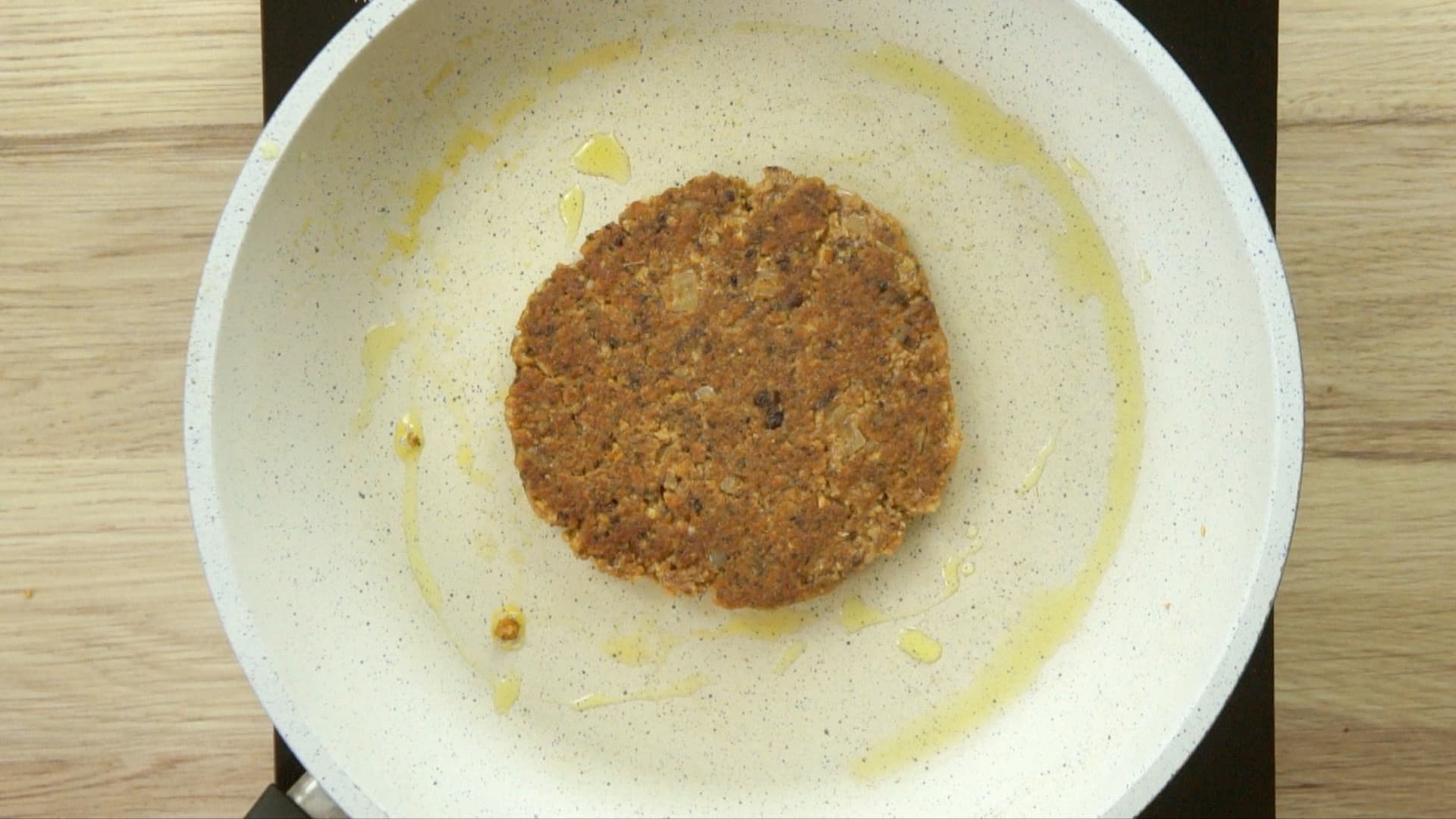 Take 2-3 Tbsp of mixture and roll a ball with your hands. Then flatten the ball between your palms. We went as thin as 0.5 inches.
Take a non-stick frying pan, and heat it over low/medium heat with some oil.
Fry both sides for 5 minutes.
Check the original Big Mac Burger recipe for the video recipe.
Let's build your vegan Big Mac burger!
Here is the best part. You can build your own meatless burger with your favorite toppings, or you can try this Big Mac-inspired combination:
Check the original Big Mac Burger recipe for the video recipe.
Other TVP recipes to try
Start with checking out these must-try TVP recipes or choose from the below list:
TVP Meatballs
These TVP meatballs are the perfect plant-based substitute for traditional meatballs, with a satisfying meaty texture and full of savory flavors. Paired with a rich marinara sauce and spaghetti, they make a delicious and comforting meal.
Recipe: TVP meatballs
Crispy Vegan Chicken Patties
These vegan chicken patties are a perfect plant-based alternative to traditional chicken patties. The combination of crispy outer crust and flavorful texture inside makes them an excellent addition to any meal.
Recipe: vegan chicken patties
Meaty Vegan Moussaka
This vegan moussaka recipe features layers of tender roasted eggplant slices, a rich tomato-based ragu sauce made with vegan ground meat, and a velvety creamy white bechamel sauce that is baked to perfection. It's a hearty and flavorful Mediterranean-inspired dish that is sure to impress.
Recipe: vegan moussaka
TVP Taco Meat
Looking for a vegan alternative to taco meat that's just as meaty and flavorful? Look no further than TVP (textured vegetable protein)! With a texture and taste that perfectly mimics ground beef, it's the closest you'll ever get to the real thing.
Recipe: vegan taco meat
Meaty Vegan Mexican Rice Casserole
Enjoy the ultimate comfort food with this Mexican-style vegan rice casserole that packs a meaty punch with its flavorful vegan ground beef, black beans, and sweet corn in a spicy tomato-based sauce. With minimal prep time and easy assembly, this hearty and cheesy casserole will be a sure hit for any weeknight dinner.
Recipe: vegan mexican rice casserole
26 Big-Batch Dishes to Stock Your Freezer
15 Weekend Lunch Recipes on a Dime to Feed The Family
Europe's Finest 25 Recipes You May Not Even Know Of
25 Asian Foods You Absolutely Need to Make At Least Once
Skip The Dreaded Drive-Thru Line With These 15 Fast Food Copycat Recipes