Impress your date with a memorable culinary experience, regardless of your cooking skills, by exploring our collection of 17 exciting dishes. From elegant appetizers and sophisticated mains to delightful desserts, these recipes are designed to dazzle and leave your date in awe. Whether you're a seasoned chef or a beginner in the kitchen, these dishes offer a range of options that will elevate your date night and showcase your thoughtfulness and creativity. So, don your apron, prepare to set the mood, and get ready to create an unforgettable dining experience.
Alfredo Sauce in 15 minutes
Enjoy a healthy and quick meal with our 5-ingredient alfredo sauce recipe. Creamy, delicious, and ready in just 15 minutes, it's the perfect solution for a fast and easy dinner.
Recipe: alfredo sauce
Grilled Vegetable Napoleon
This grilled vegetable Napoleon is a showstopper with vibrant, char-grilled layers of veggies like eggplant, zucchini, bell pepper, portobello mushroom, and more. If you want a visually stunning and flavorful side dish, look no further. Served with aromatic basil pesto, it is stunning and flavorful.
Recipe: vegetable napoleon
Thai Green Curry Fried Rice
This Thai green curry fried rice is a mouth-watering and flavorful dish that makes great use of leftover rice. With a perfect blend of creamy, sweet, and citrusy flavors, it's an easy-to-make and delicious vegan recipe that can be ready in just 30 minutes.
Recipe: green curry fried rice
Corn Chowder
This Corn Chowder recipe is a special one as it features pan-seared corn kernels and a deglazed pan, resulting in an oil-free soup. The soup is thickened with potatoes making it a delicious and healthy option.
Recipe: Corn Chowder
Chocolate Chip Muffins
These moist, chocolatey chocolate chip muffins are perfect for brunch, an after-dinner dessert, or an afternoon snack. Using the famous Jordan Marsh muffins as a base, these muffins are packed with flavor and a tender texture that both kids and adults will love!
Recipe: chocolate chip muffins
Chipotle Veggie Bowl
This Chipotle-inspired veggie bowl is a tasty and healthy option for a satisfying meal. Filled with fajita veggies, black beans, cilantro brown rice, and tomato and corn salsa, this vegan burrito bowl is completed with crispy fried tofu crumbles in a hot spicy chili sauce known as Sofritas.
Recipe: chipotle veggie bowl
Tuscan Red Wine Pasta
Tuscan Red Wine Pasta is a hearty and flavorful dish that brings together the robust flavors of red wine, tender pasta, and roasted cauliflower. The cauliflower adds a delightful texture and a subtle earthy taste, while the red wine sauce infuses the dish with depth and richness, resulting in a satisfying Italian-inspired meal.
Recipe: tuscan red wine pasta
Spicy Miso Soba Noodles
If you are looking for the most delicious miso noodles recipe, this spicy tahini miso sauce will surely deliver. It is not only delicious, but it is also an easy, no-cook sauce that you can mix within 5 minutes. Soba noodles are the perfect candidate to elevate these flavors.
Recipe: miso soba noodles
Pesto Vegetables
Experience the delightful combination of vegetables and aromatic pesto sauce in our pesto vegetables recipe. This culinary fusion is sure to satisfy. Prepare to savor the vibrant flavors and enticing aromas as roasted veggies are perfectly paired with a flavorful pesto sauce!
Recipe: pesto vegetables
Tikka Masala
This tikka masala recipe offers a quick and easy way to enjoy a flavorful tomato-based curry sauce that's creamy and aromatic. It can be paired with your choice of ingredients, such as meat, mushrooms, cauliflower, tofu, or chickpeas, to create a delicious and satisfying meal.
Recipe: tikka masala
Italian Panna Cotta
This panna cotta is a decadent, silky-smooth Italian dessert made without gelatin. With only a few simple ingredients, it is a quick and easy dessert that will impress your guests.
Recipe: panna cotta
Creamiest Scalloped Potatoes
This scalloped potatoes recipe is the ultimate comfort food and a perfect side dish for any occasion. With its creamy, garlicky, and savory flavors, it is sure to please everyone at the dinner table.
Recipe: scalloped potatoes
Vegetable Stew with Dumplings
This vegetable stew with dumplings is a delicious and comforting dish that will warm you up on a cold night. The flavorful stew, loaded with veggies and lentils, is topped with tender and fluffy dumplings, making it a satisfying and wholesome meal.
Recipe: vegetable stew with dumplings
Blueberry Muffins
These moist, fluffy, and easy-to-make blueberry muffins are packed with fresh, juicy blueberries and a hint of vanilla, then topped with cane sugar for an extra sweet crunch. Inspired by the popular Jordan Marsh blueberry muffin recipe, this sweet treat will surely put a smile on your face, whether you have them for breakfast, a snack, or a post-meal dessert!
Recipe: blueberry muffins
Grilled Vegetable Kabobs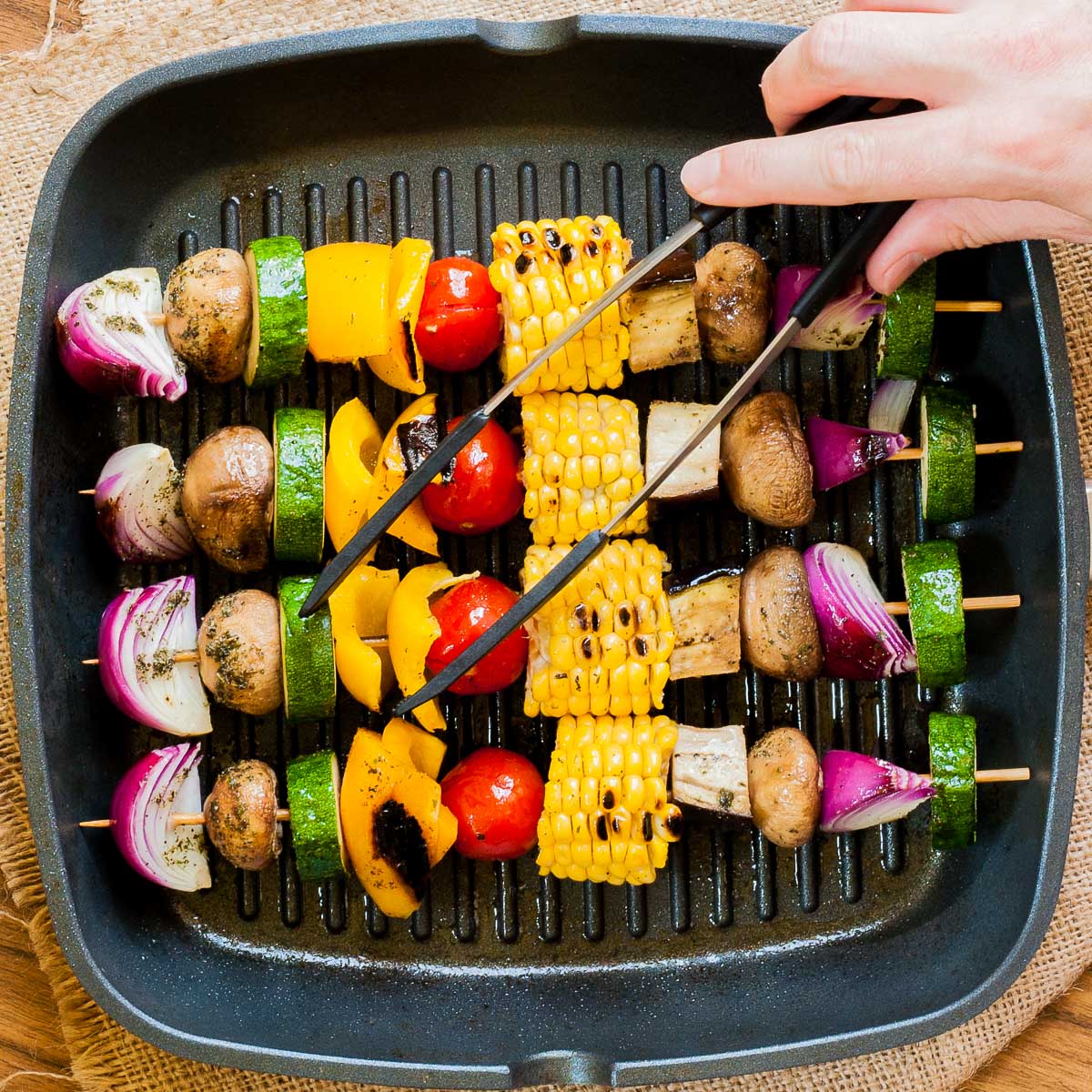 These vegetable kabobs are not only colorful but also incredibly flavorful. They are perfect for grilling and make a great side dish for any BBQ or party. With 3 different ways to make them and 5 delicious marinades to choose from, they are sure to please everyone's taste buds.
Recipe: grilled vegetable kabobs
Cream of Mushroom Soup
Looking for a quick and easy soup that's packed with flavor? Try this creamy mushroom soup that can be whipped up in just 30 minutes! Featuring a variety of mushrooms for a rich and savory taste, this soup is perfect for a comforting and satisfying meal.
Recipe: cream of mushroom soup
Tom Yum Fried Rice
Easy to make and packed with flavor and aroma, Tom Yum fried rice is best summed up in one word: Unforgettable. In this simple, easy-to-follow recipe, you'll learn how to make an all-veggie version from the comfort of your own kitchen. The best part? It takes less than 22 minutes to prepare!
Recipe: tom yum fried rice
26 Big-Batch Dishes to Stock Your Freezer
15 Weekend Lunch Recipes on a Dime to Feed The Family
Europe's Finest 25 Recipes You May Not Even Know Of
25 Asian Foods You Absolutely Need to Make At Least Once
Skip The Dreaded Drive-Thru Line With These 15 Fast Food Copycat Recipes