Delight your family over Labor Day weekend with these 23 recipes that are sure to be a hit with everyone. From modern barbecue favorites and flavorful grilled dishes to refreshing salads, creative sides, and mouthwatering desserts, these creations offer a diverse array of options to satisfy every palate. Whether you're hosting a backyard gathering, having a picnic, or simply enjoying quality time together, these recipes will make your Labor Day weekend memorable and delicious. Embrace the spirit of the holiday and enjoy these crowd-pleasing dishes that bring joy to your family's celebration!
Blueberry Muffins
These moist, fluffy, and easy-to-make blueberry muffins are packed with fresh, juicy blueberries and a hint of vanilla, then topped with cane sugar for an extra sweet crunch. Inspired by the popular Jordan Marsh blueberry muffin recipe, this sweet treat will surely put a smile on your face, whether you have them for breakfast, a snack, or a post-meal dessert!
Recipe: blueberry muffins
Pesto Vegetables
Experience the delightful combination of vegetables and aromatic pesto sauce in our pesto vegetables recipe. This culinary fusion is sure to satisfy. Prepare to savor the vibrant flavors and enticing aromas as roasted veggies are perfectly paired with a flavorful pesto sauce!
Recipe: pesto vegetables
Beet Burger
With just 7 simple and easy-to-find ingredients, this beet burger recipe is perfect for those who want to experience the juicy, flavorful, and downright irresistible taste of this crowd-pleaser. Get your hands on some beets, cannellini beans, and oats, and trust us, this vegan burger will leave you feeling happy, satisfied, and wanting more!
Recipe: beet burger
Chocolate Chip Muffins
These moist, chocolatey chocolate chip muffins are perfect for brunch, an after-dinner dessert, or an afternoon snack. Using the famous Jordan Marsh muffins as a base, these muffins are packed with flavor and a tender texture that both kids and adults will love!
Recipe: chocolate chip muffins
Creamy Tortilla Soup
Our Creamy Tortilla Soup is a comforting bowl of goodness, filled with layers of rich flavors and a velvety texture. The combination of hearty vegetables, aromatic spices, and a creamy base creates a soup that is both satisfying and indulgent.
Recipe: tortilla soup
Chili with Beans
This bean chili recipe is packed with flavor and wholesome ingredients like vegetables, legumes, and grains. It's a satisfying and hearty dish that's both easy to make and good for you.
Recipe: chili
Grilled Vegetable Kabobs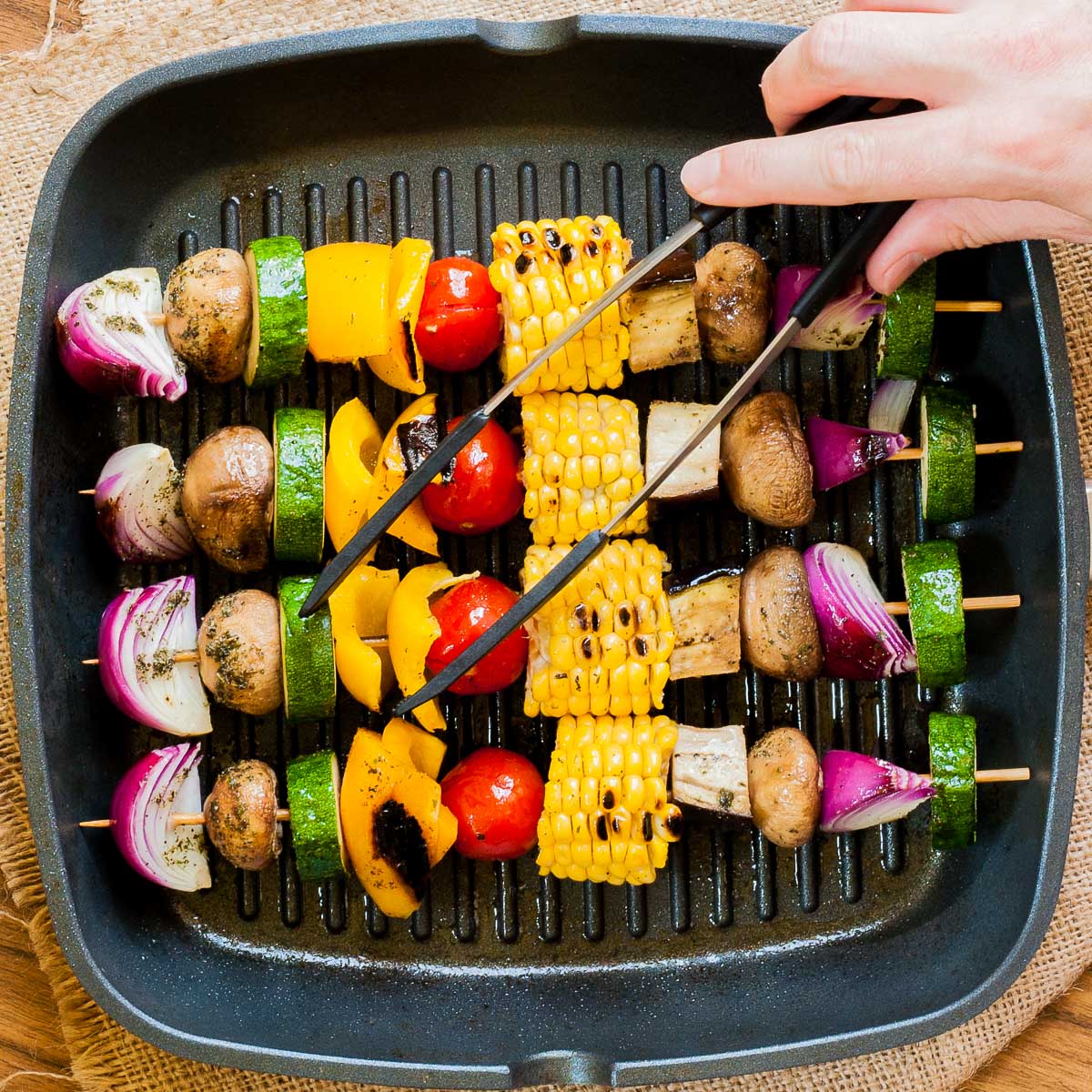 These vegetable kabobs are not only colorful but also incredibly flavorful. They are perfect for grilling and make a great side dish for any BBQ or party. With 3 different ways to make them and 5 delicious marinades to choose from, they are sure to please everyone's taste buds.
Recipe: grilled vegetable kabobs
Pan-fried Green Herb Oyster Mushroom
If you are looking for an oyster mushroom recipe you can serve as a side dish, this will surely be your favorite. Green herbs like thyme and parsley with a smidgen of chili peppers and a splash of lemon juice will bring out the natural mushroom flavor that can accompany any main course.
Recipe: oyster mushroom recipe
Falafel Gyros with Tzatziki
Make a delicious Greek-style falafel gyro with crispy homemade falafel balls, paired with chilled, tangy tzatziki salad, as well as some sweet tomatoes and piquant purple onion. Served it with pita bread for a perfect and easy lunch or dinner.
Recipe: falafel gyros
Buffalo Cauliflower
Tender on the inside and crispy on the outside, this vegan buffalo cauliflower is a mouthwatering addition to your game-day appetizer or dinner table. We use cauliflower florets to mimic the texture of traditional buffalo wings and then toss them in a finger-licking, sweet, spicy buffalo sauce. Whether you use it as a starter or your main course, you will crave more after the first bite!
Recipe: buffalo cauliflower
Quinoa Salad with Berries and Nuts
This refreshing berry and nuts quinoa salad is a perfect choice for a healthy and satisfying meal. Packed with protein from quinoa and nuts, and topped with fresh summer berries, it's a delicious and nutritious dish for any occasion.
Recipe: quinoa salad
Lentil Burger with Coleslaw
Indulge in a satisfying plant-based meal with our Lentil Burger accompanied by a refreshing coleslaw. The hearty lentil patty, seasoned to perfection, is complemented by the crisp and tangy coleslaw, creating a harmonious blend of flavors and textures that will leave you fully satisfied and craving another bite.
Recipe: lentil burger
Moussaka
This moussaka recipe features layers of tender roasted eggplant slices, a rich tomato-based ragu sauce made with ground meatless meat, and a velvety creamy white bechamel sauce that is baked to perfection. It's a hearty and flavorful Mediterranean-inspired dish that is sure to impress.
Recipe: moussaka
Portobello Mushroom Burger
This portobello mushroom burger is piquant and scrumptious at the same time. Grilled portobello mushroom caps are seasoned with a fajita spice mix, then layered among guacamole, salsa, vegan nacho cheese sauce, and spicy fajita veggies.
Recipe: portobello mushroom burger
Nacho Cheese Sauce
Looking for a delicious and healthy cheese sauce for your nachos? Try our nacho cheese sauce, made with nutritious ingredients for a creamy and delicious dip. Ready in just 20 minutes, this budget-friendly recipe is perfect for snacking and entertaining.
Recipe: nacho cheese sauce
Shakshuka
This chickpea shakshuka is a flavorful and hearty stew that combines Middle Eastern spices with tomatoes, bell peppers, onions, and chickpeas. Ready in under 30 minutes, this dish is perfect for a quick and satisfying weeknight dinner.
Recipe: chickpea shakshuka
Italian Panna Cotta
This light panna cotta is a decadent, silky-smooth Italian dessert made without gelatin or dairy. With only a few simple ingredients, it is a quick and easy dessert that will impress your guests.
Recipe: panna cotta
Veggie Fritters with Mushroom Dip
Experience a delightful twist on fritters with our Veggie Fritters accompanied by a delectable Mushroom Dip. These crispy golden fritters, packed with the natural sweetness of carrots, pair perfectly with the savory and earthy flavors of the mushroom dip, creating a delightful appetizer that will please both veggie lovers and food enthusiasts alike.
Recipe: fritters
Creamiest Scalloped Potatoes
This scalloped potatoes recipe is the ultimate comfort food and a perfect side dish for any occasion. With its creamy, garlicky, and savory flavors, it is sure to please everyone at the dinner table.
Recipe: scalloped potatoes
Savory Sweet Potato Casserole
If you are looking for an aromatic, herby, savory sweet potato casserole, you may want to try this recipe. It is an egg-free whipped sweet potato base topped with caramelized onions and flaky grated crumbles seasoned with thyme, sage, and rosemary.
Recipe: sweet potato casserole
White Chili
Ready in just 30 minutes, this one-pot white chili is simple to make, easy to customize, and delicious! We use king oyster mushrooms instead of chicken and simmer them with various veggies and herbs to create a flavor-packed and filling dish.
Recipe: white chili
Grilled Vegetable Napoleon
This grilled vegetable Napoleon is a showstopper with vibrant, char-grilled layers of veggies like eggplant, zucchini, bell pepper, portobello mushroom, and more. If you want a visually stunning and flavorful side dish, look no further. Served with aromatic basil pesto, it is stunning and flavorful.
Recipe: vegetable napoleon
Roasted Eggplant Red Pepper Dip
This roasted eggplant and red pepper dip is a smoky, rich, flavorful dip. It is the combination of two popular Middle Eastern classics baba ganoush and muhammara. Serve it with vegetables or with sliced pita bread, but it is especially delicious added to a grilled cheese sandwich.
Recipe: veggie dip
26 Big-Batch Dishes to Stock Your Freezer
15 Weekend Lunch Recipes on a Dime to Feed The Family
Europe's Finest 25 Recipes You May Not Even Know Of
25 Asian Foods You Absolutely Need to Make At Least Once
12 Legendary American Restaurants and Its Legendary Dishes