Stay on track with your diet while satisfying your snack cravings with these 20 healthy snack ideas that won't derail your progress. Whether you're following a specific diet plan or simply looking for nutritious and delicious snacks, these choices provide a variety of options that make healthy eating enjoyable and sustainable. Embrace these snacks as a part of your balanced diet and support your health and wellness goals.
Queso Dip
Indulge in a guilt-free snack with our delicious queso dip made from a veggie-based cheese sauce that is both creamy and healthy. Say goodbye to processed dips and hello to a satisfying snack ready in just 20 minutes!
Recipe: queso dip
Nacho Cheese Sauce
Looking for a delicious and healthy cheese sauce for your nachos? Try our nut-free and oil-free nacho cheese sauce, made with nutritious ingredients for a creamy and delicious dip. Ready in just 20 minutes, this budget-friendly recipe is perfect for snacking and entertaining.
Recipe: nacho cheese sauce
French Onion Dip
This homemade French onion dip is a perfect party appetizer or savory snack to munch on in between meals. It is sour cream based, easy to make, with less than 10 ingredients and delicious.
Recipe: french onion dip
Buffalo Wings
Are you looking for the tastiest, and easiest Buffalo Wings? The chicken itself is only one ingredient! No vital wheat gluten or seitan or any other soy product is needed. It is hot and sticky on the outside, meaty on the inside.
Recipe: buffalo wings
Buffalo Dip
Learn how to make a creamy, cheesy sauce that's both soy and nut-free using cannellini beans. Pair it with oyster mushrooms for the perfect plant-based alternative to shredded chicken in your buffalo dip.
Recipe: buffalo dip
Roasted Eggplant Red Pepper Dip
This roasted eggplant and red pepper dip is a smoky, rich, flavorful dip. It is the combination of two popular Middle Eastern classics baba ganoush and muhammara. Serve it with vegetables or with sliced pita bread, but it is especially delicious added to a grilled cheese sandwich.
Recipe: veggie dip
Cheezy Spicy Spinach Dip
This spinach dip is a creamy and flavorful dip that is perfect for any occasion. Made with whole food ingredients like veggies and spinach leaves, it's a healthier alternative to traditional cheesy dips.
Recipe: spinach dip
Roasted Cauliflower
Roasted cauliflower gets a makeover with this delicious recipe. The mild spiciness of the roasted florets is perfectly complemented by a creamy lemon herb tahini sauce, making it a perfect side dish for any meal.
Recipe: roasted cauliflower
Crispy Oyster Mushroom Tacos
Looking for a meatless taco alternative? Look no further than this Oyster Mushroom Tacos recipe. These mushrooms have a meat-like texture and are packed with flavor, making them the perfect substitute for meat strips.
Recipe: mushroom tacos
Hummus Quesadillas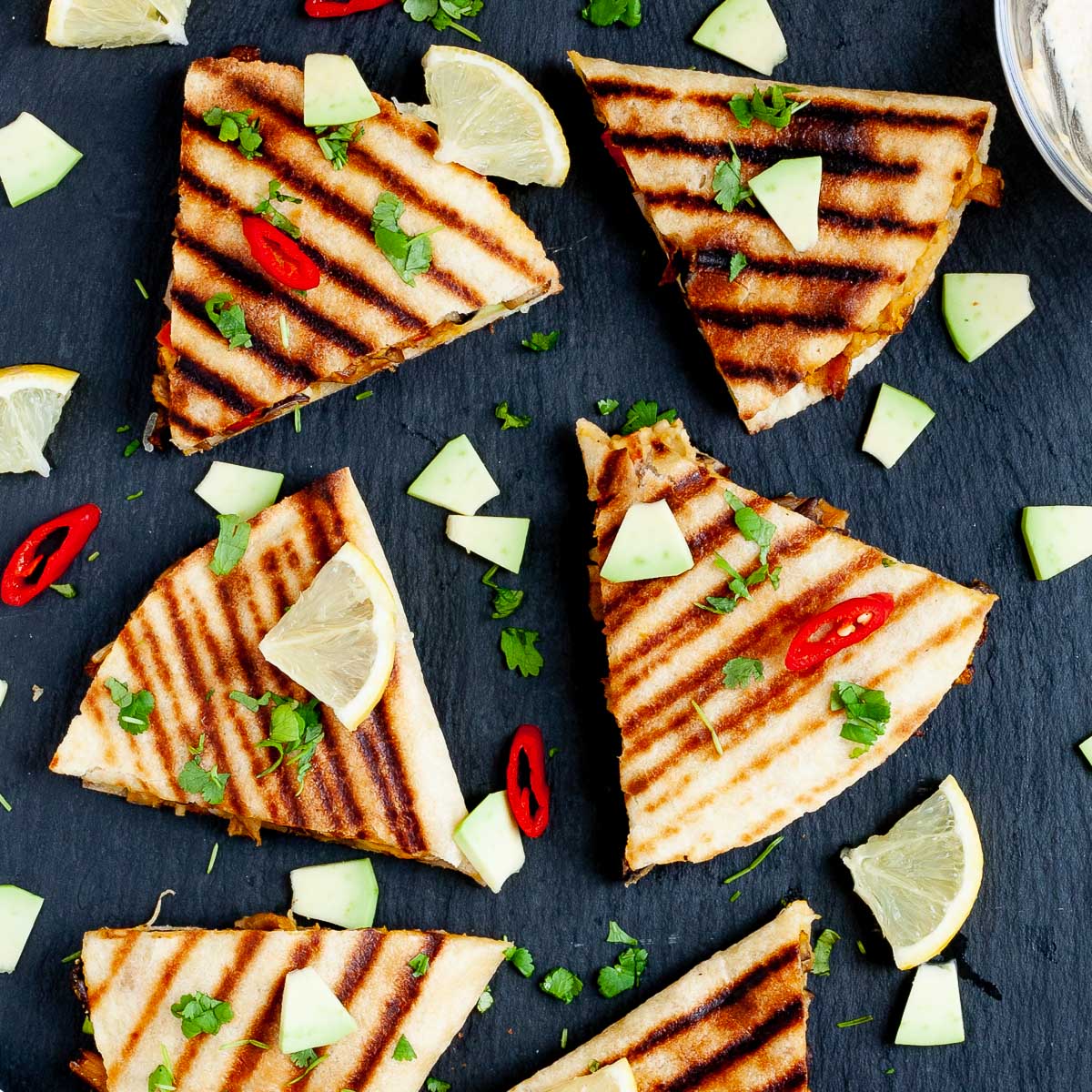 These hummus quesadillas are a delicious and healthy twist on a classic Mexican dish. Packed with flavorful veggies and beans, and bound together with creamy hummus instead of cheese, these quesadillas are a satisfying meal that will leave you feeling satisfied and nourished.
Recipe: hummus quesadillas
Triple Grilled Cheese Sandwich
Prepare for the ultimate comfort food experience with our Triple Grilled Cheese Sandwich. Indulge in the melty, gooey goodness of three different types of cheese, sandwiched between golden, buttery bread, resulting in a crispy exterior and a cheesy, satisfying interior that will make every bite a delight.
Recipe: triple grilled cheese sandwich
Cream Cheese Veggie Pinwheels
These Veggie Pinwheels with Cream Cheese are a quick and tasty appetizer that are always a hit at parties. The colorful vegetables, creamy cheese, and soft tortilla make for a satisfying and delicious bite.
Recipe: Veggie Pinwheels
Chipotle Veggie Burrito
This veggie burrito recipe is a Chipotle lover's dream, with nine different ingredients including cilantro lime rice, fajita veggies, and the famous Sofritas tofu crumbles. Easy to make at home, this burrito is sure to satisfy your cravings for a flavorful and filling meal.
Recipe: chipotle veggie burrito
Chipotle Black Bean Burger
This chipotle black bean burger recipe is a delicious and flavorful alternative to traditional burgers. Made with black beans, adobo sauce, and spices such as cumin and smoked paprika, these patties are perfect for grilling or frying and are sure to be a hit!
Recipe: chipotle black bean burger
Cauliflower Fish Tacos
Cauliflower fish tacos offer a creative and vegetarian-friendly twist on the beloved Mexican dish. With cauliflower as a substitute for the traditional fish, these tacos are still packed with flavor, thanks to the crispy texture of the cauliflower, zesty toppings, and a squeeze of lime, providing a delightful and satisfying culinary experience.
Recipe: cauliflower fish tacos
Carrot Fritters with Mushroom Dip
Experience a delightful twist on fritters with our Carrot Fritters accompanied by a delectable Mushroom Dip. These crispy golden fritters, packed with the natural sweetness of carrots, pair perfectly with the savory and earthy flavors of the mushroom dip, creating a delightful appetizer that will please both veggie lovers and food enthusiasts alike.
Recipe: carrot fritters
Black Bean Burger
This delicious black bean burger from our cookbook is perfect for a quick meal that does not skimp on flavor. With a hearty 5-ingredient black bean patty, fresh lettuce and tomato, and a spicy mayo sauce, this burger will satisfy even the most discerning taste buds. Perfect for those who crave veggie burgers, even on busy weeknights.
Recipe: black bean burger
Roasted Beet Hummus
Have you ever tried pink hummus? This roasted beet hummus recipe will give you the fluffiest and creamiest texture you could imagine. It is also quick to make since you need only 15 minutes to roast the beets, then 5 minutes to blend them together with the chickpeas.
Recipe: roasted beet hummus
Savory French Toast with Bruschetta
Our idea of a perfect breakfast is this savory, 3-ingredient, eggless french toast with bruschetta made from fresh, ripe tomatoes, basil and garlic. Yum! If you are looking for a quick and savory breakfast idea, search no further.
Recipe: french toast
Spicy Lentil Mushroom Tacos
Spicy Lentil Mushroom Tacos offer a mouthwatering twist on traditional tacos, with a hearty and flavorful filling. The combination of protein-rich lentils, savory mushrooms, and a kick of spice creates a satisfying plant-based meal that's sure to please taco lovers.
Recipe: spicy lentil tacos
26 Big-Batch Dishes to Stock Your Freezer
15 Weekend Lunch Recipes on a Dime to Feed The Family
Europe's Finest 25 Recipes You May Not Even Know Of
25 Asian Foods You Absolutely Need to Make At Least Once
Skip The Dreaded Drive-Thru Line With These 15 Fast Food Copycat Recipes