Embrace the early days of fall with these 22 delicious potluck palooza ideas that make gatherings with friends and family even more enjoyable. From hearty casseroles and crowd-pleasing dips to creative sides and sweet treats, these creations offer a variety of options to share and savor together. Whether you're attending a potluck dinner, a cozy get-together, or a seasonal celebration, these recipes provide a range of flavors and textures that will leave everyone asking for seconds. Embrace the spirit of community and indulge in these potluck dishes that add warmth and flavor to your early fall gatherings!
Lasagna with Lentil Bolognese
This lentil lasagna is a delicious and satisfying dish that features a rich and flavorful lentil bolognese sauce layered with creamy white bechamel and lasagna noodles. It is a perfect comfort food that will leave you feeling full and satisfied.
Recipe: lentil lasagna
Quinoa Sweet Potato Chili
This quinoa sweet potato chili is a perfect meatless and hearty meal that can be made in under 30 minutes. With a combination of quinoa, sweet potatoes, beans, and spices, this chili is flavorful, filling, and nutritious.
Recipe: quinoa sweet potato chili
White Sauce Pizza
Why save the white sauce for pasta when you can make a white pizza? This delicious pizza puts a twist on the traditional tomato sauce and cheese pizza and uses a creamy alfredo-style sauce in its place. It takes only 35 minutes to make, making it the perfect answer to a quick weeknight meal or a fun weekend pizza night.
Recipe: white sauce pizza
Smoked Tofu Sushi Rolls
This tofu sushi recipe combines smoked tofu, veggies, and a sriracha mayo to make delicious maki sushi rolls the entire family will love. You do not need to be a professional sushi chef to whip up this recipe.
Recipe: tofu sushi rolls
One-Pot Ratatouille
This is the best French summer vegetable stew that you can stir up in one pot within 30 minutes. I say to stir up because the traditional ratatouille is cooked on a stovetop and not baked.
Recipe: ratatouille
Portobello Pot Roast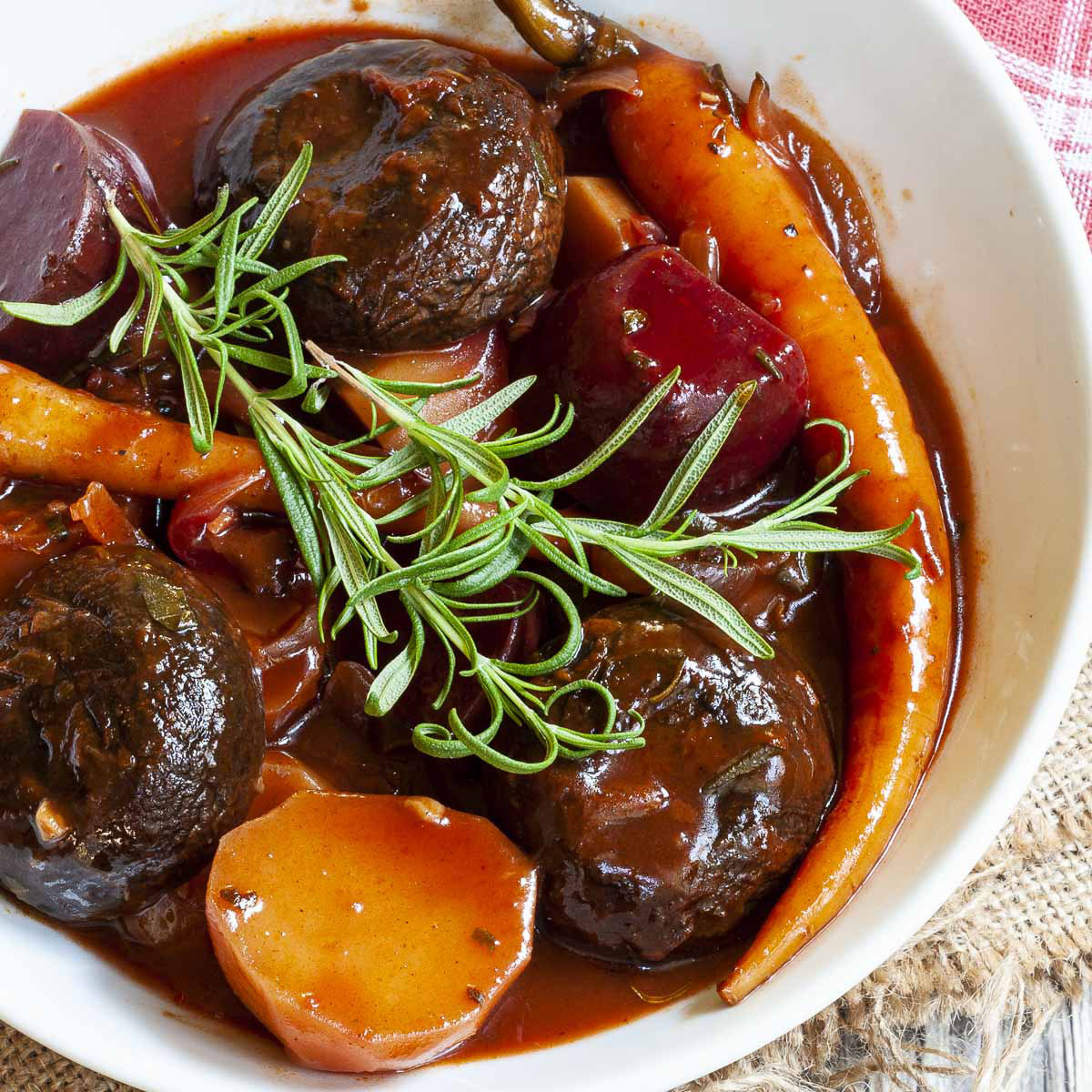 This pot roast is the perfect dish for those looking for a satisfying and flavorful one-pot dinner. With juicy portobello mushroom caps and an array of veggies stewed in a rich red wine gravy, it's a hearty and comforting meal that's also easy to make.
Recipe: pot roast
Thai Red Curry with Tofu
Indulge in the authentic flavors of Thai cuisine with this easy-to-make red curry recipe that uses only six simple ingredients to make a delicious sauce. Packed with tofu, wood ear mushrooms, bamboo shoots, and spring onions, this rich and creamy dish is spiced up with red chilis and ready in just 30 minutes!
Recipe: thai red curry tofu
Vegetable Pot Pie
This creamy and flavorful vegetable pot pie is a perfect comfort food, packed with vegetables and topped with either a flaky pie crust or a crispy sliced potato crust. Whether you're serving it for a holiday dinner or enjoying it as leftovers, this dish is sure to satisfy your taste buds.
Recipe: vegetable pot pie
Caramel Apple Crisp Pie
Apple crisp pie is a simple and delicious dessert that combines the sweet and tart flavor of caramel apple filling with a crispy topping. It's a perfect treat for any occasion, and the aroma of baked apples will fill your home with a cozy and inviting atmosphere.
Recipe: apple crisp pie
Blueberry Crisp
This blueberry crisp is a quick and easy dessert option that requires just four ingredients. The crispy and crunchy topping pairs perfectly with the sweet and juicy blueberries, making for a delicious and satisfying dessert.
Recipe: blueberry crisp
Breakfast Hash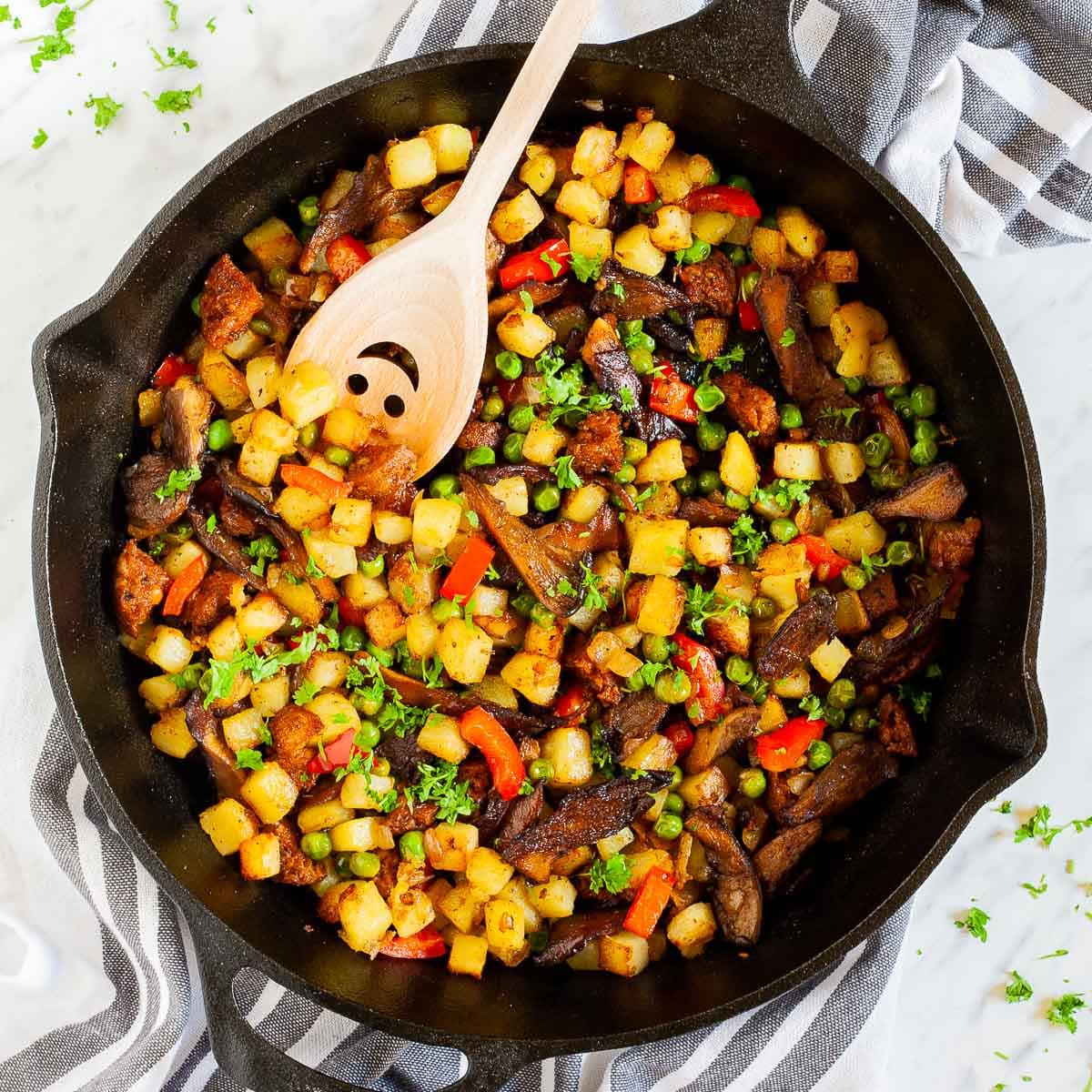 This breakfast hash is a delicious and hearty way to start your day, with fried potatoes and crispy oyster mushrooms mixed with a colorful array of veggies like green peas, onions, and bell peppers. It's easy to make and sure to satisfy any breakfast or brunch cravings.
Recipe: breakfast hash
Vegetable Korma
This vegetable korma recipe is a quick and easy way to make a flavorful Indian dish that is loaded with vegetables and protein-rich chickpeas. With its creamy and aromatic sauce, it is a perfect choice for a healthy and delicious dinner that everyone will love.
Recipe: vegetable korma
Mediterranean Hummus Pizza
Can you put hummus on pizza? Absolutely. Mediterranean ingredients like olives, feta cheese, cherry tomato, and fresh basil go perfectly with hummus pizza. You can try it now and make your regular pizza night a Mediterranean feast.
Recipe: hummus pizza
Strawberry Rhubarb Crisp
This strawberry rhubarb crisp is a mouth-watering dessert that can be made in under 30 minutes with only 4-ingredient filling and 4-ingredient crisp topping. It is the perfect blend of sweet and tangy flavors and can be enjoyed with a scoop of vanilla ice cream.
Recipe: strawberry rhubarb crisp
Fajita Veggies
This fajita veggies recipe is easy to make and packed with flavor. Simply sauté onions and bell peppers, season with spices, and voila! Enjoy with your favorite protein and toppings for a delicious meal.
Recipe: fajita veggies
Tofu Meatballs
These vegan tofu meatballs are a tasty and healthy alternative to traditional meatballs. Using minced frozen tofu and Italian-style seasoning, they're easy to make, versatile, and ready to serve in just 40 minutes.
Recipe: tofu meatballs
Orange Muffins
Exploding with citrusy flavor and a soft, melt-in-your-mouth texture, our orange muffins will have you craving for seconds after just one bite! These fluffy and tender muffins are made from fresh orange zest and then topped with a sweet orange glaze to create an unforgettable taste that is perfect for any time of day.
Recipe: orange muffins
Sweet Potato Sushi Rolls
The star of these sweet potato sushi rolls are maple roasted sweet potato, earthy beet, and creamy avocado wrapped up in sushi rice and nori sheets. It is the perfect combination of something sweet, savory, and umami that the whole family will love.
Recipe: sweet potato sushi rolls
Blueberry Lemon Muffins
If you like tender, sweet, and fruit-filled muffins, these blueberry lemon muffins will surely knock your taste buds out of the park! Made with a delicious combination of fresh blueberries and lemon zest and then topped with a sweet lemon glaze, having just one muffin will be nearly impossible!
Recipe: blueberry lemon muffins
Sushi without Fish
If you thought sushi without fish or seafood was impossible, think again! Not only is it possible, but it is incredibly delicious. This easy sushi rolls recipe takes you step-by-step through how to prepare colorful and flavorful maki sushi in your own kitchen in just an hour!
Recipe: sushi without fish
Blueberry Pie with Lemon Crumble
This blueberry pie is a delicious combination of warm, sweet, and juicy blueberry filling topped with a crunchy, lemony crumble. It's a perfect dessert with a scoop of vanilla ice cream.
Recipe: blueberry pie
Butternut Squash Paste Bake
Butternut Squash Paste Bake is a creamy and comforting dish made with smooth butternut squash puree, layered with cheese and herbs, and baked to golden perfection. This hearty and flavorful bake is a delightful way to enjoy the natural sweetness and velvety texture of butternut squash.
Recipe: butternut squash pasta bake
26 Big-Batch Dishes to Stock Your Freezer
15 Weekend Lunch Recipes on a Dime to Feed The Family
Europe's Finest 25 Recipes You May Not Even Know Of
25 Asian Foods You Absolutely Need to Make At Least Once
Skip The Dreaded Drive-Thru Line With These 15 Fast Food Copycat Recipes