Are you tired of feeling hungry shortly after lunch? Look no further! We have compiled a collection of 30 easy vegan lunch recipes that are light on calories and incredibly filling. With these satisfying meals, you can stay energized and satisfied until dinner.
Shakshuka
This chickpea shakshuka is a flavorful and hearty stew that combines Middle Eastern spices with tomatoes, bell peppers, onions, and chickpeas. Ready in under 30 minutes, this dish is perfect for a quick and satisfying weeknight dinner.
Recipe: vegan chickpea shakshuka
Avocado Spring Rolls
Try our avocado spring rolls for a delicious and easy-to-prepare summer snack or appetizer. They are freshly prepared with a mix of flavorful avocado mango salsa and vermicelli noodles to create a delightful combination of texture and flavor. So refreshing!
Recipe: avocado spring rolls
Quick Broccoli Lentil Stir Fry
This lentil stir-fry recipe is the perfect solution for a quick, easy and healthy meal. With tender lentils, crunchy broccoli florets, and sweet corn, it comes together in just 20 minutes, and is served with flavorful turmeric rice.
Recipe: broccoli lentil stir fry
Chipotle Veggie Burrito
This veggie burrito recipe is a Chipotle lover's dream, with nine different ingredients including cilantro lime rice, fajita veggies, and the famous Sofritas tofu crumbles. Easy to make at home, this burrito is sure to satisfy your cravings for a flavorful and filling meal.
Recipe: chipotle veggie burrito
Sheet Pan Fajita Veggies
With this simple and convenient recipe, you can easily make fajita veggies that are bursting with flavor. Just bake a variety of vegetables in the oven on a sheet pan, and in no time you'll have delicious and healthy fajita ingredients.
Recipe: fajitas veggies
Grilled Vegetable Kabobs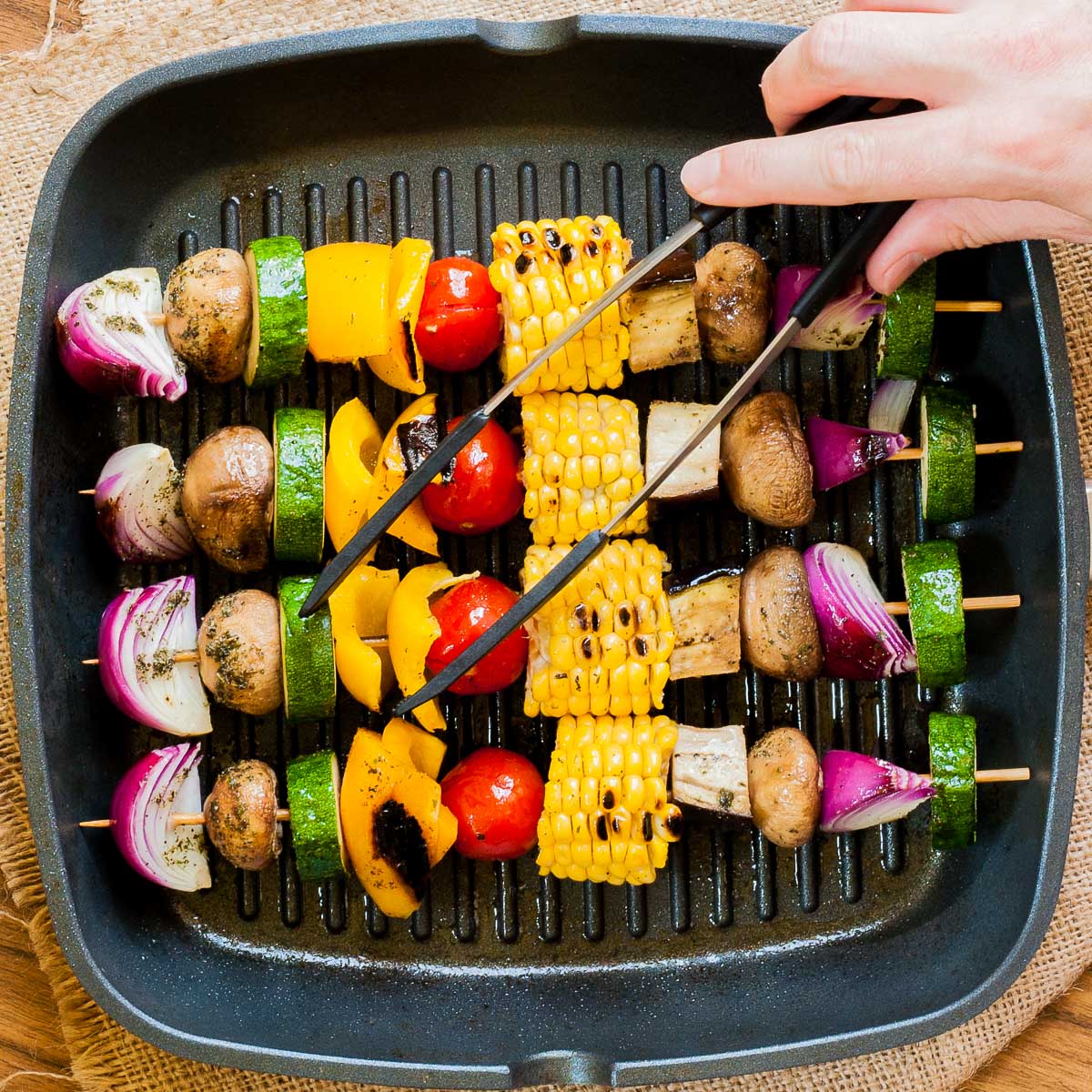 These vegetable kabobs are not only colorful but also incredibly flavorful. They are perfect for grilling and make a great side dish for any BBQ or party. With 3 different ways to make them and 5 delicious marinades to choose from, they are sure to please everyone's taste buds.
Recipe: grilled vegetable kabobs
Creamy Harissa Tahini Pasta
Get ready for a flavor-packed meal with this harissa tahini pasta sauce recipe that is quick and easy to make in just 20 minutes. The creamy and spicy sauce is a perfect combination with your favorite pasta and vegetables, making it an ideal dish for busy weeknights or any time you need a delicious and satisfying meal.
Recipe: harissa tahini pasta sauce
Hummus Quesadillas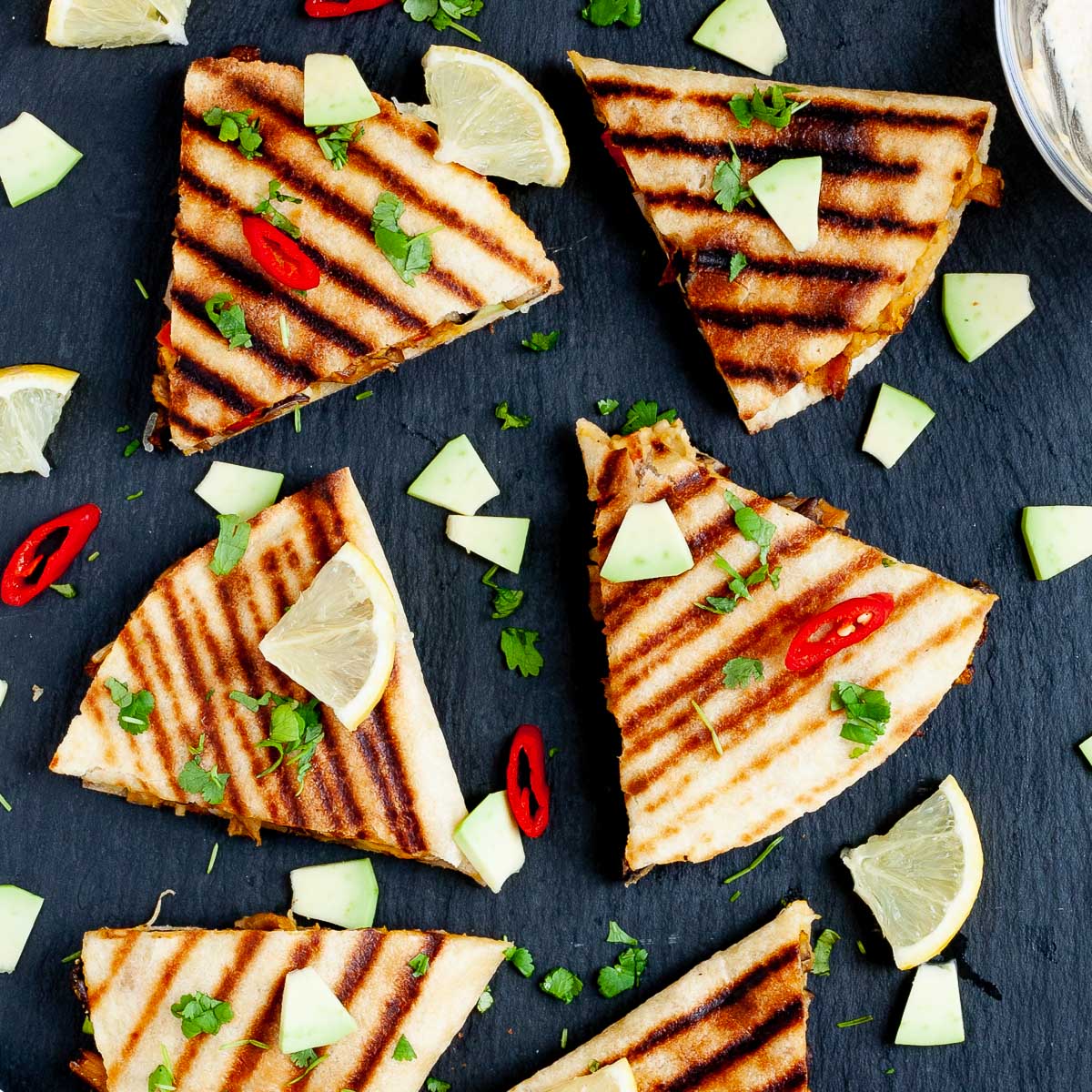 These hummus quesadillas are a delicious and healthy twist on a classic Mexican dish. Packed with flavorful veggies and beans, and bound together with creamy hummus instead of cheese, these quesadillas are a satisfying meal that will leave you feeling satisfied and nourished.
Recipe: hummus quesadillas
Authentic Lecsó (Hungarian Pepper Stew)
Lecsó is sort of the Hungarian version of the French ratatouille. It is a super easy tomato and pepper stew you can stir up in one pot within 30 minutes. If you would like to eat Lecsó exactly how Hungarians eat it, you should try this recipe.
Recipe: lecso
Spicy Tahini Miso Soba Noodles
If you are looking for the most delicious miso noodles recipe, this spicy tahini miso sauce will surely deliver. It is not only delicious, but it is also an easy, no-cook sauce that you can mix within 5 minutes. Soba noodles are the perfect candidate to elevate these flavors.
Recipe: miso soba noodles
Crispy Oyster Mushroom Tacos
Looking for a meatless taco alternative? Look no further than this Oyster Mushroom Tacos recipe. These mushrooms have a meat-like texture and are packed with flavor, making them the perfect vegan substitute for meat strips.
Recipe: vegan mushroom tacos
Pad Woon Sen (Thai Glass Noodles Stir Fry)
This is a classic Pad Woon Sen recipe turned completely meatless. Silky Thai glass noodles in a sweet and salty sauce are stir-fried with carrots, cabbage, tomato, onion, and mung bean sprouts. For added protein, this recipe calls for tofu scramble and marinated oyster mushrooms.
Recipe: pad woon sen
Eggplant Tofu (Copycat Panda Express)
Have you always loved eggplant tofu, but Panda Express doesn't serve it near your location anymore, or if you always wanted to try it but never had a chance? Fry up your skillet now and make this tofu, eggplant, and bell pepper dish stir-fried in a sweet and spicy sauce.
Recipe: panda express eggplant tofu
Ramen Spring Rolls
Rolled and ready in just under 30 minutes, these ramen spring rolls are sure to be a scrumptious addition to your next dinner party. Serve it up as an appetizer or snack and let your guests enjoy the savory flavors of bok choy, scallion, and wood ear mushroom, cooked in a spicy blend of sriracha and soy sauce!
Recipe: ramen spring rolls
One-Pot Ratatouille
This is the best French summer vegetable stew that you can stir up in one pot within 30 minutes. I say to stir up because the traditional ratatouille is cooked on a stovetop and not baked.
Recipe: ratatouille
Crispy Rice Paper Spring Rolls
Enjoy the perfect balance of textures and flavors with these crispy and flavorful rice paper spring rolls. Packed with fresh and colorful veggies, along with marinated tofu, these rolls are a healthy and delicious meal that can be enjoyed as a snack or a light lunch.
Recipe: rice paper spring rolls vegan
Roasted Cauliflower
Roasted cauliflower gets a makeover with this delicious recipe. The mild spiciness of the roasted florets is perfectly complemented by a creamy lemon herb tahini sauce, making it a perfect side dish for any meal.
Recipe: roasted cauliflower
Vegan Cabbage Soup with Sausages
This Hungarian vegan cabbage soup recipe is a flavorful and delicious option for any season. With a generous amount of smoked sweet paprika powder and vegan sour cream, it brings a unique twist to the classic cabbage soup. Packed with potatoes, carrots, tomatoes, peppers, and vegan sausages, it's a hearty and satisfying meal that is easy to make.
Recipe: vegan cabbage soup
Sushi Spring Rolls
Whether you are preparing for an office potluck or hosting friends and family at home, these delicious sushi spring rolls are sure to impress. You can create mouthwatering rolls featuring aromatic, teriyaki tofu, creamy avocado, and crunchy cucumber.
Recipe: sushi spring rolls
Sweet Potato Sushi Rolls
The star of these sweet potato sushi rolls are maple roasted sweet potato, earthy beet, and creamy avocado wrapped up in sushi rice and nori sheets. It is the perfect combination of something sweet, savory, and umami that the whole family will love.
Recipe: sweet potato sushi rolls
Thai Oyster Mushroom Noodle Stir Fry
It is an easy aromatic Thai noodle stir fry with sauteed oyster mushrooms, tofu, par-boiled broccoli, and rice noodles. Thai food is well-known for its spiciness, although it's not always hot to taste.
Recipe: thai oyster mushroom noodle stir fry
Smoked Tofu Sushi Rolls
This tofu sushi recipe combines smoked tofu, veggies, and a sriracha mayo to make delicious maki sushi rolls the entire family will love. You do not need to be a professional sushi chef to whip up this recipe.
Recipe: tofu sushi rolls
Chipotle Veggie Bowl
This Chipotle-inspired veggie bowl is a tasty and healthy option for a satisfying meal. Filled with fajita veggies, black beans, cilantro brown rice, and tomato and corn salsa, this vegan burrito bowl is completed with crispy fried tofu crumbles in a hot spicy chili sauce known as Sofritas.
Recipe: chipotle veggie bowl
Vegan Dumpling Soup
This vegan dumpling soup is the epitome of comfort food, with a medley of vegetables and herbs that come together in a light yet satisfying broth. The tender and flavorful dumplings add an extra layer of texture and flavor to make it a perfect meal for any occasion.
Recipe: vegan dumpling soup
Sushi without Fish
If you thought sushi without fish or seafood was impossible, think again! Not only is it possible, but it is incredibly delicious. This easy sushi rolls recipe takes you step-by-step through how to prepare colorful and flavorful maki sushi in your own kitchen in just an hour!
Recipe: sushi without fish
Minestrone Soup
This vegan minestrone soup is a comforting and hearty bowl of goodness. Loaded with vegetables, legumes, and pasta, it is a perfect meal for a chilly evening.
Recipe: vegan minestrone soup
Vegan Pesto Pasta
Indulge in the deliciousness of this vegan pesto pasta that's bursting with flavors of freshly made basil pesto, juicy cherry tomatoes, and a sprinkle of vegan parmesan or nutritional yeast. It's a quick and easy meal that's perfect for any time of the day.
Recipe: vegan pesto pasta
Hidden Veggies Pasta Sauce
This healthy vegetable sauce is a delicious and nutritious option for pasta lovers. Packed with seven different veggies and blended into a smooth and creamy sauce, even picky eaters will love this flavorful and satisfying meal.
Recipe: vegetable sauce pasta
Authentic Hungarian Bean Goulash
Indulge in the flavors of Hungary with this hearty vegetarian goulash soup made with beans and vegetables. This traditional recipe has been passed down through generations and can be made in just 30 minutes, making it the perfect comforting and healthy meal for any weeknight.
Recipe: vegetarian goulash soup
Vietnamese Spring Rolls
These vegan Vietnamese spring rolls are the perfect light and refreshing appetizer or meal, filled with fresh herbs, crunchy vegetables, and savory mushroom shreds wrapped in delicate rice paper. The combination of textures and flavors is truly satisfying and healthy.
Recipe: vegan Vietnamese spring rolls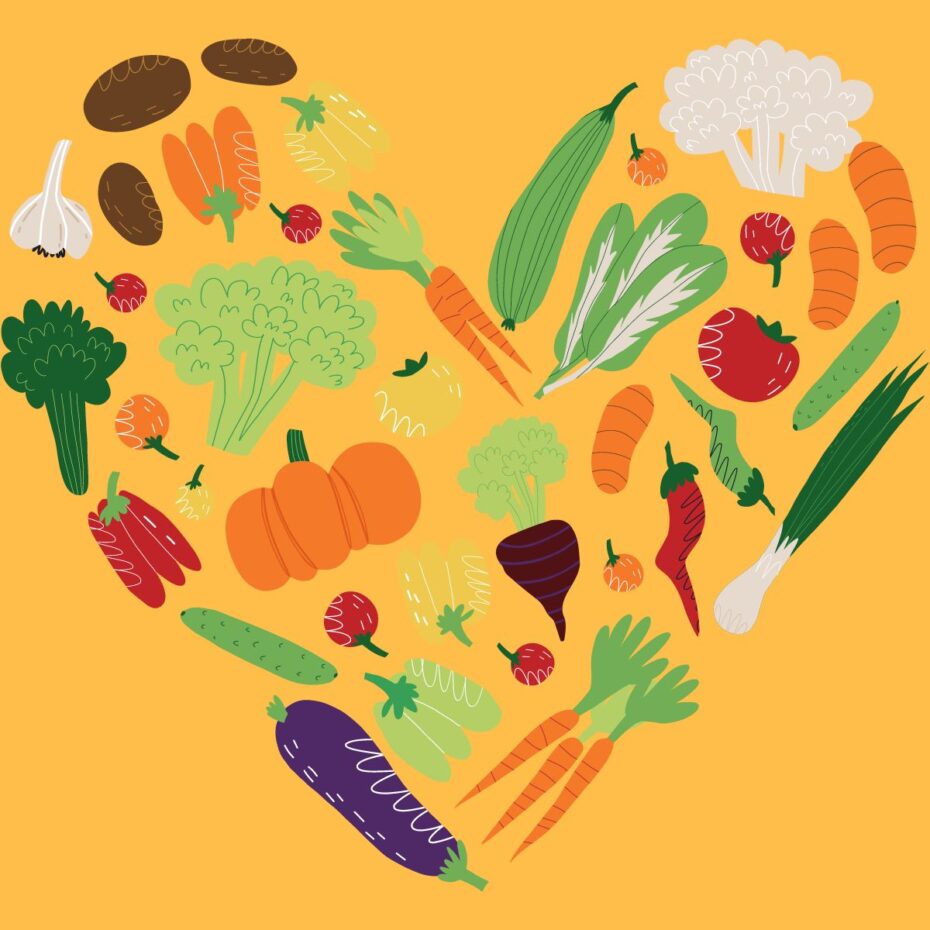 More vegan recipes