Enjoy hassle-free dinners with these 18 low-effort recipes that require minimal planning and still deliver on flavor. From simple one-pan dishes and quick stir-fries to easy sheet pan meals and no-fuss pasta creations, these recipes offer a variety of options for busy weeknights or when you simply don't have the time for an elaborate meal. Whether you're short on ingredients or just looking for a convenient dinner solution, these dishes provide a range of flavors and textures that make cooking a breeze. Embrace the convenience of stress-free dinners and savor these recipes that prove you can enjoy a delicious meal with minimal effort!
Creamy Harissa Tahini Pasta
Get ready for a flavor-packed meal with this harissa tahini pasta sauce recipe that is quick and easy to make in just 20 minutes. The creamy and spicy sauce is a perfect combination with your favorite pasta and vegetables, making it an ideal dish for busy weeknights or any time you need a delicious and satisfying meal.
Recipe: harissa tahini pasta sauce
Casarecce Pasta in Peperonata Sauce
Looking for a quick and delicious meal? Try our casarecce pasta recipe! Originating from Sicily, these short pasta noodles are known for their twisted or rolled shape, perfect for holding rich and flavorful sauces. Boil the pasta, and in just 30 minutes, you'll have a comforting Italian masterpiece.
Recipe here: casarecce pasta
Hummus Quesadillas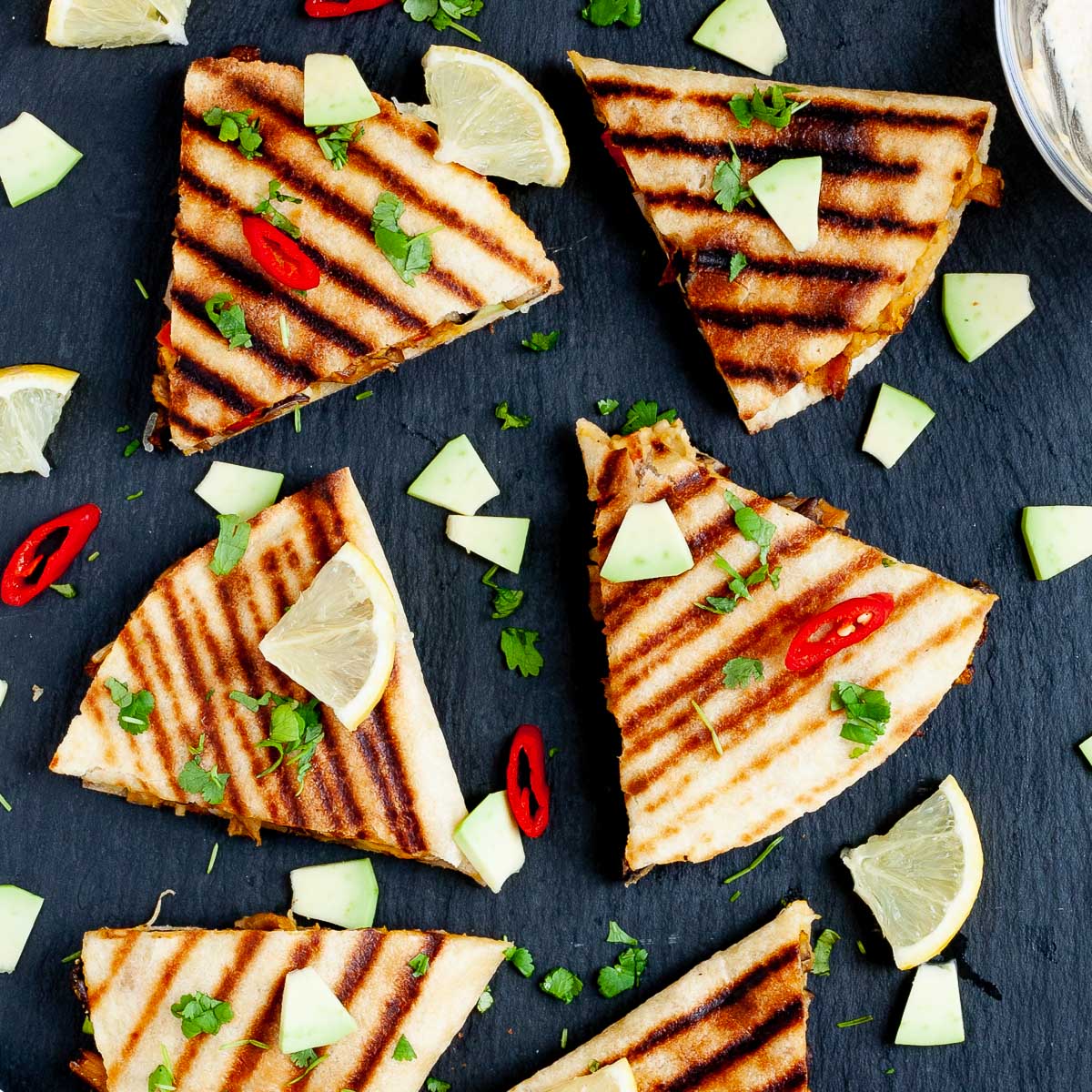 These hummus quesadillas are a delicious and healthy twist on a classic Mexican dish. Packed with flavorful veggies and beans, and bound together with creamy hummus instead of cheese, these quesadillas are a satisfying meal that will leave you feeling satisfied and nourished.
Recipe: hummus quesadillas
Pesto Vegetables
Experience the delightful combination of vegetables and aromatic pesto sauce in our pesto vegetables recipe. This culinary fusion is sure to satisfy. Prepare to savor the vibrant flavors and enticing aromas as roasted veggies are perfectly paired with a flavorful pesto sauce!
Recipe: pesto vegetables
Coconut Milk Pasta Sauce
This easy and flavorful coconut milk pasta sauce is the perfect dairy-free alternative to a classic tomato-based sauce. Made with simple ingredients like canned tomatoes, garlic, and coconut milk, it comes together in just 30 minutes and will satisfy all your pasta cravings.
Recipe: coconut milk pasta sauce
Veggie Chicken Noodle Soup
This vegan chicken noodle soup is the perfect comforting and nourishing meal that can be made in just 30 minutes. It's loaded with hearty veggies, aromatic herbs, and meaty king oyster mushrooms that make it a satisfying and healthy option for lunch or dinner.
Recipe: vegan chicken noodle soup
Triple Grilled Cheese Sandwich
Prepare for the ultimate comfort food experience with our Triple Grilled Cheese Sandwich. Indulge in the melty, gooey goodness of three different types of cheese, sandwiched between golden, buttery bread, resulting in a crispy exterior and a cheesy, satisfying interior that will make every bite a delight.
Recipe: triple grilled cheese sandwich
Creamy Spinach Pasta Sauce
This quick and easy spinach pasta sauce recipe is a must-try for anyone who loves creamy garlic flavors. With only five ingredients and ready in 15 minutes, it's a perfect weeknight dinner option.
Recipe: spinach pasta sauce
Cauliflower Steak in 20 Mins
If you're looking for a new and exciting way to enjoy cauliflower, try making these cauliflower steaks. With their crispy exterior and tender interior, and seasoned to perfection, they make a perfect plant-based main dish or side that doesn't require an oven.
Recipe: cauliflower steak
Authentic Hungarian Bean Goulash
Indulge in the flavors of Hungary with this hearty vegetarian goulash soup made with beans and vegetables. This traditional recipe has been passed down through generations and can be made in just 30 minutes, making it the perfect comforting and healthy meal for any weeknight.
Recipe: vegetarian goulash soup
Nut-free Vegan Mac and Cheese
Looking for a healthy and delicious vegan mac and cheese recipe? Look no further than this creamy and veggie-packed sauce that's ready in just 20 minutes! Made without cashews, soy, oil, or gluten, all you need are sunflower seeds and nutritional yeast to create a flavorful and satisfying meal.
Recipe: vegan mac and cheese
Chipotle Veggie Burrito
This veggie burrito recipe is a Chipotle lover's dream, with nine different ingredients including cilantro lime rice, fajita veggies, and the famous Sofritas tofu crumbles. Easy to make at home, this burrito is sure to satisfy your cravings for a flavorful and filling meal.
Recipe: chipotle veggie burrito
Lemon Pepper Pasta with Asparagus
This lemon pepper pasta is a simple yet delicious dish that can be made in just 15 minutes with only 5 ingredients. The addition of asparagus makes it a refreshing and satisfying meal.
Recipe: lemon pepper pasta
Vegan Taco Soup
Satisfy your cravings with this quick and easy vegan taco soup, complete with the meatiest vegan taco meat. Ready in just 20 minutes, this delicious soup is bursting with taco flavors and perfect for a cozy night in. Top it off with some tortilla chips, avocado slices, and vegan sour cream for an extra kick of flavor.
Recipe: vegan taco soup
Vegan Mushroom Pasta
Indulge in the rich and creamy flavors of this vegan mushroom pasta, made with sautéed mushrooms and a savory herb-infused milk sauce. Topped with vegan Parmesan and a touch of red chili pepper, this dish is a comforting and delicious meal that's perfect for any day of the week.
Recipe: vegan mushroom pasta
Minestrone Soup
This vegan minestrone soup is a comforting and hearty bowl of goodness. Loaded with vegetables, legumes, and pasta, it is a perfect meal for a chilly evening.
Recipe: vegan minestrone soup
Crispy Oyster Mushroom Tacos
Looking for a meatless taco alternative? Look no further than this Oyster Mushroom Tacos recipe. These mushrooms have a meat-like texture and are packed with flavor, making them the perfect vegan substitute for meat strips.
Recipe: vegan mushroom tacos
Tofu Steak with Chimichurri Sauce
A perfect tofu steak is a flavorful and satisfying dish that is crispy on the outside and moist on the inside. It is seasoned with a spicy, smoked steak marinade and grilled to perfection, resulting in charcoaled stripes.
Recipe: tofu steak
26 Big-Batch Dishes to Stock Your Freezer
15 Weekend Lunch Recipes on a Dime to Feed The Family
Europe's Finest 25 Recipes You May Not Even Know Of
25 Asian Foods You Absolutely Need to Make At Least Once
Skip The Dreaded Drive-Thru Line With These 15 Fast Food Copycat Recipes