It is possible to have a creamy vegan spinach soup without adding any dairy-free milk or heavy cream. The not-so-secret ingredient is the potato. That's right whole foods all the way! It technically makes this recipe more of a vegan spinach and potato soup though. I hope you don't mind. 🙂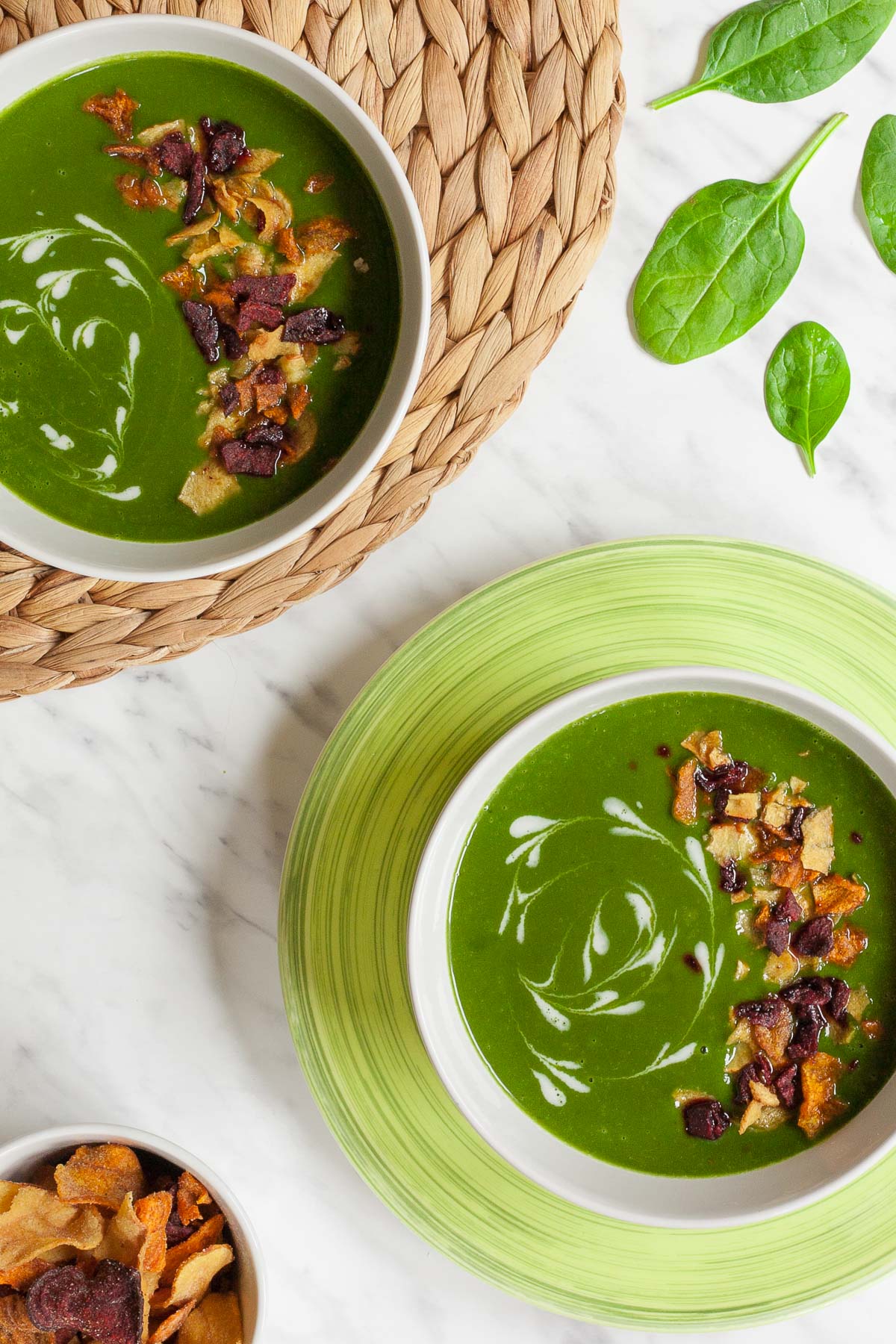 We love soups. We have a whole vegan soup recipes gallery, but just let me share with you some of our favorite creamy soups you might like as well: cream of cauliflower soup, cream of mushroom soup, Hokkaido pumpkin cream soup, or smoky sweet potato soup.
Let's talk about spinach recipes!
I hated any dish with spinach for so long. I have tried garlic sautéed spinach, spinach pottage, spinach salad, and spinach pesto pasta. But none of them was a hit back then.
Until one day I had creamy spinach soup with mozzarella balls on a lunch menu at a hotel. I was hungry, so having no other choice I tried it. And it was awesome! I don't know what was I thinking about not loving spinach before. So for years, we have perfected our spinach soup recipe to get it as close as possible to the one I ate at the hotel. Finally, I think we figured it out. The secret is the potato. Who knew, right?
This spinach soup recipe became even the FAVOURITE soup of our older daughter. Seriously…
By the way, this recipe is also part of our quick vegan meals collection since you can make it in about 20 minutes.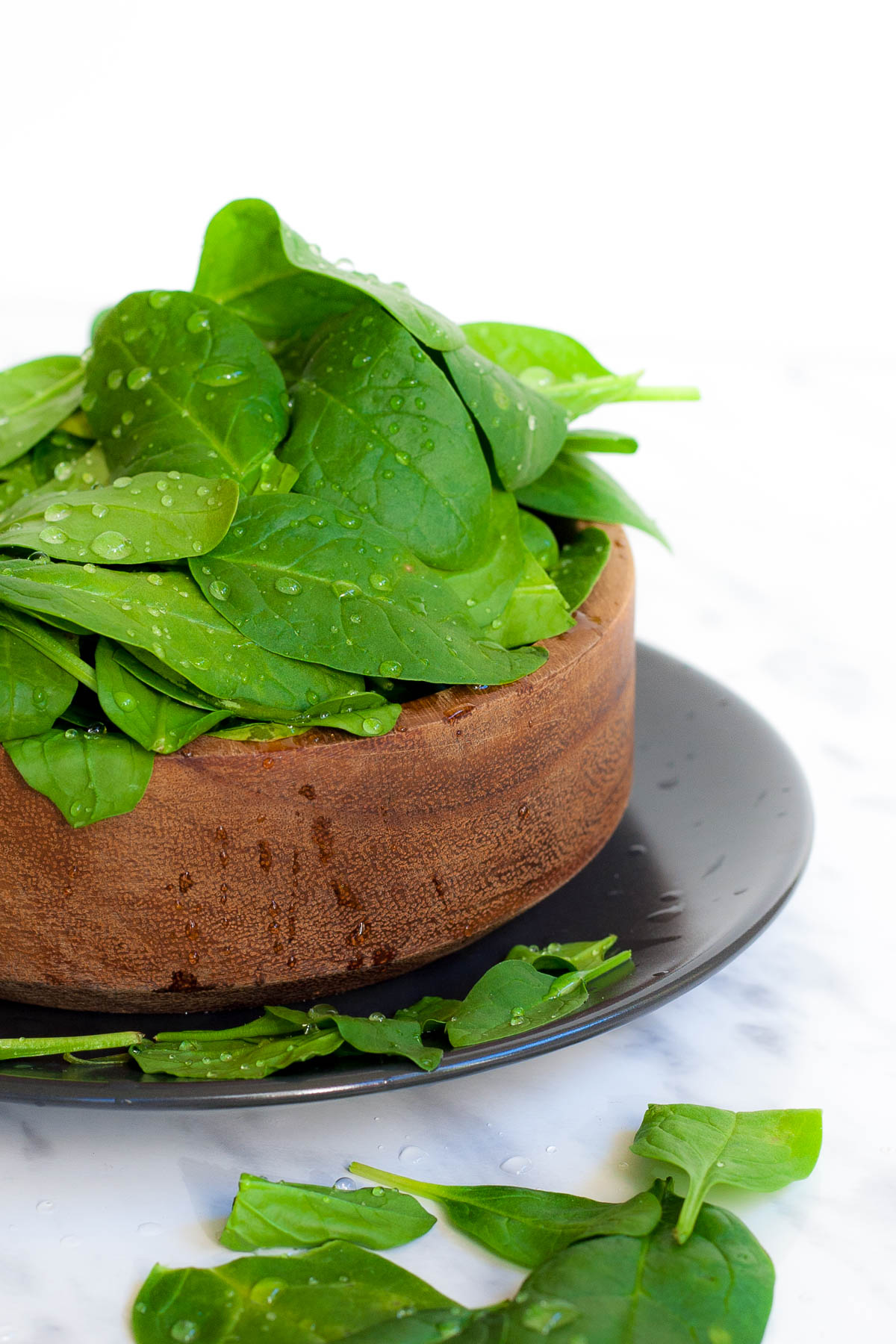 Ingredients
You need only 5 main ingredients. Nothing fancy or hard to get. Whole foods all the way:
onion -> We recommend using yellow onions or shallots.
garlic
spinach -> You can use fresh leaves or frozen spinach.
potato -> There are at least 20 ways to thicken any soup, and using potatoes is one of our favorite. It is easy, cheap, and allergy-friendly since no flour is needed.
vegetable broth
nutmeg (optional) -> If I have to pick one spice to elevate the flavor of spinach, I would choose nutmeg. You should try it, it fits perfectly.
vegetable oil -> We prefer using sunflower oil or dairy-free butter to make this soup.
🛒 You can find detailed measurements for all ingredients in the printable version of the recipe card at the bottom of this post.
Instructions
Prepare the ingredients
Wash fresh spinach leaves. Take out any wilted or damaged ones. We recommend using baby spinach leaves as they have a fresh, green flavor and are less earthy compared to large leaves. If you use frozen spinach, you don't need to thaw them just drop them directly in the soup.
Peel and finely chop onion and garlic.
Wash, peel, and dice the potatoes. You can shorten the cooking time by dicing the potatoes smaller like 1 x 1 inch.
Making the soup
Take a stockpot or any

large pot

and heat it over medium-low heat.
Add

vegetable oil

,

chopped onion

, and

garlic

. Sauté them for 1-2 minutes until the onion turns opaque and tender. Don't use high heat as the garlic can get burnt.
Add

spinach leaves

to sautée them a bit.
When the spinach is slightly wilted, pour the

vegetable broth

and add diced

potatoes

(see below photo). Add the optional nutmeg here if you want to try it like that.

Simmer

the spinach soup until potatoes are tender. No need to bring it to boil. You can put a lid on it to ensure the water will not evaporate that much.

Blend

it with an immersion blender or regular blender until you reach a smooth and creamy texture. Easy peasy, right?

Adjust

to your taste after blending. Depending on the type of vegetable broth you use, you may need to add more salt or black pepper.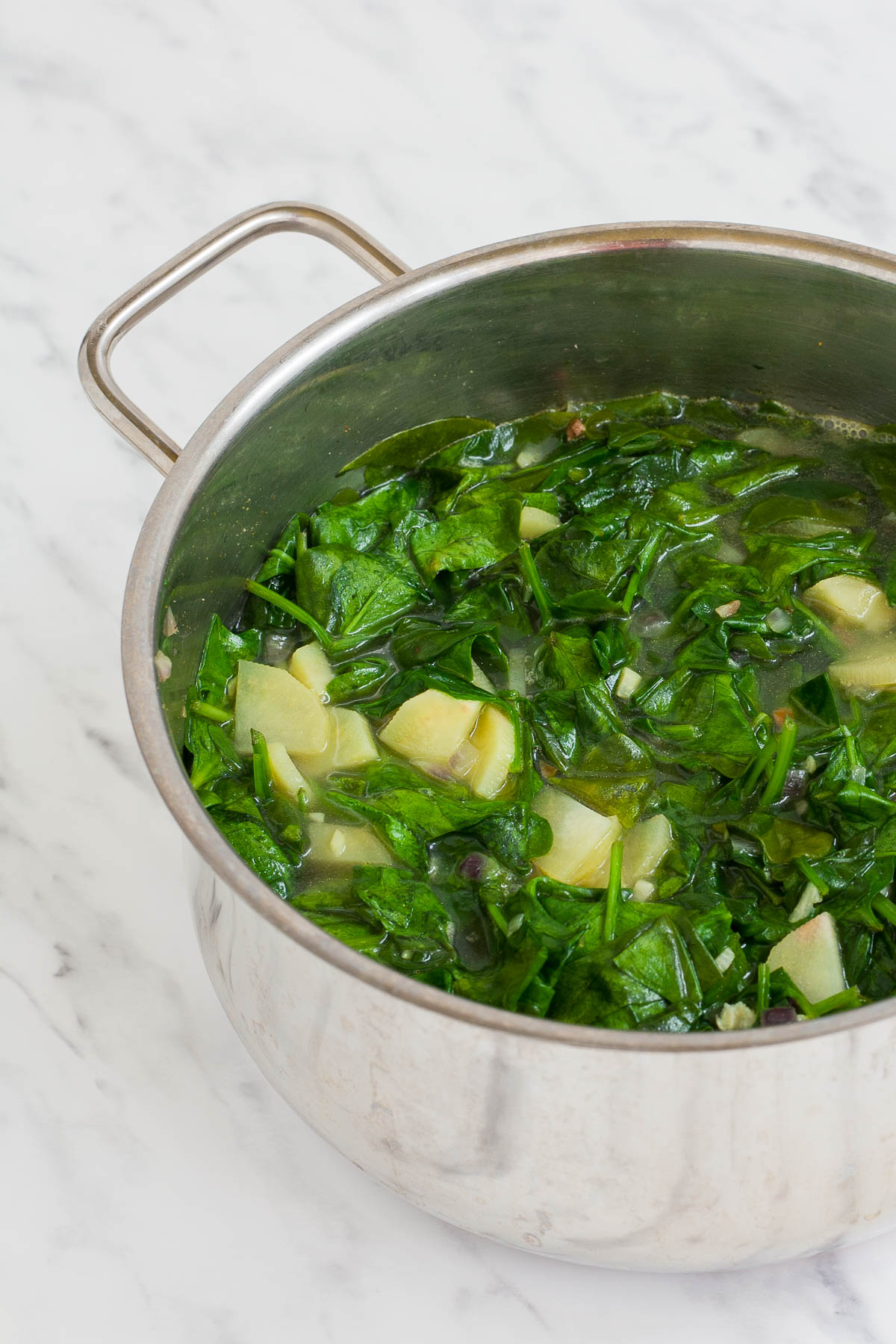 Top tips to make them perfectly
Chop vegetables evenly – If you dice the potatoes small and even, it will reduce your cooking time. Spinach leaves need a really short time to wilt so essentially the total cooking time depends on the size of the potatoes.
Immersion blender or high-powered blender – There is a significant difference between the two. While you can make a creamy soup with both, if you want a cream of spinach soup with not one tiny piece of spinach leaves left, you need a high-power blender like Vitamix*.. It is a game-changer.
Add spinach in batches – Due to heat fresh spinach leaves will be significantly reduced. Like you can expect one-third of the original amount. So at first, it will feel like all these leaves will not fit in the stockpot. But add them in batches and I guarantee you it will fit.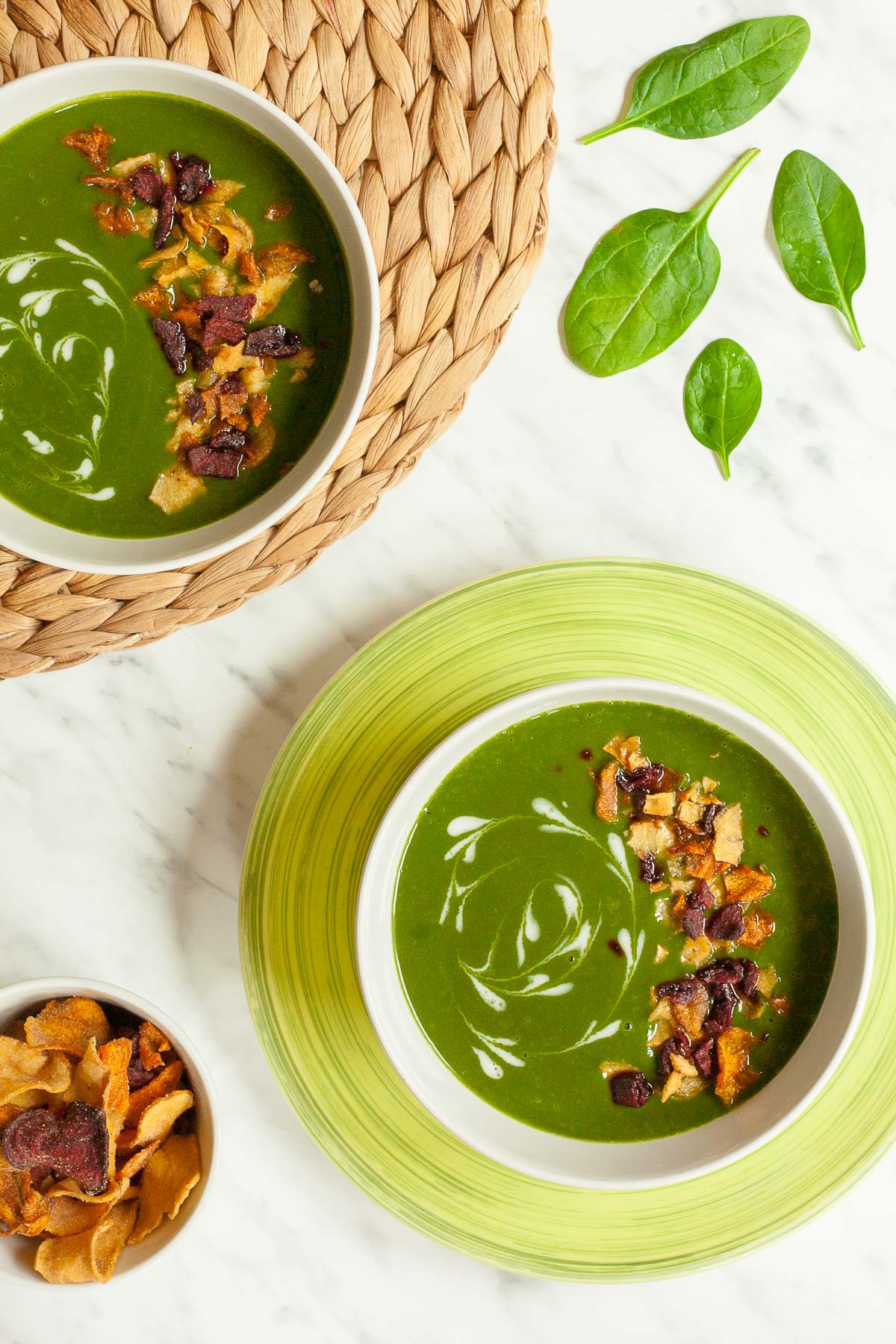 What to serve with it?
We tried it with so many different garnishes. The topping on the photos is vegetable chips. I usually buy a beetroot – sweet potato – parsnip mix from Aldi, but this one looks very similar*
croutons, crackers, breadsticks (I like these gluten-free breadsticks*)
seeds, chopped nuts, trail mix
canned legumes (any beans or lentils) or even better something like crispy baked chickpeas for added protein
veggie balls/veggie patties (we have a couple of delicious recipes you can eat with this spinach soup to the side like eggplant meatballs, chickpea meatballs, mushroom meatballs, IKEA veggie balls)
parmesan cheese (vegan) or nutritional yeast for a cheezy finish
red pepper flakes if you like spicy soups
What is your favorite cream of spinach soup garnish?
FAQs and substitutions
Is this soup nutritious?
Spinach is the first thing you think of when you hear iron-rich leafy green. It is low carb but high in fiber. Spinach is also rich in Vitamin A, C, K1, calcium, folic acid, and iron.
Did you know that spinach belongs to the amaranth family and is related to beets and quinoa? /Healthline/
All these nutrients are important for everyone, but calcium, folic acid, and iron are especially important for pregnant or breastfeeding moms. That's why I have always added a handful of spinach to my green lactation smoothie.
Can you use frozen spinach?
Absolutely. We made this spinach soup countless times with both fresh and frozen leaves. You can also buy frozen spinach puree which works great as well. However, in that case, reduce the amount you add to half. Otherwise, it will have a much strong spinach flavor. Some like that, some won't.
How to store it?
You can store it in an airtight container for up to 4-5 days in the refrigerator. Sometimes I also store it in the stockpot with the lid if I know I will eat it the next day.
Can you freeze it?
We don't really recommend freezing. According to our experience freezing any food that contains potatoes may or may not end up with a weird texture after thawing.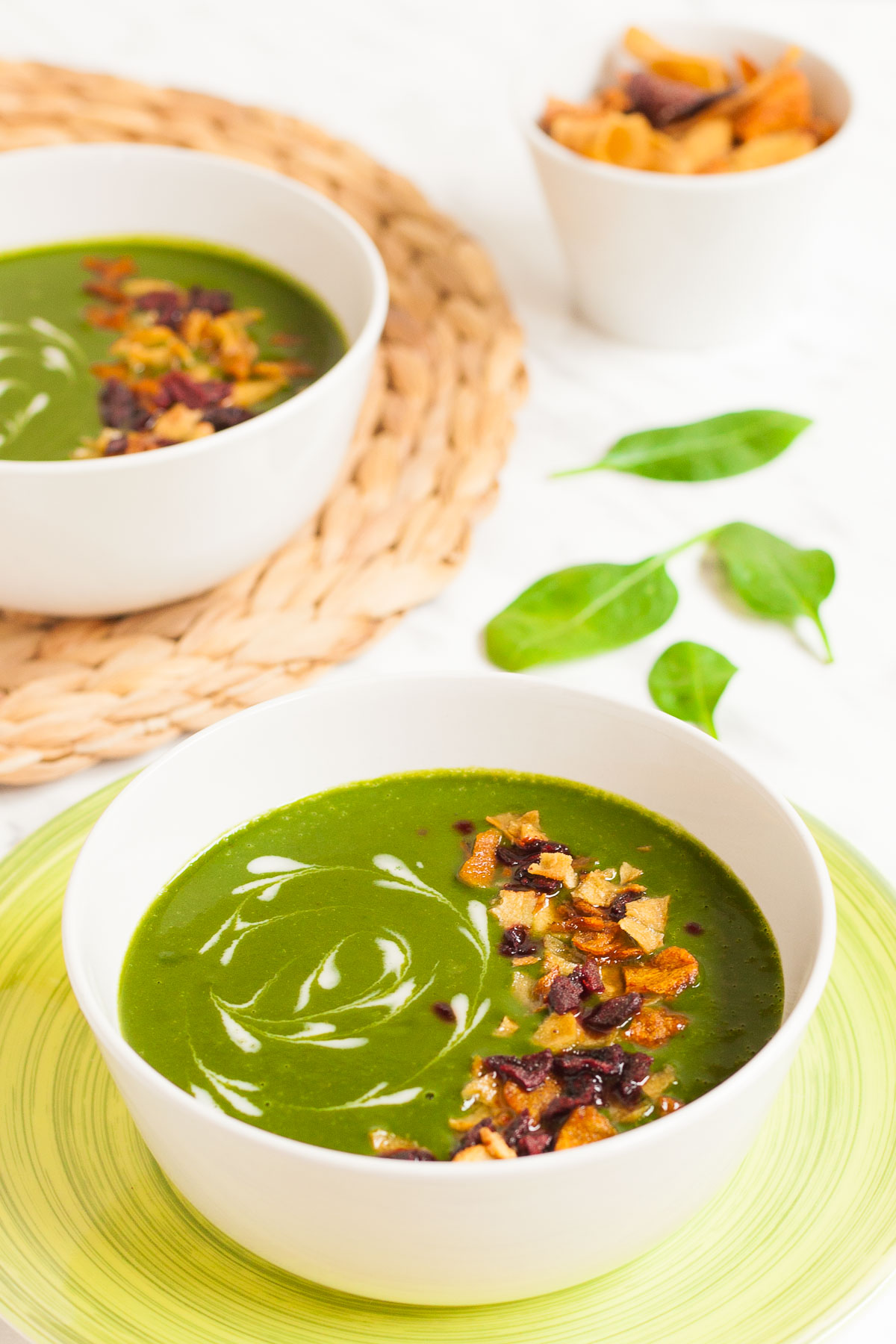 This cream of spinach soup recipe is meat-free, dairy-free, and egg-free. It is suitable for vegan, vegetarian, gluten-free, and nut-free diets. This recipe is WFPB-friendly (whole foods plant-based) if you cook the vegetables directly in veggie broth.
More spinach recipes
You can browse through all of our spinach recipes or check out
More creamy soup recipes
You can browse through these 20 deliciously creamy soups or check out
THANK YOU so much for visiting our website. Please comment below if you have tried this recipe. We LOVE hearing from you! If you loved the recipe, please don't forget to give us a ⭐⭐⭐⭐⭐ RATING. We appreciate all of our readers.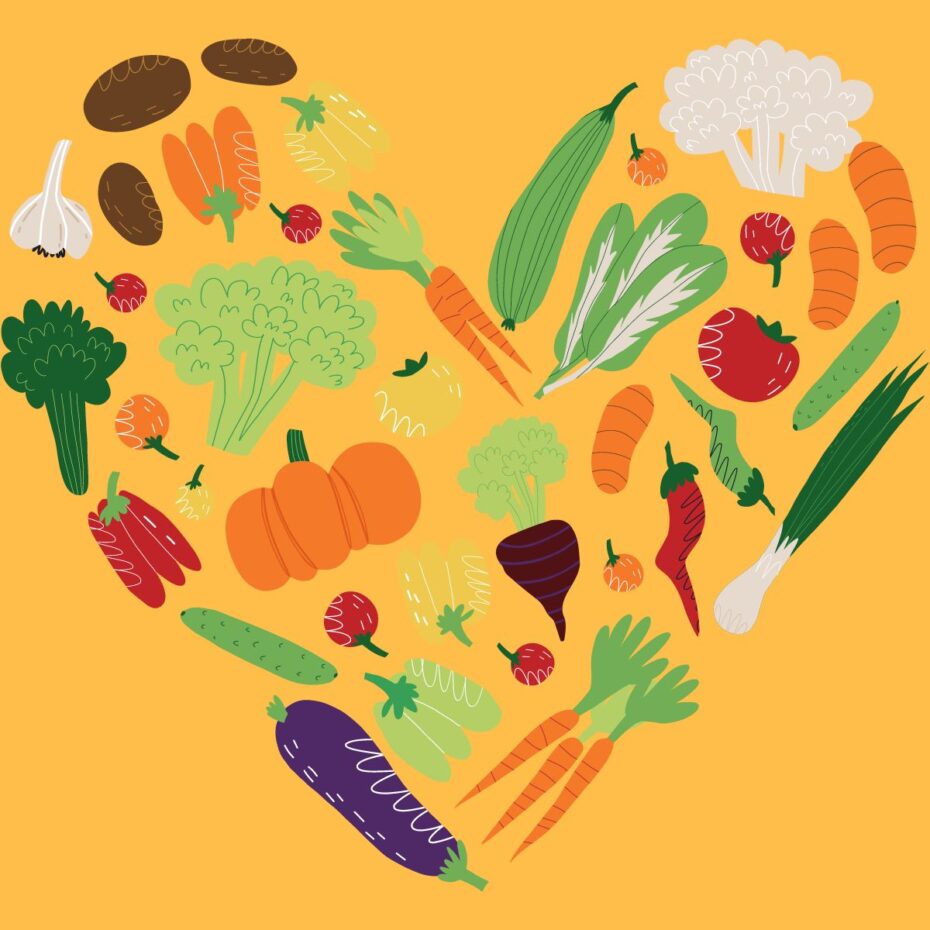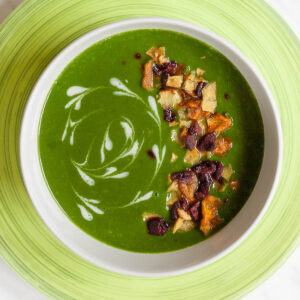 The Easiest Cream of Spinach Soup (Vegan)
Ridiculously easy and quick vegan cream of spinach soup. 5 main ingredients, but nothing fancy or hard to get. Creamy, nutritious, not to mention kid-friendly.
Ingredients
1

Tbsp

Vegetable oil

1

Onion (medium)

2

cloves

Garlic

10

oz

Fresh spinach leaves

2 + ½

cup

Vegetable broth

2

Potato (medium)

1

tsp

Nutmeg

optional

Salt and Pepper to taste
EXCLUSIVE 5-ingredient recipes for busy home cooks that are ready in 15 minutes!
Check out our Express Vegan Cookbook!
Instructions
Wash the fresh spinach leaves. Peel and finely chop onion and garlic. Peel and dice potatoes. The smaller you dice them, the shorter will be your cooking time.

Heat a large pan or stockpot on medium-low heat until oil is shimmering. Add chopped onion and garlic coat it with the oil and spread evenly. Stir occasionally. (For WFPB diet – cook them in veggie broth directly.)

Once onion is tender but still white, add the fresh spinach leaves and stir until wilted.

Now add vegetable broth and diced potatoes. Cook them until tender 15-20 minutes.

Use a hand blender and puree them thoroughly. Now add the salt and pepper to taste. Ready to serve it.
Nutrition
Nutrition Facts
The Easiest Cream of Spinach Soup (Vegan)
Amount Per Serving (1 serving without topping)
Calories 122
Calories from Fat 9
% Daily Value*
Fat 1g2%
Sodium 651mg28%
Potassium 892mg25%
Carbohydrates 26g9%
Protein 5g10%
Vitamin A 6962IU139%
Vitamin C 43mg52%
Calcium 93mg9%
Iron 3mg17%
* Percent Daily Values are based on a 2000 calorie diet.
UPDATED: This recipe was originally posted in March 2019. More tips, FAQs, and substitutions were added and republished in June 2022.