If you're looking for some inspiration for dinner tonight, check out these 20 meatball recipes. These aren't your average spaghetti and meatball dishes – from Korean BBQ to buffalo chicken, these recipes will take your taste buds on a trip around the world. And if you're vegetarian or vegan, don't worry – we've got you covered with meatless options like lentil and mushroom meatballs. Plus, many of these recipes are easy to make ahead of time and freeze for future meals. So grab your apron, some ground meat, and get ready to make some delicious and unique meatball dishes!
Honey Sriracha Meatballs
Crockpot Honey Sriracha Meatballs – yummy meatballs cooked in the crockpot in a tangy sauce with a kick of Sriracha. These make for an easy appetizer or a main dish served over rice!
Greek Meatballs with Lemon Dill Rice
This recipe for one pot Greek meatballs with lemon dill rice includes savory Greek spiced beef meatballs, creamy Arborio rice and vegetables, all cooked together in a single pot! Meatballs are great on their own, but they're even better combined with rice, herbs and fresh veggies. This is a meal that the whole family will enjoy.
Crockpot Swedish Meatballs
Crockpot Swedish Meatballs are total comfort food and super easy to make. Serve over egg noodles or mashed potatoes for a dinner everyone will love!
Find All Meatball Recipes here: meatball recipe
Eggplant Meatballs
Looking for a twist on traditional meatballs? Look no further than these delicious eggplant meatballs! Made using only eggplant and perfectly seasoned for a delicious flavor, they pair perfectly with your favorite marinara sauce and a plate of spaghetti.
Recipe: eggplant meatballs
Tofu Meatballs
These vegan tofu meatballs are a tasty and healthy alternative to traditional meatballs. Using minced frozen tofu and Italian-style seasoning, they're easy to make, versatile, and ready to serve in just 40 minutes.
Recipe: tofu meatballs
Meatball Casserole
This Cheesy Meatball Casserole is a hit at any dinner table, full of rich, hearty flavors that will make everyone come back for seconds. It's made with juicy meatballs, a savory marinara sauce, and topped off with a layer of gooey, melted cheese.
Find All Recipes here: ground meat recipe
Baked Chicken Meatballs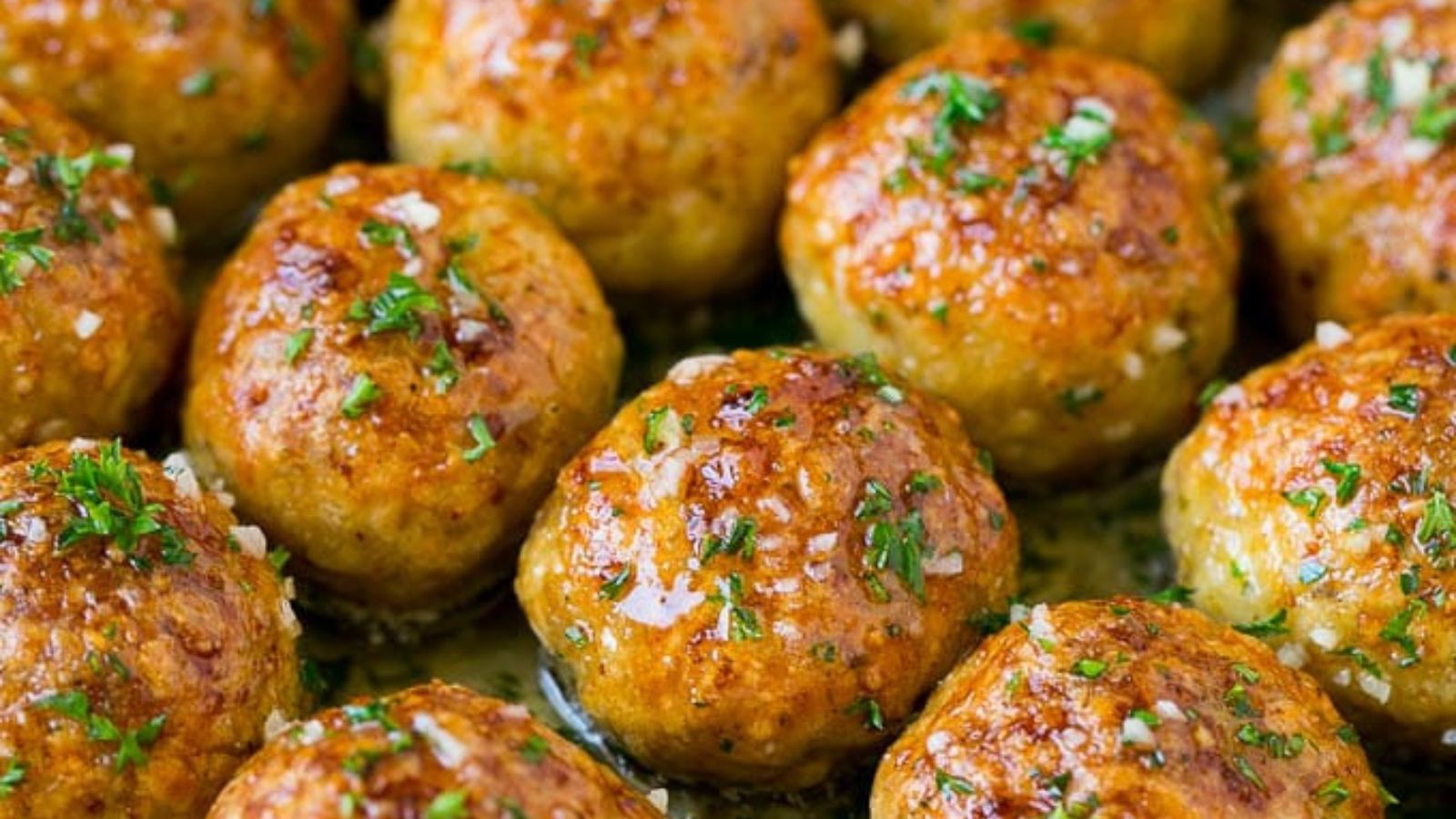 My family loves dinner recipes that involve meatballs, and these tender and juicy chicken meatballs are their all-time favorite. Chicken meatballs are a little lighter than their beef counterparts, but they're still plenty flavorful and are super easy to prepare.
BBQ Chickpea Meatballs
These chickpea meatballs are a must-try for any food lover! Packed with flavorful spices, they are crispy on the outside, soft and tender on the inside, and perfect for serving as an appetizer or main dish.
Recipe: chickpea meatballs
Sausage Cheese Balls
These easy sausage cheese balls are the perfect appetizer, they're packed full of savory flavor! Try serving bisquick sausage balls at your next party! This recipe couldn't be any easier and it's meant to serve a crowd. These bisquick sausage balls will be the first thing to disappear off the food table, they're that good!
Brie Cheese Stuffed Meatballs
Brie Cheese Stuffed Meatballs with leftover Cranberry Sauce is the perfect leftover Thanksgiving dish. Take a break from the turkey but use up some of the other leftover components from your meal. This is also a winner of an appetizer dish on the day of – and no one complains about the cranberry sauce.
Find All Meatball Recipes here: meatball recipe
Cajun Pasta Sauce
Indulge in the ultimate comfort food with this pasta dish. With its perfect blend of Cajun seasonings, creamy coconut sauce, and hearty vegetables, this recipe is a delicious and quick dinner option that you'll want to make again and again.
Recipe: cajun pasta sauce
Italian Meatballs
These meatballs in tomato sauce are the perfect quick and easy dinner. Juicy and tender homemade meatballs cooked in a simple rustic Italian-style tomato sauce.
Thai Red Curry Meatballs
These juicy, tender Thai meatballs are bursting with bold, exotic flavours. The perfect balance of spicy, sweet, and savoury, with a hint of lemongrass and coriander, create depth and complexity while still keeping this a 30-minute dinner.
Mushroom Meatballs
These mushroom meatballs are bursting with flavor and easy to make. Spices and cooked rice keep the mushrooms moist, resulting in a delicious and unforgettable vegetarian meal.
Recipe: mushroom meatballs
BBQ Grape Jelly Meatballs
BBQ Grape Jelly Meatballs transforms 3-ingredients, including frozen meatballs, grape jelly, and BBQ sauce into a slow cooker appetizer perfect for parties. These grape jelly meatballs are kid-friendly, budget-friendly, easy to make, and perfect for dinner, holiday parties, or tailgating.
Slow Cooker Meatballs
These slow cooker meatballs are Italian style and made with ground beef, parmesan cheese, herbs and spices. They're slow simmered to tender perfection in the crock pot and are perfect served over spaghetti or as a hearty appetizer. Crock pot meatballs are my very favorite type of meatball – they're melt in your mouth tender and surprisingly easy to make!
Find All Meatball Recipes here: meatball recipe
Thai Turkey meatballs
Thai Turkey meatballs are one of those things that you simply have to try! Traditional meatballs are a thing of the past because who can simply resist those lovely Thai flavours infused with the meat?
Ajvar Meatballs
Tender and juicy in the middle and seasoned to perfection, you will love these Ajvar meatballs simmered in a zesty tomato sauce. Serve them with quinoa, rice, or hoagie rolls.
Cranberry Meatballs
Remember those old school meatballs with grape jelly sauce? This is a similar concept expect the cranberry sauce keeps things on the more savory side because it's not as sweet as grape jelly. While these cranberry meatballs are perfect for appetizer hour, they also make a great dinner served over rice with a side of broccoli.
Hoisin Meatballs
Mini Hoisin Meatballs are kid-friendly and polyvalent. They go well as an appetizer or main meal and are simply divine when paired with some crunchy carrots, cucumber, scallions and a few peanuts. Also, a fast and easy way to make a last-minute meal. Simply cook a bunch up and keep some frozen meatballs for later.
Find All Meatball Recipes here: meatball recipe
24 Fall Potluck Recipes That'll Win Every Time
20 Dishes Every Home Cook Should Know How to Make
Recipes You Should Know How To Make
Cook Once, Eat All Week with These 20 Easy Batch Cooking Recipes
15 Healthy Sheet Pan Dinners to Simplify Your Weekly Meal Plan
Escape the Cold on a Budget with Costa Rica's Breathtaking Natural Beauty