If you're looking to simplify your lunch routine while maintaining a healthy diet, these 20 recipes are here to help. Whether you're a busy professional or just seeking convenience, these dishes offer a perfect balance of flavor and nutrition. From hearty salads and nourishing grain bowls to flavorful wraps and satisfying soups, these recipes are designed to make your midday meal a breeze. Say goodbye to the same old sandwich and elevate your lunch game with these easy-to-follow, delicious recipes that will keep you energized and satisfied throughout the day.
Alfredo Sauce in 15 minutes
Enjoy a healthy and quick meal with our 5-ingredient alfredo sauce recipe. Creamy, delicious, and ready in just 15 minutes, it's the perfect solution for a fast and easy dinner.
Recipe: alfredo sauce
Pad Woon Sen (Thai Glass Noodles Stir Fry)
This is a classic Pad Woon Sen recipe turned completely meatless. Silky Thai glass noodles in a sweet and salty sauce are stir-fried with carrots, cabbage, tomato, onion, and mung bean sprouts. For added protein, this recipe calls for tofu scramble and marinated oyster mushrooms
Recipe: pad woon sen
Hummus Pasta
Hummus pasta salad from our cookbook is a quick and flavorful pasta dish that can be prepared in just 15 minutes. The combination of creamy hummus with tangy sun-dried tomatoes and olives creates a unique taste. Different flavored hummus, such as roasted red pepper or spinach, allow for endless variations.
Recipe: hummus pasta
Sun-Dried Tomato Pesto
This sun-dried tomato pesto with rosemary is a flavor-packed condiment that can add a tasty twist to your meals. Use it as a spread on sandwiches, a dip for veggies, or a sauce for pasta to enjoy the delicious taste of sun-dried tomatoes and aromatic rosemary.
Recipe: sun-dried tomato pesto
Quinoa Salad with Berries and Nuts
This refreshing berry and nuts quinoa salad is a perfect choice for a healthy and satisfying meal. Packed with protein from quinoa and nuts, and topped with fresh summer berries, it's a delicious and nutritious dish for any occasion.
Recipe: quinoa salad
Pineapple Fried Rice
This easy pineapple fried rice lets you turn leftover rice into a delicious meal by adding scrambled tofu, sweet pineapples, tomatoes, and green peas seasoned with a mild green curry. If you have 30 minutes, skip ordering take-out and make this protein-packed meal.
Recipe: thai pineapple fried rice
Spinach Pesto
This quick and easy spinach pesto recipe is the perfect way to add some flavor and nutrition to your pasta, pizza, or sandwiches. With just a handful of ingredients, you can whip up a delicious nut-free pesto in no time!
Recipe: spinach pesto
Mexican Rice Casserole
This is one of the quickest and easiest Mexican-style rice casserole recipes with the meatiest beefless ground beef ever, lots of black beans, and sweet corn in a spicy tomato-based sauce. You can make it in 30 minutes.
Recipe: mexican rice casserole
Lasagna with Lentil Bolognese
This lentil lasagna is a delicious and satisfying dish that features a rich and flavorful lentil bolognese sauce layered with creamy white bechamel and lasagna noodles. It is a perfect comfort food that will leave you feeling full and satisfied.
Recipe: lentil lasagna
Hearty Meatballs
These hearty meatballs are the perfect meatballs, with a satisfying texture and full of savory flavors. Paired with a rich marinara sauce and spaghetti, they make a delicious and comforting meal.
Recipe: hearty meatballs
Tom Yum Fried Rice
Easy to make and packed with flavor and aroma, Tom Yum fried rice is best summed up in one word: Unforgettable. In this simple, easy-to-follow recipe, you'll learn how to make an all-veggie version from the comfort of your own kitchen. The best part? It takes less than 22 minutes to prepare!
Recipe: tom yum fried rice
Juicy Tikka Masala Sandwich
Strips made of marinated oyster mushrooms smothered in a creamy, rich tikka masala sauce are the perfect filling to make a juicy sandwich. Grab a bun and a handful of fresh salad greens and indulge in a flavorful and satisfying take on a classic dish.
Recipe: tikka masala sandwich
Hidden Veggies Pasta Sauce
This healthy vegetable sauce is a delicious and nutritious option for pasta lovers. Packed with seven different veggies and blended into a smooth and creamy sauce, even picky eaters will love this flavorful and satisfying meal.
Recipe: vegetable sauce pasta
Baked Butternut Squash Risotto
If you want to give the risotto a try, you should check out this delicious butternut squash risotto recipe. It is easy to make as part of the job is done by the oven. It is aromatic, creamy, and rich, made with Arborio rice, sweet butternut squash, green peas, and roasted pine nuts.
Recipe: butternut squash risotto
Thai Glass Noodle Salad – Yum Woon Sen
Indulge in the flavors of Thailand with this refreshing and easy-to-make Yum Woon Sen salad recipe. Loaded with tangy tomatoes, crunchy celery, and roasted peanuts, and tossed with a zesty salad dressing, this dish is perfect for a light summer meal or as a side dish for your next barbecue.
Recipe: Yum Woon Sen
Hummus Quesadillas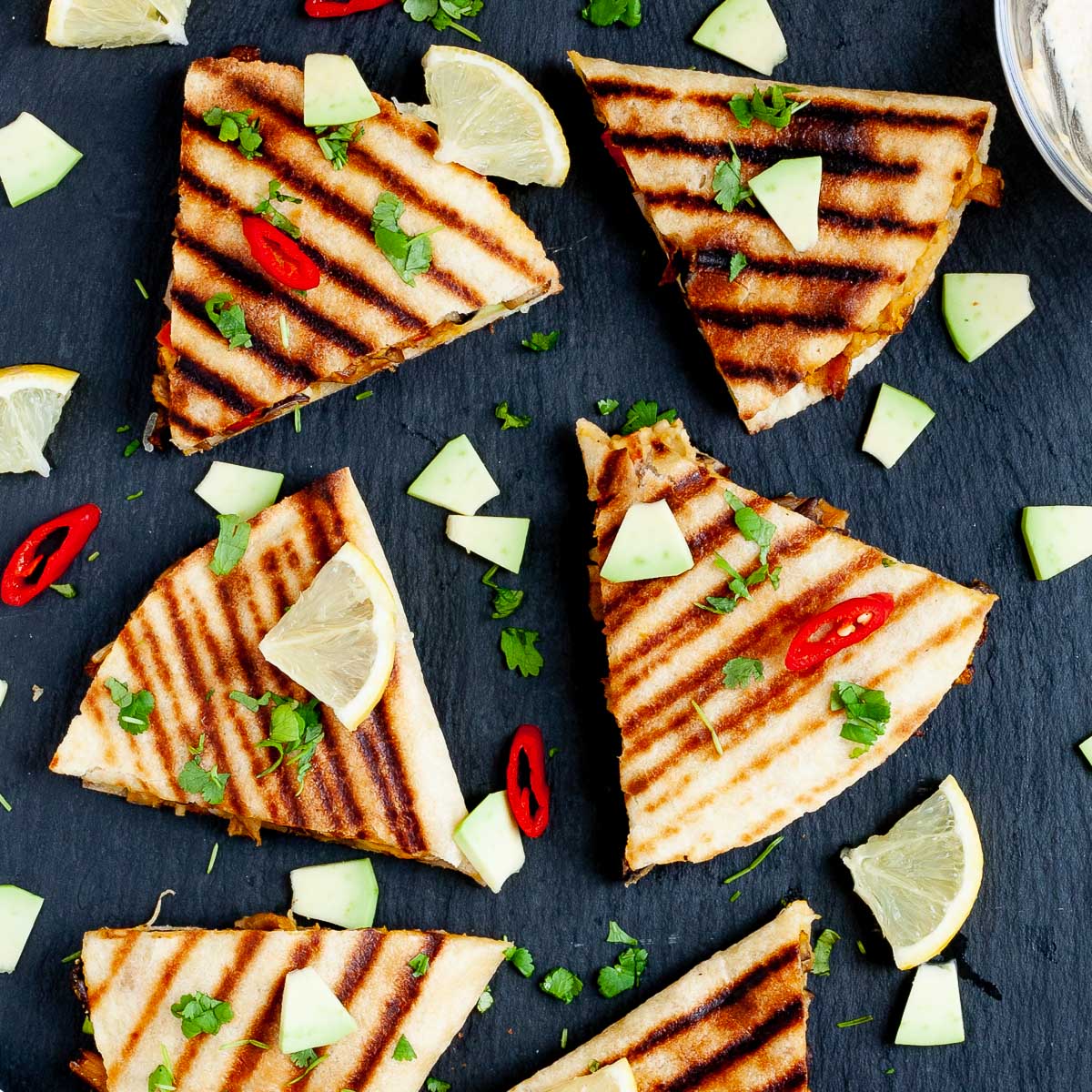 These hummus quesadillas are a delicious and healthy twist on a classic Mexican dish. Packed with flavorful veggies and beans, and bound together with creamy hummus instead of cheese, these quesadillas are a satisfying meal that will leave you feeling satisfied and nourished.
Recipe: hummus quesadillas
Triple Grilled Cheese Sandwich
Prepare for the ultimate comfort food experience with our Triple Grilled Cheese Sandwich. Indulge in the melty, gooey goodness of three different types of cheese, sandwiched between golden, buttery bread, resulting in a crispy exterior and a cheesy, satisfying interior that will make every bite a delight.
Recipe: triple grilled cheese sandwich
Chipotle Veggie Bowl
This Chipotle-inspired veggie bowl is a tasty and healthy option for a satisfying meal. Filled with fajita veggies, black beans, cilantro brown rice, and tomato and corn salsa, this vegan burrito bowl is completed with crispy fried tofu crumbles in a hot spicy chili sauce known as Sofritas.
Recipe: chipotle veggie bowl
Spinach Lasagna
This lasagna recipe is a wholesome and delicious take on the classic comfort food, with layers of hearty marinara sauce and a flavorful spinach tofu ricotta filling. It's a satisfying dish that's perfect for a cozy night in.
Recipe: spinach lasagna
Mac and Cheese
Looking for a healthy and delicious mac and cheese recipe? Look no further than this creamy sauce that's ready in just 20 minutes!
Recipe: mac and cheese
26 Big-Batch Dishes to Stock Your Freezer
15 Weekend Lunch Recipes on a Dime to Feed The Family
Europe's Finest 25 Recipes You May Not Even Know Of
25 Asian Foods You Absolutely Need to Make At Least Once
Skip The Dreaded Drive-Thru Line With These 15 Fast Food Copycat Recipes