Spinach is a nutritional powerhouse, and these 21 healthy spinach recipes are here to help you incorporate this leafy green into your diet while supporting your health and wellness goals. From vibrant salads and nutrient-packed smoothies to savory breakfast dishes and hearty mains, these recipes showcase the versatility of spinach. Packed with vitamins, minerals, and antioxidants, spinach can be a fantastic addition to your meals, whether you're looking to boost your immune system, improve your digestion, or simply enjoy delicious, wholesome food. So, get ready to dive into this green goodness and elevate your culinary experience with these spinach-infused recipes.
Spinach Pesto (Nut-free)
This quick and easy spinach pesto recipe is the perfect way to add some flavor and nutrition to your pasta, pizza, or sandwiches. With just a handful of ingredients, you can whip up a delicious nut-free pesto in no time!
Recipe: spinach pesto
Light Frittata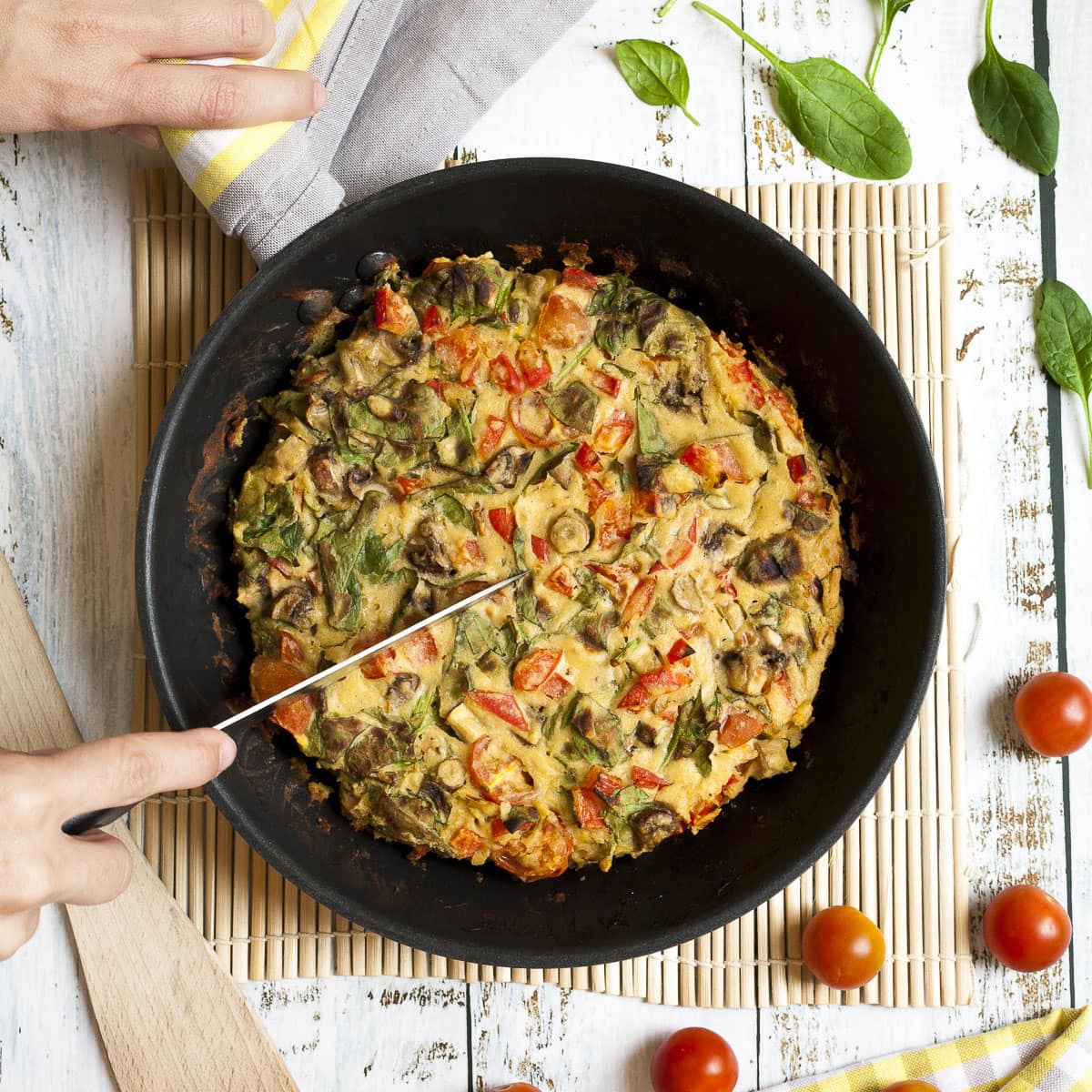 This frittata is a healthy and satisfying breakfast option that is loaded with vegetables and made with a simple 3-ingredient chickpea flour base. It's perfect for meal prep and can be enjoyed hot or cold.
Recipe: frittata
Greek Spanakorizo stuffed in Butternut Squash
This stuffed butternut squash recipe takes inspiration from the Greek Spanakorizo, with a delicious Mediterranean filling of spinach, black olives, chickpeas, and feta cheese. The sweet and tender roasted butternut squash pairs perfectly with the flavorful and hearty stuffing, making for a satisfying and wholesome meal.
Recipe: stuffed butternut squash
Copycat IKEA Veggie Balls
If you don't have an Ikea nearby, try our copycat Ikea veggie balls recipe. We added eight different vegetables, the same as in the original, with a tasty mix of spices and herbs to get the flavors just right.
Recipe: ikea veggie balls
The Easiest Cream of Spinach Soup
This spinach soup is a creamy and delicious way to enjoy your greens without the need for any dairy products. The secret ingredient, potatoes, make this soup a wholesome and satisfying meal for any occasion.
Recipe: cream of spinach soup
Spinach Lasagna
This vegetarian lasagna recipe is a wholesome and delicious take on the classic comfort food, with layers of hearty marinara sauce and a flavorful spinach tofu ricotta filling. It's a satisfying dish that's perfect for a cozy night in.
Recipe: spinach lasagna
Kiwi Banana Spinach Smoothie
This Kiwi Banana Spinach Smoothie is packed with all the good stuff you need for a healthy and satisfying snack. It's also great for nursing mothers as it's a green lactation smoothie, providing all the nutrients necessary for optimal breastfeeding.
Recipe: Kiwi Banana Spinach Smoothie
Lasagna with Spinach Alfredo
This lasagna recipe is a true delight, with its layers of hearty marinara sauce, meatless ground beef, and creamy spinach cashew alfredo sauce. The sweet cabbage leaves add a unique twist and make this dish both flavorful and satisfying.
Recipe: lasagna
Cheezy & Spicy Spinach Dip
This spinach dip is a creamy and flavorful dip that is perfect for any occasion. Made with whole food ingredients like veggies and spinach leaves, it's a healthier alternative to traditional cheesy dips.
Recipe: spinach dip
Creamy Spinach Pasta Sauce
This quick and easy spinach pasta sauce recipe is a must-try for anyone who loves creamy garlic flavors. With only five ingredients and ready in 15 minutes, it's a perfect weeknight dinner option.
Recipe: spinach pasta sauce
Easy Pesto Pasta
This pesto pasta recipe is a delicious and healthy twist on traditional pesto pasta, with a homemade spinach pesto that is bursting with flavor. It's quick and easy to make, perfect for a weeknight dinner, and can be customized with your favorite toppings.
Recipe: pesto pasta
Quinoa Salad with Spinach and Berries
This Quinoa Salad with Spinach and Berries is always a hit with everyone who tries it. It's healthy, light and refreshing with sweetness and crunch. It's full of antioxidants and gluten-free too. You can't lose with this favorite salad.
Recipe: Quinoa Salad with Spinach and Berries
Spinach Berry Power Salad
This Spinach Berry Power Salad will be in regular rotation this summer. It's loaded with berries, spinach and quinoa to fuel your adventures.
Recipe: Spinach Berry Power Salad
Cheesy Spinach Side Dish
Serve this easy cheesy spinach side dish when you're short on time, but want everyone to clean up their dinner plate. Nobody will complain about eating their veggies, not with a flavorful dish of cheesy creamed spinach overflowing with cheesy flavors.
Recipe: cheesy spinach side dish
Spinach and Ricotta Cannellonis
Cannellonis (cannelloni filled with ricotta and spinach) are much easier to make than it seems. They will be a hit at the dinner table.
Recipe: Cannellonis
Green Borscht with Spinach
Such a delicious Green Borscht with Spinach. Classic Ukrainian recipe your whole family will enjoy. Ready to be served in 30 minutes.
Recipe: Green Borscht with Spinach
Mango Spinach Smoothie
This Mango Spinach Smoothie with Ginger is a delicious, quick and easy breakfast or snack that both kids and adults love. With banana, spinach, ginger and mango it's sweet and fresh with a gingery kick – dairy-free, vegan, and loaded with half of all the greens you need in a day.
Recipe: Mango Spinach Smoothie
Spinach Artichoke Lasagna
A healthy vegetarian lasagna with lots of fresh spinach, artichokes and cheese layered between noodles. Step out of your comfort zone and try this delicious pressure cooked lasagna in the instant pot!
Recipe: spinach artichoke lasagna
Creamed Spinach
This Creamed Spinach will satisfy those of you craving this classic dish. This side dish is easy and will take you back to childhood – or your favorite steak house!
Recipe: Creamed Spinach
Spinach Rice
Spinach Rice cooked in the instant pot or stovetop as a one-pot recipe. Aromatic basmati rice, with spinach and spices, make this Spinach Rice flavorful and healthy!
Recipe: Spinach Rice
Palak Tofu
Delicious Vegan Palak Tofu in Instant Pot in just 20 minutes. Lightly fried tofu added to spinach cooked in a onion, tomato sauce with spices.
Recipe: Palak Tofu
26 Big-Batch Dishes to Stock Your Freezer
15 Weekend Lunch Recipes on a Dime to Feed The Family
Europe's Finest 25 Recipes You May Not Even Know Of
25 Asian Foods You Absolutely Need to Make At Least Once
Skip The Dreaded Drive-Thru Line With These 15 Fast Food Copycat Recipes