Don't break the bank to satisfy your family's hunger tonight! We've gathered 23 wallet-friendly dinner ideas that are not only easy on your budget but also guaranteed to please everyone at the table. From hearty pasta dishes and flavorful stir-fries to creative one-pot wonders, these recipes are designed to make family dinner time both delicious and cost-effective. So, put away the takeout menus and explore this collection to find tasty and economical meals that will keep both your family and your wallet happy. Tonight's dinner is served without breaking a sweat or your budget!
Best Margherita Pizza
If you want the best Margherita pizza recipe that has been tested relentlessly for the last couple of years, this is what you need to read. The best Neapolitan pizza should be airy and fluffy with an aromatic tomato sauce and cheese on top. And this is exactly what you'll get if you make our recipe.
Recipe: pizza
Veggie Stew
The best thing that can happen to canned young jackfruit is to turn it into a hearty and filling veggie stew. It is the perfect dinner recipe when you need a warm and steamy bowl of delicious comfort food.
Recipe: veggie stew
Hummus Quesadillas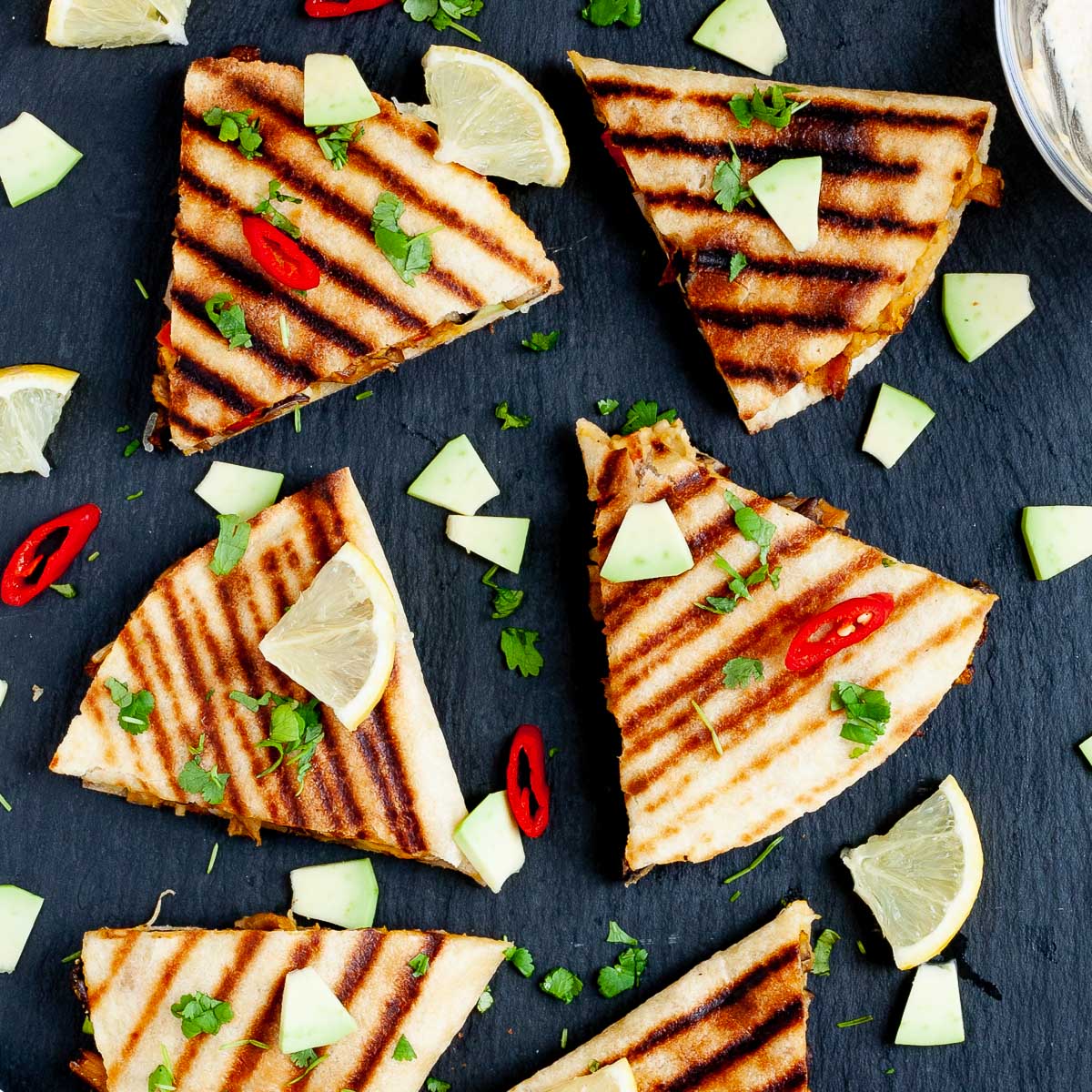 These hummus quesadillas are a delicious and healthy twist on a classic Mexican dish. Packed with flavorful veggies and beans, and bound together with creamy hummus instead of cheese, these quesadillas are a satisfying meal that will leave you feeling satisfied and nourished.
Recipe: hummus quesadillas
Twisted Pasta Bolognese
Try our mouthwatering bolognese made with meatless option. Combining tomatoes, veggies, vegan ground beef, and aromatic herbs, it's a satisfying, tasty twist on the classic dish. Ready in just 30 minutes, it's perfect for newer vegans seeking familiar flavors without meat.
Recipe: bolognese
Mushroom Meatballs
These mushroom meatballs are bursting with flavor and easy to make. Spices and cooked rice keep the mushrooms moist, resulting in a delicious and unforgettable vegetarian meal.
Recipe: mushroom meatballs
Mac and Cheese
Looking for a healthy and delicious mac and cheese recipe? Look no further than this creamy sauce that's ready in just 20 minutes!
Recipe: mac and cheese
Authentic Hungarian Bean Goulash
Indulge in the flavors of Hungary with this hearty goulash soup made with beans and vegetables. This traditional recipe has been passed down through generations and can be made in just 30 minutes, making it the perfect comforting and healthy meal for any weeknight.
Recipe: goulash soup
Greek Spanakorizo Stuffed in Butternut Squash
This stuffed butternut squash recipe takes inspiration from the Greek Spanakorizo, with a delicious Mediterranean filling of spinach, black olives, chickpeas, and feta cheese. The sweet and tender roasted butternut squash pairs perfectly with the flavorful and hearty stuffing, making for a satisfying and wholesome meal.
Recipe: stuffed butternut squash
Pepperoni Pizza
Ready in just 30 minutes, this easy-to-make pepperoni pizza is the perfect answer to a quick weeknight dinner. With just five simple ingredients, you will be on your way to enjoying this delicious pizzeria-style pizza in no time!
Recipe: pepperoni pizza
Chili with Beans
This chili recipe is packed with flavor and wholesome ingredients like vegetables, legumes, and grains. It's a satisfying and hearty dish that's both easy to make and good for you.
Recipe: chili
Creamiest Scalloped Potatoes
This scalloped potatoes recipe is the ultimate comfort food and a perfect side dish for any occasion. With its creamy, garlicky, and savory flavors, it is sure to please everyone at the dinner table.
Recipe: scalloped potatoes
Creamy Cauliflower Soup
Looking for a delicious, creamy, and healthy soup? This cauliflower and potato soup is the perfect choice. With a velvety texture, it's a great option for anyone looking for a comforting and easy meal.
Recipe: cauliflower soup
Caramelized Carrot Pasta Sauce
This unique carrot pasta sauce is made by caramelizing root vegetables and combining them with tangy mustard, lemon juice, and creamy sour cream, resulting in a sweet and savory dish that is both filling and flavorful, and is sure to be a standout addition to any dinner table.
Recipe: carrot pasta sauce
Black Bean Burger
This delicious black bean burger from our cookbook is perfect for a quick meal that does not skimp on flavor. With a hearty 5-ingredient black bean patty, fresh lettuce and tomato, and a spicy mayo sauce, this burger will satisfy even the most discerning taste buds. Perfect for those who crave veggie burgers, even on busy weeknights.
Recipe: black bean burger
Creamy Mushroom Pasta
Indulge in the rich and creamy flavors of this mushroom pasta, made with sautéed mushrooms and a savory herb-infused creamy sauce. Topped with Parmesan and a touch of red chili pepper, this dish is a comforting and delicious meal that's perfect for any day of the week.
Recipe: mushroom pasta
BBQ Chickpea Meatballs
These chickpea meatballs are a must-try for any food lover! Packed with flavorful spices, they are crispy on the outside, soft and tender on the inside, and perfect for serving as an appetizer or main dish.
Recipe: chickpea meatballs
Vegetables and Dumplings
This vegetables and dumplings< recipe is a hearty and comforting dish that will warm you up on a cold day. The dumplings are soft and fluffy, while the mushrooms and veggies add texture and flavor to the creamy broth.
Recipe: vegetables and dumplings
Chickpea Mushroom Curry
This Chickpea Curry or Chana Masala with Mushroom is a delicious and easy-to-make Indian dish that will satisfy your cravings for a mild and creamy curry. Packed with spices, coconut cream, and veggies, it is perfect for beginners who want to explore the world of Indian cuisine.
Recipe: Chickpea Curry
Risotto with Mushrooms
How to make risotto for two? It is easier than you think. All you need is 6 ingredients and about 30 minutes to cook a delicious creamy risotto. It will look fancy and impressive even if it was effortless and uncomplicated.
Recipe: mushroom risotto
Creamy Harissa Tahini Pasta
Get ready for a flavor-packed meal with this harissa tahini pasta sauce recipe that is quick and easy to make in just 20 minutes. The creamy and spicy sauce is a perfect combination with your favorite pasta and vegetables, making it an ideal dish for busy weeknights or any time you need a delicious and satisfying meal.
Recipe: harissa tahini pasta sauce
Hummus Pasta
Hummus pasta salad from our cookbook is a quick and flavorful pasta dish that can be prepared in just 15 minutes. The combination of creamy hummus with tangy sun-dried tomatoes and olives creates a unique taste. Different flavored hummus, such as roasted red pepper or spinach, allow for endless variations.
Recipe: hummus pasta
One-Pot Ratatouille
This is the best French summer vegetable stew that you can stir up in one pot within 30 minutes. I say to stir up because the traditional ratatouille is cooked on a stovetop and not baked.
Recipe: ratatouille
The Best Hearty Vegetable Stew
This hearty vegetable stew combines nutritious vegetables, herbs, red wine, and chocolate in one pot to create a rich, comforting, and filling dinner. It is packed with flavor and has an unforgettable aroma that will make your mouth water as soon as it starts to cook!
Recipe: vegetable stew
26 Big-Batch Dishes to Stock Your Freezer
15 Weekend Lunch Recipes on a Dime to Feed The Family
Europe's Finest 25 Recipes You May Not Even Know Of
25 Asian Foods You Absolutely Need to Make At Least Once
Skip The Dreaded Drive-Thru Line With These 15 Fast Food Copycat Recipes