Simplify your mealtime routine and keep your healthy eating goals on track with these 18 easy one-pot recipes. Whether you're a busy parent, a working professional, or simply someone who appreciates a fuss-free meal prep, these dishes are designed to streamline your cooking process while keeping nutrition in mind. From hearty soups to flavorful stir-fries, these one-pot wonders are not only convenient but also packed with delicious flavors and wholesome ingredients. Say goodbye to a sink full of dishes and hello to a more efficient, tasty, and healthy meal rotation. Let's dive into these recipes that are sure to become regulars in your kitchen.
Vegetables and Dumplings
This vegetables and dumplings< recipe is a hearty and comforting dish that will warm you up on a cold day. The dumplings are soft and fluffy, while the mushrooms and veggies add texture and flavor to the creamy broth.
Recipe: vegetables and dumplings
Corn Chowder
This Corn Chowder recipe is a special one as it features pan-seared corn kernels and a deglazed pan, resulting in an oil-free soup. The soup is thickened with potatoes making it a delicious and healthy option.
Recipe: Corn Chowder
Baked Butternut Squash Risotto
If you want to give the risotto a try, you should check out this delicious butternut squash risotto recipe. It is easy to make as part of the job is done by the oven. It is aromatic, creamy, and rich, made with Arborio rice, sweet butternut squash, green peas, and roasted pine nuts.
Recipe: butternut squash risotto
The Easiest Cream of Spinach Soup
This spinach soup is a creamy and delicious way to enjoy your greens. The secret ingredient, potatoes, make this soup a wholesome and satisfying meal for any occasion.
Recipe: cream of spinach soup
Quinoa Sweet Potato Chili
This quinoa sweet potato chili is a perfect meatless and hearty meal that can be made in under 30 minutes. With a combination of quinoa, sweet potatoes, beans, and spices, this chili is flavorful, filling, and nutritious.
Recipe: quinoa sweet potato chili
Portobello Pot Roast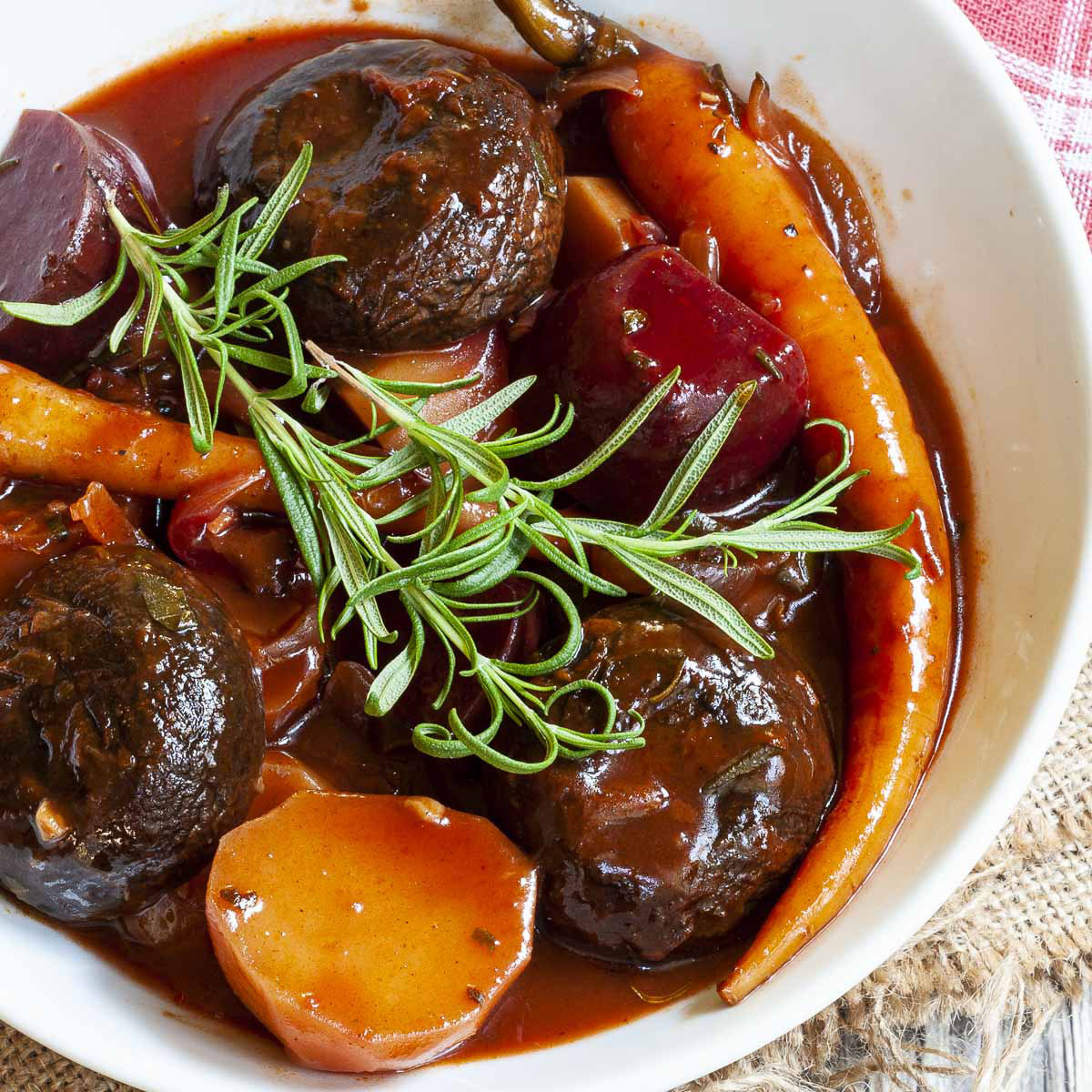 This pot roast is the perfect dish for those looking for a satisfying and flavorful one-pot dinner. With juicy portobello mushroom caps and an array of veggies stewed in a rich red wine gravy, it's a hearty and comforting meal that's also easy to make.
Recipe: pot roast
White Chili
Ready in just 30 minutes, this one-pot white chili is simple to make, easy to customize, and delicious! We use king oyster mushrooms instead of chicken and simmer them with various veggies and herbs to create a flavor-packed and filling dish.
Recipe: white chili
Authentic Lecsó (Hungarian Pepper Stew)
Lecsó is sort of the Hungarian version of the French ratatouille. It is a super easy tomato and pepper stew you can stir up in one pot within 30 minutes. If you would like to eat Lecsó exactly how Hungarians eat it, you should try this recipe.
Recipe: lecso
Vegetable Stew with Dumplings
This vegetable stew with dumplings is a delicious and comforting dish that will warm you up on a cold night. The flavorful stew, loaded with veggies and lentils, is topped with tender and fluffy dumplings, making it a satisfying and wholesome meal.
Recipe: vegetable stew with dumplings
Chili with Beans
This chili recipe is packed with flavor and wholesome ingredients like vegetables, legumes, and grains. It's a satisfying and hearty dish that's both easy to make and good for you.
Recipe: chili
Cabbage Soup with Sausages
This Hungarian cabbage soup recipe is a flavorful and delicious option for any season. With a generous amount of smoked sweet paprika powder and sour cream, it brings a unique twist to the classic cabbage soup. Packed with potatoes, carrots, tomatoes, peppers, and sausages, it's a hearty and satisfying meal that is easy to make.
Recipe: cabbage soup
Chickpea Mushroom Curry
This Chickpea Curry or Chana Masala with Mushroom is a delicious and easy-to-make Indian dish that will satisfy your cravings for a mild and creamy curry. Packed with spices, coconut cream, and veggies, it is perfect for beginners who want to explore the world of Indian cuisine.
Recipe: Chickpea Curry
Veggie Noodle Soup
This veggie noodle soup is the perfect comforting and nourishing meal that can be made in just 30 minutes. It's loaded with hearty veggies, aromatic herbs, and meaty king oyster mushrooms that make it a satisfying and healthy option for lunch or dinner.
Recipe: veggie noodle soup
One-Pot Ratatouille
This is the best French summer vegetable stew that you can stir up in one pot within 30 minutes. I say to stir up because the traditional ratatouille is cooked on a stovetop and not baked.
Recipe: ratatouille
Minestrone Soup
This minestrone soup is a comforting and hearty bowl of goodness. Loaded with vegetables, legumes, and pasta, it is a perfect meal in any season.
Recipe: minestrone soup
Light Frittata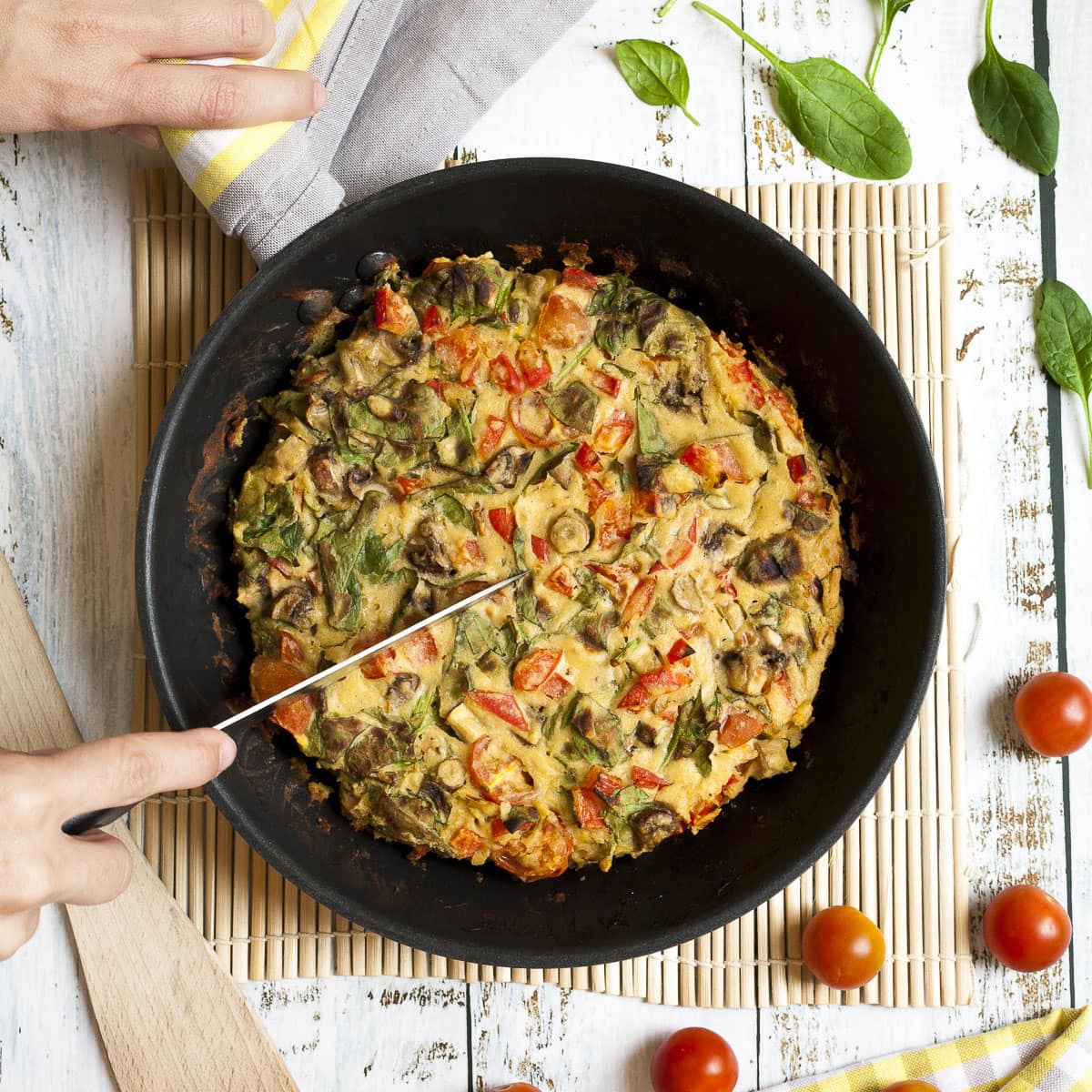 This frittata is a healthy and satisfying breakfast option that is loaded with vegetables and made with a simple 3-ingredient chickpea flour base. It's perfect for meal prep and can be enjoyed hot or cold.
Recipe: frittata
Creamy White Stew
Creamy White Stew is a comforting and indulgent dish that satisfies both the palate and the soul. The rich and velvety texture of the stew, combined with a medley of tender vegetables and aromatic herbs, creates a delightful experience for any food lover.
Recipe: creamy white stew
Veggie Stew
The best thing that can happen to canned young jackfruit is to turn it into a hearty and filling veggie stew. It is the perfect dinner recipe when you need a warm and steamy bowl of delicious comfort food.
Recipe: veggie stew
26 Big-Batch Dishes to Stock Your Freezer
15 Weekend Lunch Recipes on a Dime to Feed The Family
Europe's Finest 25 Recipes You May Not Even Know Of
25 Asian Foods You Absolutely Need to Make At Least Once
Skip The Dreaded Drive-Thru Line With These 15 Fast Food Copycat Recipes