Chili lovers, get ready to embark on a flavor-packed journey through 16 delightful chili varieties that will warm your heart and satisfy your taste buds. From classic beef chili with all the fixings to vegetarian options that burst with flavor, these recipes offer something for everyone. Whether you prefer your chili mild, smoky, or blazing hot, you'll find the perfect bowl to suit your cravings. So, grab your apron, chili powder, and beans, and let's dive into this chili extravaganza that will keep you warm and happy all year round.
Chili with Beans
This chili recipe is packed with flavor and wholesome ingredients like vegetables, legumes, and grains. It's a satisfying and hearty dish that's both easy to make and good for you.
Classic Chili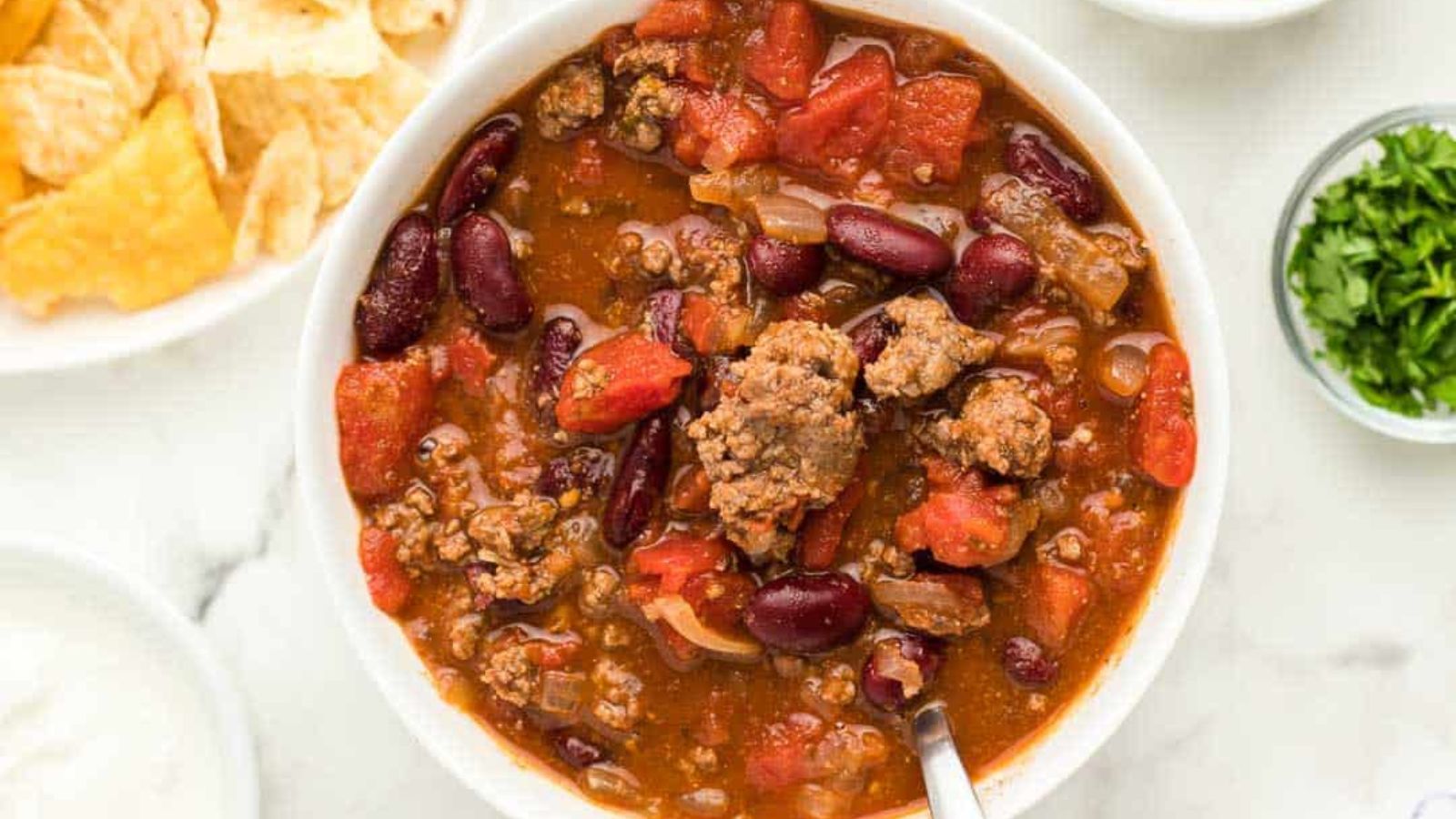 This is a super tasty, and easy to make chunky ground beef Chili Recipe with red kidney beans. It's one of the recipes that always on our meal rotation. To make this recipe you'll need five simple ingredients plus spices: beef, onions, garlic, tomatoes, and beans.
Award Winning Chili
This Award Winning Chili Recipe is a showstopper. If you are tired of boring recipes, tired of chili that tastes like beef stew, tired of recipes that seem one trick ponies, then this is the best chili recipe you have been waiting for. My ultimate cook-off-winning chili is loaded with flavor and a secret ingredient.
Black Bean and Beer Chili
A hearty chili loaded with mushrooms, beans and peppers simmered in a tangy beer sauce.
Find All Recipes here: chili recipes
Instant Pot Chili Chicken
Instant Pot Chili Chicken is a quick and flavorful dish that combines tender chicken pieces with a spicy chili sauce, cooked to perfection in the Instant Pot's high-pressure environment. This recipe offers a convenient way to enjoy the bold and zesty flavors of chili without the long cooking times, making it a popular choice for busy weeknight dinners.
White Chili
Ready in just 30 minutes, this one-pot white chili is simple to make, easy to customize, and delicious! We use king oyster mushrooms instead of chicken and simmer them with various veggies and herbs to create a flavor-packed and filling dish.
Crockpot Chili
So incredibly flavorful, rich and hearty Crockpot Chili Recipe is easy to make and is absolutely delicious. Perfect soul food for a cold weather.
Find All Recipes here: chili recipes
Chicken Poblano White Bean Chili
Chicken Poblano White Bean Chili is an easy, healthy and delicious chili recipe that's awesome for both weeknight dinners and entertaining friends and family. Make a big batch for watching football or a cozy, casual night in!
Pumpkin Chili
Vegetarian Pumpkin Chili is a cozy autumn-inspired dish that combines the earthy sweetness of pumpkin with hearty beans, vegetables, and a blend of warming spices, creating a flavorful and comforting meal that's perfect for chilly evenings. This meatless chili showcases the rich and creamy texture of pumpkin while offering a delightful twist on traditional chili recipes.
Find All Recipes here: chili recipes
Indian Dal Chili
Indian Dal Chili is a delightful fusion of classic Indian flavors and the hearty goodness of chili, combining beans, aromatic spices, and a rich tomato-based sauce for a unique culinary experience. This comforting dish is perfect for those seeking a spicy and protein-packed vegetarian alternative to traditional chili.
Southwestern Turkey Chili
Southwestern Turkey Chili is a delightful twist on traditional chili, featuring lean ground turkey, vibrant Southwestern spices, and a medley of beans and vegetables. This hearty and flavorful dish embodies the bold and zesty flavors of the American Southwest, making it a popular choice for those seeking a healthier, protein-packed chili option.
Texas Chili
Learn how to make chili con carne! This easy Mexican chili con carne recipe takes just 20 min to prep and then simmers on the stove until the beef is nice and tender.
Find All Recipes here: chili recipes
Quinoa Sweet Potato Chili
This quinoa sweet potato chili is a perfect meatless and hearty meal that can be made in under 30 minutes. With a combination of quinoa, sweet potatoes, beans, and spices, this chili is flavorful, filling, and nutritious.
Chili Con Carne
Chili Con Carne is a classic Tex-Mex dish renowned for its hearty blend of ground or cubed beef, chili peppers, beans, and aromatic spices. This comforting stew packs a flavorful punch and is a favorite among those who crave a spicy and filling meal with a Southwestern twist.
Cincinnati Chili
Cincinnati chili is a Mediterranean meat sauce that is generous with spices. It's traditionally used as a pasta sauce or a topping for burgers or hot dogs.
Chili Stuffed Portobello Mushrooms
These stuffed portobello mushrooms are a flavorful and filling dish that can be served as an appetizer or main course. Packed with protein-rich beans and topped with melty vegan cheese, they are a delicious and satisfying option for any meal.
Find All Recipes here: chili recipes
26 Big-Batch Dishes to Stock Your Freezer
15 Weekend Lunch Recipes on a Dime to Feed The Family
Europe's Finest 25 Recipes You May Not Even Know Of
25 Asian Foods You Absolutely Need to Make At Least Once
Skip The Dreaded Drive-Thru Line With These 15 Fast Food Copycat Recipes