Embark on a culinary journey into the world of comforting stews with our collection of 15 recipes that are perfect for beginners and experienced cooks alike. Stews are a hearty and satisfying meal option that can be enjoyed year-round, and these recipes are designed to be accessible to anyone in the kitchen. From classic beef stew to vegetarian options, these dishes cover a spectrum of flavors and ingredients. So whether you're new to cooking or looking to expand your repertoire, these stew recipes are a great place to start. Warm up your kitchen and your taste buds with these easy-to-master, soul-warming creations.
Mushroom Stew
This mushroom stew is comforting, luxuriously creamy and flavorful, yet surprisingly light. Made with whole-food ingredients including fresh and dried mushrooms, potatoes, carrots, garlic, and rosemary. Serve with salad, rice, or your favorite crusty bread for dipping.
Sweet Potato Stew
This sweet potato and kale soup is incredibly creamy and delicious. A must-make for Fall and Winter.
Split Pea Stew
This split pea & sweet potato stew is so scrumptious and satisfying! This savory recipe is loaded with chunks of potato, bright carrots, and sweet corn. Split peas create a thick, hearty texture that is just the thing for any cool evening alongside a loaf of homemade crusty bread.
The Best Hearty Vegetable Stew
This hearty vegetable stew combines nutritious vegetables, herbs, red wine, and chocolate in one pot to create a rich, comforting, and filling dinner. It is packed with flavor and has an unforgettable aroma that will make your mouth water as soon as it starts to cook!
Find All Recipes Here: stew recipes
Portobello Pot Roast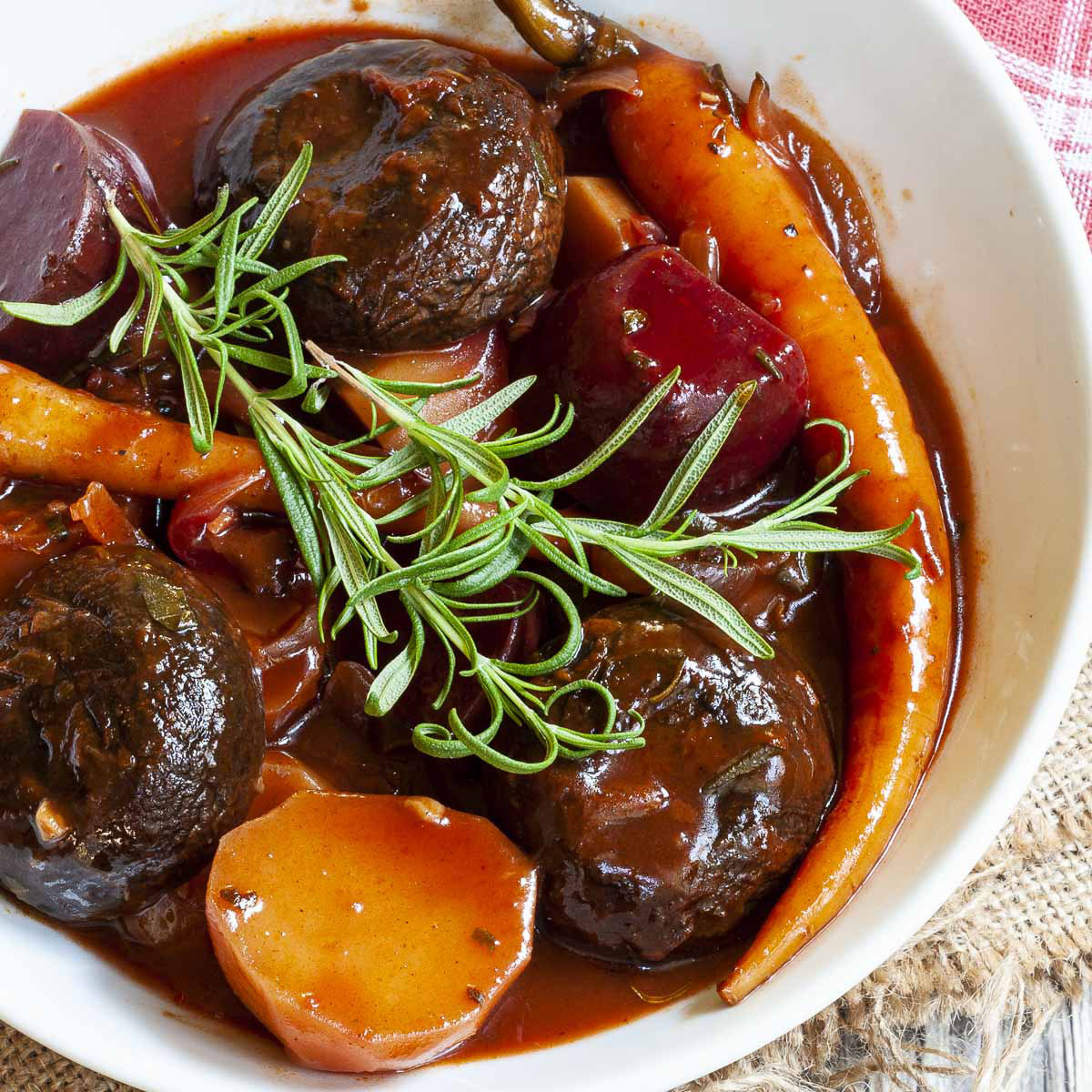 This pot roast is the perfect dish for those looking for a satisfying and flavorful one-pot dinner. With juicy portobello mushroom caps and an array of veggies stewed in a rich red wine gravy, it's a hearty and comforting meal that's also easy to make.
Vegetables and Dumplings
This vegetables and dumplings recipe is a hearty and comforting dish that will warm you up on a cold day. The dumplings are soft and fluffy, while the mushrooms and veggies add texture and flavor to the creamy broth.
Moroccan Slow Cooker Bean Stew
This Moroccan Slow Cooker Bean Stew, also called Loubia is the ultimate comfort food full of flavor. Made with Cannellini Beans, tomatoes and spices, these slow cooker white beans recipe are sure to warm you up on a chilly fall or winter night.
Find All Recipes Here: stew recipes
Tofu Kimchi Stew
Introducing the easiest yet most delicious stew with spicy and sour kimchi and chewy tofu! This rich and saucy stew comes together in less than 30 minutes! Serve with rice or noodles for a complete and comforting meal!
Sancocho Root Stew
Sancocho, a cherished culinary gem, is a traditional Latin American root stew that captures the essence of comfort and flavor. This soul-warming dish features a medley of hearty root vegetables, such as yuca, plantains, potatoes, and sweet potatoes, simmered to perfection in a fragrant broth.
Veggie Stew
The best thing that can happen to canned young jackfruit is to turn it into a hearty and filling veggie stew. It is the perfect dinner recipe when you need a warm and steamy bowl of delicious comfort food.
Vegetable Shepherd's Pie
This Vegetable Shepherd's Pie is true comfort food for any seasons with rainbow carrots, zucchini and eggplant topped with creamy mashed potatoes.
Vegetable Pot Pie
This creamy and flavorful vegetable pot pie is a perfect comfort food, packed with vegetables and topped with either a flaky pie crust or a crispy sliced potato crust. Whether you're serving it for a holiday dinner or enjoying it as leftovers, this dish is sure to satisfy your taste buds.
Find All Recipes Here: stew recipes
Corned Beef and Cabbage Stew
Easy one pot Corned Beef and Cabbage for any special day or simply put corned jackfruit with cabbage and potatoes.
Cauliflower Stew
Indulge in a nourishing and flavorful Cauliflower Stew featuring the perfect medley of broccoli, chickpeas, and kale. This hearty and wholesome dish brings together the earthy richness of cauliflower, the vibrant goodness of broccoli, the protein-packed chickpeas, and the nutrient-dense kale, creating a symphony of textures and flavors.
One-Pot Ratatouille
This is the best French summer vegetable stew that you can stir up in one pot within 30 minutes. I say to stir up because the traditional ratatouille is cooked on a stovetop and not baked.
Find All Recipes Here: stew recipes
26 Big-Batch Dishes to Stock Your Freezer
15 Weekend Lunch Recipes on a Dime to Feed The Family
Europe's Finest 25 Recipes You May Not Even Know Of
25 Asian Foods You Absolutely Need to Make At Least Once
Skip The Dreaded Drive-Thru Line With These 15 Fast Food Copycat Recipes